So, You're Designing an Outdoor Kitchen…Here's What to Think About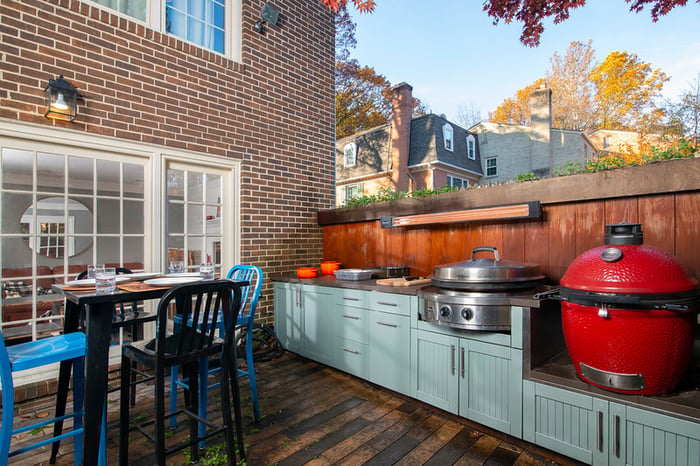 You can practically taste the crispy crust of that wood-fired pizza from your brand-new outdoor kitchen. The problem? You haven't designed it yet, and you aren't even sure where to start. If you're trying to figure out the ideal outdoor kitchen design for your home, here are twenty considerations to keep in mind.
Top Considerations to Help You Design a Functional, Beautiful, Lasting Outdoor Kitchen
Budget
No home improvement project would be complete without mentioning budget. Go in knowing how much you want to spend, and then share this information with your design and build firm. If you're open and honest about your budget, the team can help you get the most kitchen for your money.
The cost of an outdoor kitchen can fluctuate a lot based on many factors:
Quality of the materials used.

Top-of-the-line finishings are going to increase the price of your outdoor kitchen quickly. That being said, you also need to consider the lifetime cost of materials. If you're going to be in your home for a long time, high-quality materials can actually end up saving you money in cumulative maintenance and repair costs.

Size of the kitchen.

The square footage of your project is going to significantly affect cost.

Type of appliances.

If you're looking for a bare-bones kitchen (think an

outdoor grill

and maybe a sink), that's a significantly smaller financial ask than a full kitchen complete with five-burner grills, ice makers, a full refrigerator, and a decked-out wine bar. If the budget is limited, think about which appliances are going to maximize the function and comfort of your outdoor kitchen.

Think about the expense of adding utilities (typically water, gas, and electric) to your outdoor kitchen, but also think about the carrying costs of these additions. Let your contractor know in the early stages what you want in terms of utilities as this will affect your permitting costs and overall outdoor kitchen estimate.

Extra amenities.

Want audio, Internet, televisions, and other extras integrated into your

outdoor living space

? All these decisions will impact budget. Again, let your contractor know your must-have and like-to-have lists early. This will allow you to get a price range, and you can make final design decisions from there.
Local Weather and Climate Patterns
The location of your home can significantly affect how you design your outdoor kitchen. If, for example, you live in Northern Virginia or Maryland, you're going to experience all four seasons. That means you need to prepare for cold, icy, snowy winters, as well as hot, buggy summers.
If you want the most comfortable, functional space possible, those kinds of considerations need to be reflected in both the design layout and the materials you choose.
The last thing you want is to invest in HDPE cabinets and then have them bow or warp in extreme heat. If you're looking to combat temperature fluctuations, that's when a product like stainless steel can be a necessary investment for the long-term durability of the space.
Seasonal Nuisances
Just like weather throughout the year, you'll also want to take into consideration elements that come and go with the seasons:
Bugs, insects, and creepy-crawlies

Wind

Pollen
Anything that potentially makes your outdoor kitchen less pleasant should be factored into the design. If you're constantly battling mosquitoes in your Northern Virginia home, you might consider expanding the outdoor living space to include a screened porch area as well.
Not in the budget? A more economical option would be an open-air pergola with integrated fans.
Discuss with your contractor to discover all your options.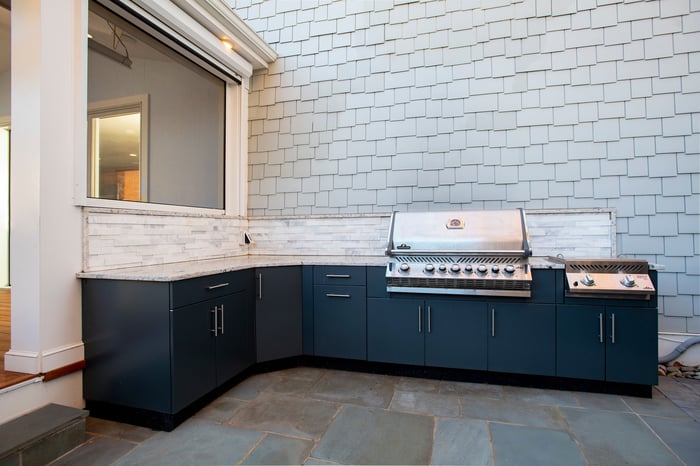 Coastal Living
If you live on or near the coast, you have the added hurdle of battling salt water and sea air. These can be extremely corrosive, especially over time.
If you're interested in stainless steel outdoor kitchen cabinetry, you'll want to invest in marine-grade steel (316) rather than standard 304 stainless steel.
Another viable option is to powder coat your cabinetry. This gives the piece an added layer of durability and protection.
The right choice for you comes down to aesthetics and budget. If you love the look of stainless steel, the marine-grade option is your best bet. If you prefer a color, powder coating will give you that extra durability boost and the aesthetics you desire.
Layout
Your property and home will both largely dictate what's possible with your outdoor kitchen layout. If you have a small backyard, setbacks and other building regulations might mean you're limited in how big of a space you build. If, on the other hand, you have lots of property to work with, your layout options become much more open.
This is one of the biggest reasons it's so important to work with an experienced, local build team. They will know exactly what is and isn't allowed in your particular city, county, and state. They will also know how best to work around any local building restrictions while still staying fully compliant.
The 4 Zones of Kitchens
If you're a dedicated home chef and you're looking to build a complete outdoor kitchen, make sure to take into account these four key zones of any kitchen:
Hot. This is the area where you're cooking your food. It can include grills, side burners, smokers, traditional ovens, pizza ovens, flat-top grills, and more.

Cold.

This is where you'll store food and beverages. It can include wine fridges, full refrigerators, and ice makers.

Wet. This is your sink or cleanup area. You'll need running water to the kitchen to have this space.

Dry. This is where you complete any food prep. Think chopping, dicing, mixing marinades, or plating meals.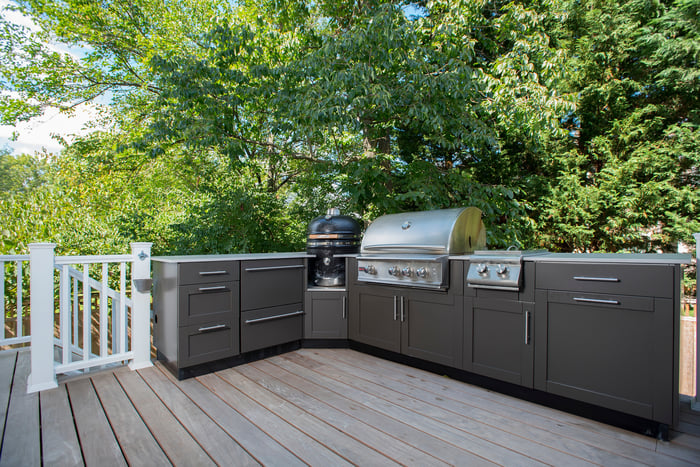 Interior and Exterior Aesthetics
One of the biggest draws of working with a custom builder is attention to detail. When you get a cookie-cutter outdoor living space, the end product can feel tacked on to the original home. Aesthetically it's obvious the space is an addition, and that can be visually jarring.
When you work with a custom team, they do everything in their power to match the existing home. They take into account many factors:
Rooflines

Siding

Color palettes

Building materials
Yes, the outdoor kitchen should look new and modern, but it should never feel like a design afterthought.
Appliances
Think through how you're going to use your outdoor kitchen, and then select your appliances accordingly.
Here are just some of your options to consider:
Grills (kamado-style, hibachi-style, gas, propane)

Smokers

Ovens

Pizza ovens

Sinks

Refrigerators

Storage, drawers, and cabinets

Wine coolers

Beer taps

Ice makers

Dishwashers

Waste disposal units

Trash and trash compactors
Don't forget to also plan for the future. If you're going to retire soon and will start entertaining more, you want to build an outdoor kitchen that reflects this future use as well.
Bar and Wine Area
If you want to have your cocktail hour outside, consider adding a bar and wine area to your outdoor kitchen. This typically entails some or all of the following:
Liquor cabinet or other storage option

Wine fridge

Beer on tap

Ice maker

Seating to accommodate (bar seating or otherwise)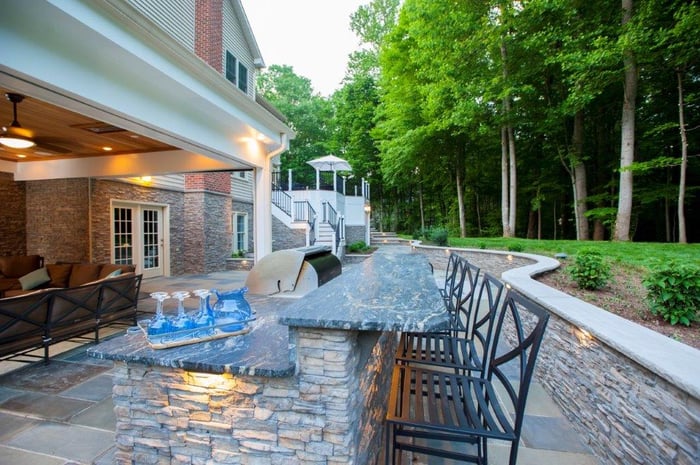 Lighting
If your goal is to get the most functionality out of your outdoor kitchen, make sure you aren't neglecting lighting. This will help ensure you can use the space into all hours of the night, but it will also make the area more functional on those winter nights when it starts getting dark so early.
If you're looking to keep the budget down, go with functional, no-frills lighting. If budget is less of a concern, low-voltage lighting and other higher-ticket items are possible.
Take particular care that any food prep, cooking, or clean-up area is well lit. Consider adding lighting over the dining space as well.
When selecting a grill, look for one with an integrated LED light that activates whenever the lid is lifted.
Seating
The kind and amount of seating you need depend on how you want to use the space. If you're looking to entertain friends, family, and loved ones, make sure you're accounting for adequate seating. This could include anything from simple bar seating to a full dining area to standalone chairs.
Decide what seating needs should be built into the design and what can be accomplished through furniture and interior design choices.
Storage
Storage used to be a "nice to have" in outdoor kitchens. Now it's a staple.
Storage should be able to accommodate the following:
Food in airtight, rodent-proof bins

Utensils, dishes, and cookware in plastic bins (to avoid dust or pollen)

Cleaning supplies

Blankets for outdoor dining on chilly nights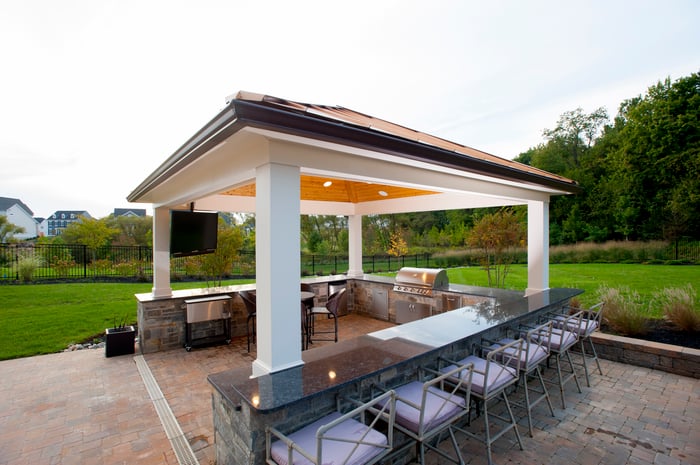 The ideal kitchen cabinetry material depends on your aesthetic preferences, your budget, and geographic factors. If you're going to be using your outdoor kitchen frequently, consider opting for stainless steel. It's resistant to the elements and can withstand the rigors of everyday use. With powder coating, you can also customize the look of your cabinetry.
Low-Maintenance Materials
Because it's going to be exposed to the elements, maintenance is a major consideration for your outdoor kitchen design. It should be factored into your planning for everything from kitchen cabinetry to appliances to countertops.
Low-maintenance materials, such as corrosion-resistant stainless steel, are often a bigger up-front cost. They can, however, save you over the lifetime of the product in the time, energy, and money required for repairs and upkeep.
Choose materials that represent good long-term investments, and you could end up saving money in the long run.
If the space is easy to maintain, that can also increase the enjoyment you get from it. You'll be able to use it freely and often without worrying about wear and tear.
Important caveat: Don't forget to consider how long you'll be in your home. If you're looking to sell soon, you won't always get the financial payoff of choosing low-maintenance materials.
Outdoor-Specific Materials
When designing your kitchen, make sure you're thinking through what materials can withstand the outdoors:
Extreme temperature fluctuations

Sleet, snow, or ice

Windstorms and any flying debris

Excessive rain or other moisture

Intense sun

Natural and unnatural air contaminants (pollen, smoke)
Wood might look lovely for your decking material, but think about whether it will splinter, crack, or warp in the direct sun. In those cases, something like composite decking—Trex at the lower end and Zuri at the higher end—can give you the look of natural wood with all the added benefits of compatibility with the elements.
Outdoor Cooking
One of the biggest advantages of installing an outdoor kitchen is having the freedom to explore outdoor cooking methods you can't do indoors. This includes things like using smokers and cooking over an open flame.
If you're an accomplished home chef and love to try new cooking methods, an outdoor kitchen that allows you to experiment could very much be worth the investment.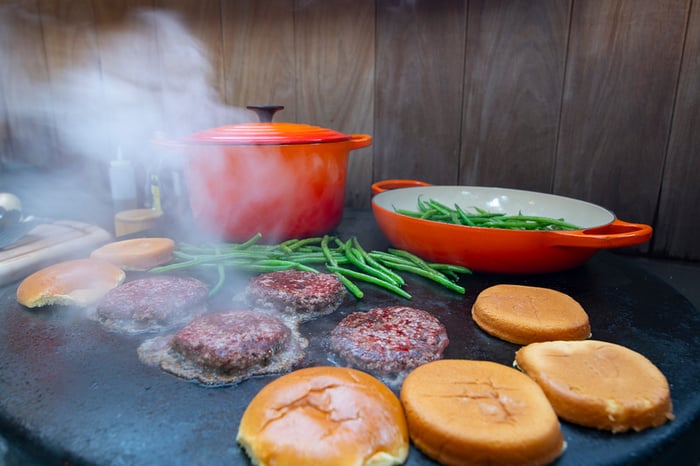 Utilities
When planning your outdoor kitchen, you'll need to think about utilities from two perspectives. One, which utilities will you need? Two, how is that going to affect your overall project budget?
Unless you're doing the most bare-bones outdoor kitchen possible, you'll need at least electricity and water running to your kitchen. If you want to cook with a gas grill, you'll also need to plan for running a gas line. If you can't hook into the city gas, this could mean adding a gas tank to the property itself. That brings aesthetic considerations, as well as logistical issues. (Do you have the space for a tank like this? Do you have a place where refueling trucks can access it?)
Think through all these options, and then discuss with your contractor. Utilities are essential for the functionality of the kitchen, so you need to know how they affect your budget. After they've been accounted for, you'll know how much discretionary room you have left for other nice-to-have elements
Music, Audio, and Entertainment
As outdoor kitchens have become more popular and elaborate, their scope has expanded. They used to be a place to cook outdoors; now they're a place to entertain outdoors.
With this change, people increasingly want features that allow for cooking, dining, and entertaining. This includes:
Speakers or audio bars

Wi-Fi (for music streaming)

Television sets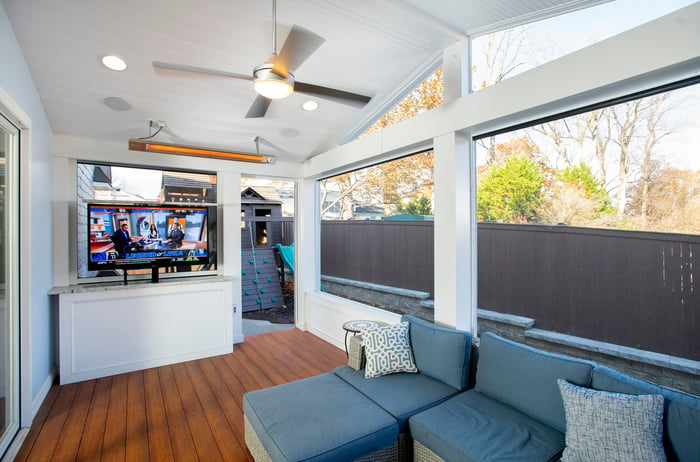 Make sure to take into account factors you wouldn't normally consider indoors. Television sets, for example, need screens that can combat glare, or they need to be placed strategically where sunlight won't disrupt the view.
Also, speakers will need to be more robust to overcome the extra ambient noise you get outdoors.
Additional Outdoor Living Spaces
As you design your kitchen, think about whether you also want to incorporate other outdoor living spaces. This can include a screened-in porch, deck, or patio.
While the design and build firm is there on your property, it can be a good time to create multiple "zones" within your outdoor living space. Working with the same team means you get a more cohesive aesthetic look, and the flow from one space to the next will be more seamless.
If it's not in the budget to tackle multiple spaces in one build, talk to your contractor about your ultimate plans. Sometimes it's possible to add stop points within your project. This allows you to spread out the expense of multiple home renovations while saving money through tactics like roughing in electric.
Indoor and Outdoor Kitchen Flow
Many people like their outdoor kitchens to be closely connected to their indoor kitchens. That being said, if you're creating a comprehensive enough space, this might not be necessary. If you have refrigeration, a sink for cleanup, all your cooking surfaces and appliances, trash, and anything else your interior kitchen has, that frees you to put the outdoor kitchen wherever you like.
If, however, you're building a more minimalistic outdoor kitchen, that link between the interior and exterior becomes more important. This allows you to have quick and easy access to the inside sink for cleanup, food, beverages, and more.
Depending on what kind of space you want to create, think about the best, most strategic entry point between your interior and exterior spaces. Can you use an existing door, or will you need to add one? As always, you can talk through these kinds of issues with your contractor.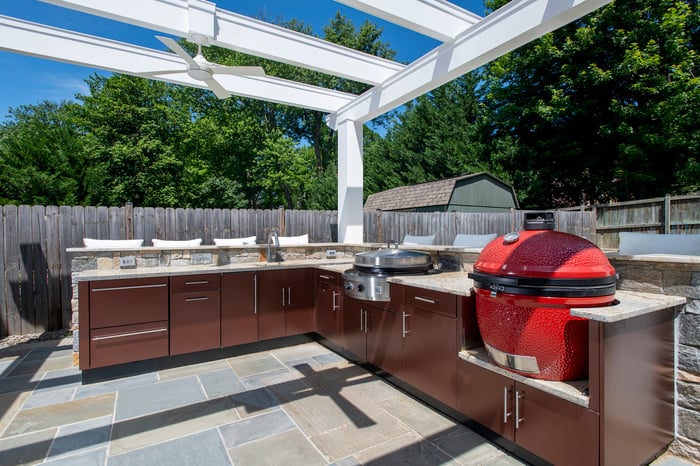 Day-to-Day Functionality
At the end of the day, the biggest design consideration is how the space is going to meet your needs best. Will you be cooking yourself, or will you be hiring caterers and chefs? How many people will you be inviting to use the space? How often?
Think through all these kinds of factors because they affect everything about the kitchen: layout, size, appliances, aesthetics, and more.
Also, remember the way we use and perceive outdoor spaces has fundamentally changed. Post-pandemic, people are adding these as a safe way to gather with friends and family in a well-ventilated space.
Account for that increased usage in your outdoor kitchen design.
Questions about Building a New Outdoor Kitchen in Your Northern Virginia or Maryland Home?
Designing an outdoor kitchen can feel overwhelming. Talking to a professional contractor can help. Whether you're in the earliest stages or you're ready to book a design and build firm today, don't hesitate to reach out.
At Design Builders, we specialize in high-end custom outdoor living spaces. Whether we work together or not, we're always happy to answer your questions!