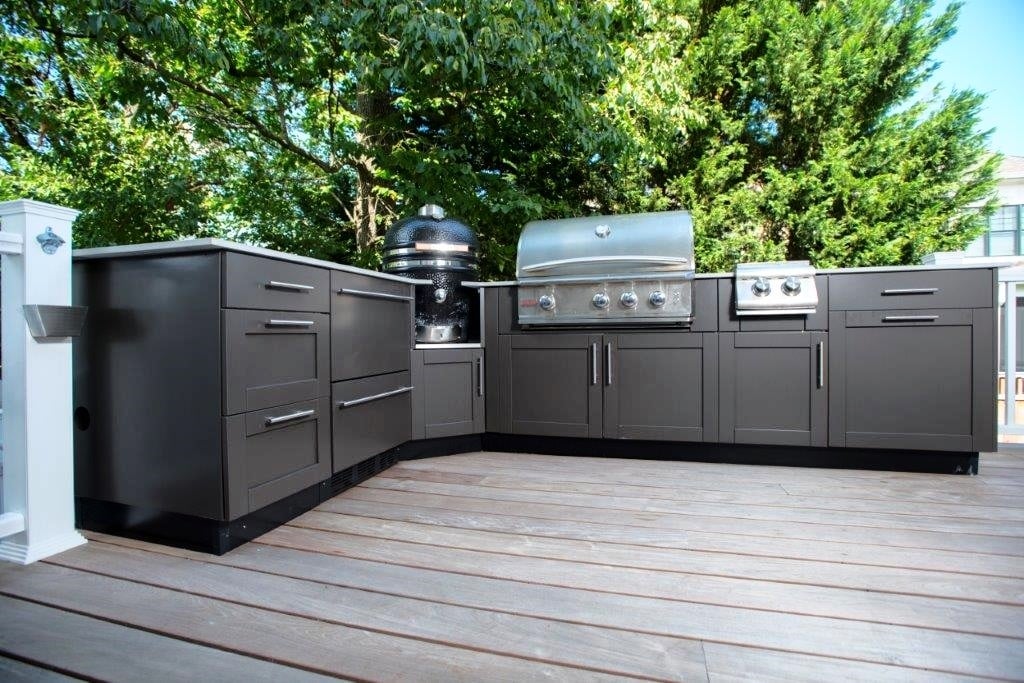 Why Are Outdoor Stainless Steel Cabinets Great Long-Term Investments?
High-end outdoor living spaces are, unsurprisingly, significant investments. They function to both increase a home's usable living space and, when properly executed, add tangible value to its existing property. This doesn't come cheap, especially for add-on intensive projects like stainless outdoor kitchens in Maryland and Virginia that require large upfront expenses for materials, utilities, and upscale features. Is the payout worth the initial costs?
While the price tags for Zuri decking, Danver outdoor cabinets, and other leading products can seem hard to justify, these premium materials are often the smarter financial options for long-term investors over entry-level brands. Danver stainless outdoor kitchens fall under this umbrella as one of the more costly but fiscally responsible purchases homeowners with outdoor kitchen cabinets can make.
Why does this article discuss Danver outdoor kitchen cabinets over other brands?
Before continuing, it's important to note that Danver cabinets are not the only type of stainless steel outdoor kitchen cabinets available in the DMV. Industry veterans WOLF and Viking also produce stainless steel kitchen cabinets and stainless outdoor appliances. However, cabinets by Danver and its associate company Brown Jordan are covered by solid warranties, have the greatest color and style selections, and for many other reasons are the prevailing frontrunners of the stainless steel Danver cabinets game.
Quality
It's true that Danver stainless steel cabinets are going to be more expensive than cabinets made with other materials such as natural wood, synthetics, plastic, or composites. It's also true that some of those other materials make beautiful cabinetry. However, it's vital to remember that these outdoor kitchens are under additional environmental strain. Exposure to extreme weather and extreme temperature fluctuation means that any of those materials — whether it be wood or plastic — are likely to bulge, warp, crack, or otherwise lose their shape. Stainless steel is not going to be subject to such changes.
All this is to say you're never going to have to shoulder the cost of cabinet replacement with stainless steel, whereas this isn't necessarily a guarantee with an initially less expensive cabinet.
Maintenance
There are always associated costs with upkeep and maintenance. For example, wood needs to be initially stained and then periodically stained again. These maintenance costs are twofold. One, there's the financial cost of the materials and labor to complete the work, and two, there's the inconvenience cost. Having to either do the work yourself or coordinate to have it done all takes time, effort, and money.
Danver stainless steel outdoor cabinets are essentially maintenance-free. Because the company uses the highest grade of stainless steel available (304 stainless steel), you don't have to worry about treating it against rust or any other imperfections outdoor temperatures and weather conditions can impose. Both standard and powdercoated cabinets by Danver can be washed off with soap and water at the end of seasonal use and be good to go without additional attention.
Resale Value
If you ever plan to sell the home where you've added an exterior living space, a premium, high-end outdoor kitchen can actually increase the resale value of the home itself. Especially since great strides have been made with these outdoor spaces, they are as beautifully designed as creatively styled as any indoor kitchen. Many savvy build and design teams also strive to match or complement the color scheme used in the outdoor space with the interior home. Danver facilitates this by offering a wide range of color options—including powder coating, which is essentially customizable to any desired color.
All this creates a cohesive look between the indoors and outdoors that will serve as a selling point should you ever decide to relocate.
Danver Team
Because Danver has been in the outdoor cabinetry business for so long, working with them offers a lot of benefits, both financial and in terms of peace of mind.
Danver backs all stainless steel cabinets with a lifetime warranty. That means in the unlikely event something does go wrong with the cabinets, you know you can replace them or fix the issue without any out-of-pocket expense.
Danver is also an established and trusted name in the cabinetry industry, and the team strives to make every aspect of the purchase painless and customer-centric. From design and ordering to installation and client management, the Danver team works to get every order right. In that way the cost is for the superior quality of the cabinets as well as the initial and continued support of the Danver team.
If you have any questions about stainless outdoor kitchens, Danver cabinets in Maryland, or Danver cabinets in Virginia, contact a Design Builders, Inc. design consultant today.