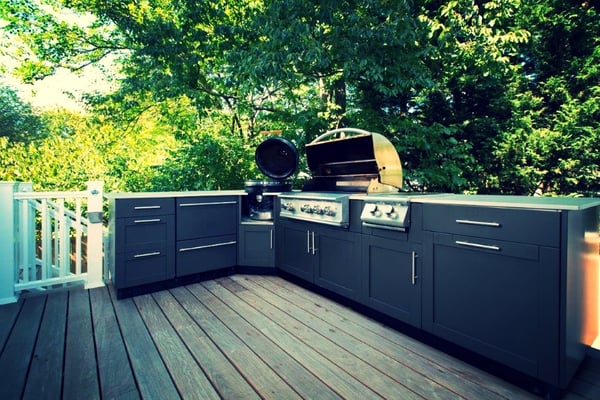 Which Outdoor Kitchen Cabinetry Material Is Right for Me?
As exterior living spaces become increasingly elaborate, outdoor kitchen cabinetry and storage options are becoming less of a luxury and more of a staple. With their rise in popularity, many people find themselves wondering what material is best for exterior cabinets. To help you decide what's right for your home, here are four of the most common materials, including a breakdown of their pros and cons.
Masonry, Stucco, or Brick
With a masonry system, the structure is composed from cement blocks or a metal frame that's then covered with decorative stone, a stucco veneer, or brick. Cutouts allow for inserts and appliances. In general, these structures are usually built in place and are one-piece barbecue islands.
Pros of Masonry
These structure are quite resistant to the elements and ill effects of weather.
The look is substantial and built in. (For some people, this might be a pro or a con; it's a matter of personal taste.)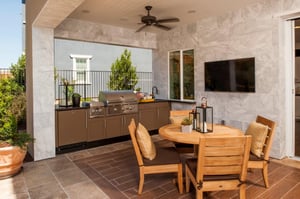 Cons of Masonry
The build is labor intensive. (More labor hours also often means a more expensive installation.)
It's a more difficult installation process than some other cabinet types. (Again, this can equate to a more expensive install.)
Masonry can lead to some wasted interior space within the structure.
Depending on the style and aesthetic direction of your deck or other exterior living space, these can look bulky, clunky, and out of place.
The homeowner must purchase the exterior materials, as well as the skeleton structure and actual cabinetry components.
This is not a ready-made outdoor kitchen element.
HDPE/Polymer
High-density polyethylene, or HDPE, is a type of plastic. Note, it differs from both PVC and urethane foam.
Pros of HDPE/Polymer
HDPE is easy to clean. Simply hose it down, or use water and a mild soap for tougher jobs.
As long as you're using corrosion-resistant attaching hardware, you don't have to worry about corrosion with this material.
HDPE is impervious to water or moisture, so even if you live in a very wet climate, HDPE can handle the conditions.
HDPE is stain resistant.
Cons of HDPE/Polymer
Typically you have a pretty limited range of color options with this material. This might or might not be a big deal for your specific kitchen.
If you love the look of wood, few types of HDPE can offer that rich, natural look.
The product is made from petrochemicals, so it's definitely not the most eco-friendly option on the market.
The material is combustible. It's vital homeowners use a stainless insulating sleeve with HDPE.
The material is liable to fluctuate with temperature changes. Over time, expect bowing or rigidity.
Wood
When it comes to cabinetry, wood is the first material many people think of. Especially when dealing with exterior conditions, though, it's important to think through all the pros and cons of this material.
Pros of Wood
For many people, you can't beat the warm look of wood.
Natural wood grain provides visual interest and a level of detail you don't get with masonry or polymer cabinets
Cons of Wood
Depending on the finish treatment and actual type of wood, fading is a concern. Certain factors, such as direct sunlight, can exacerbate this problem.
Upkeep is one of the largest downsides of wood cabinets. Regular maintenance (and the associated expense and time of that) is required to keep cabinets looking their best.
If you live in a particularly harsh climate, wood can fail quite quickly. A harsh environment can involve extreme heat and sun in the summer, as well as freezing temperatures and moisture in the winter. How long your wood cabinets last depends on the type of wood, the surface treatment, and how well and often you care for them.

Stainless Steel
An increasing number of exterior living spaces utilize stainless steel cabinetry from brands such as Danver Stainless Outdoor Kitchens. When you look at the pros and cons of this material, it's easy to see why.
Pros of Stainless Steel
Stainless steel cabinets don't need to have the industrial look of plain stainless steel. Powder coat finishes provide a range of colors, including looks that mimic wood, textured metal, and even sea glass.
With the proper care, stainless steel is a noncorrosive material that's also resistant to fire and impact.
When considering long-term value over the life of the product, stainless steel can be cheaper than other options. (You're saving, for example, on regular maintenance costs, as well as replacement or repair.)
Many grills and other outdoor kitchen appliances are stainless steel, so you can get a uniform look throughout your living space.
Stainless steel cabinetry is largely considered a modern, attractive option.
Especially when paired with a protective finish, stainless steel can be quite easy to keep free of fingerprints and other visual blemishes.
Cons of Stainless Steel
This material does come in at a higher initial price point than some other cabinetry.
Stainless steel can get hot in direct sunlight. (Keep in mind a powder coat finish can help mitigate this issue.)
Still Can't Decide on Your Outdoor Cabinetry Material?
Feeling lost about which outdoor cabinets will work best in your home? Give us a call (301-875-2781) or reach out.
We're Design Builders, and we offer high-end custom outdoor living spaces in Northern Virginia and Maryland. If you're in the area, we'd love to talk specifics on your project!