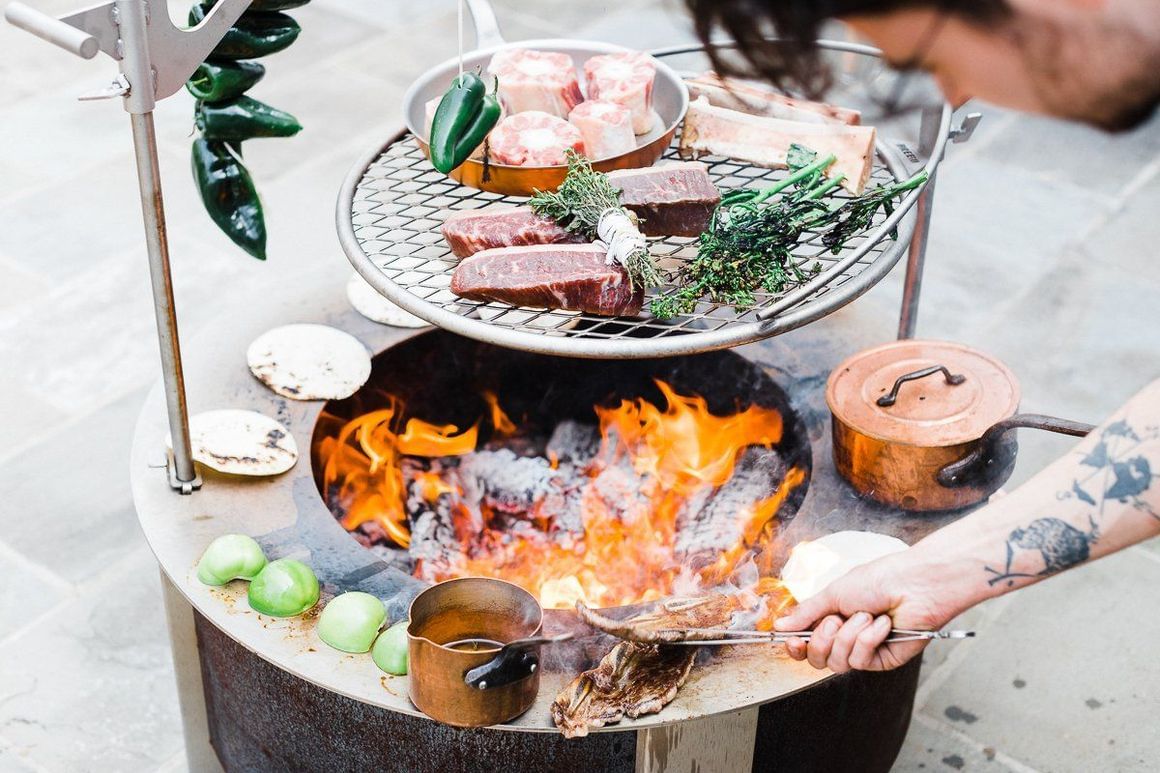 Calling All Home Chefs...A Better Way to Do Live Outdoor Cooking
The best products are those that help create a meaningful experience, and that's what we aim to promote with our clients. We design and build custom outdoor living spaces in Northern Virginia and Maryland, and we partner with a variety of products and vendors to make those spaces a reality. This includes Breeo. Their smokeless fire pits offer many benefits, as well as a suite of accessories that allow for a live outdoor cooking experience.
4 Breeo Fire Pit Accessories for Live Outdoor Cooking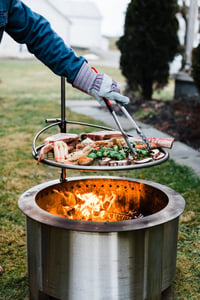 This grill attachment is designed for maximum outdoor cooking control. Because the grate is adjustable up and down and has the ability to rotate 360 degrees, you dictate how much or how little heat gets applied to the food and for how long.
Like the smokeless fire pits themselves, the Outpost is constructed from 304 stainless steel. This gives it a durable design. It's also portable and fully detachable for a standalone cooking experience. It comes with a carrying bag for convenience. Whether you're looking for an immersive cooking experience at the beach or while camping, this can accommodate!
Two size variations are available: the Outpost 19 and the Outpost 24.
Boiling water for coffee or tea. Cooking up a full seafood chowder. Whatever you're looking to create in your kettle, this cast iron accessory is a durable option. At 1.5 gallons, it's large enough to feed a crowd. (For adult-size portions of soup, a gallon typically feeds around eight people.) However, it's small enough to still be a portable cooking option.
The cast iron comes pre-seasoned with flaxseed oil.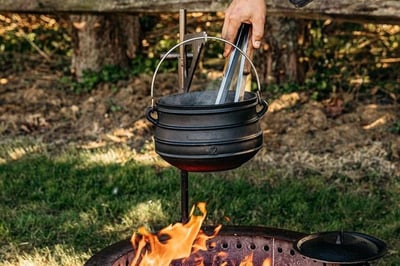 If you're interested in the cast iron kettle, the kettle hook was specifically designed to pair with it. Like many of the Breeo product lines, the kettle hook is made from 304 stainless steel. This gives it strength and durability.
Like the Outpost accessory, kettle hooks can be rotated a full 360 degrees and are fully adjustable for height.
The kettle hooks come in two sizes: X19 and X24. These correspond to your Outpost 19 or Outpost 24.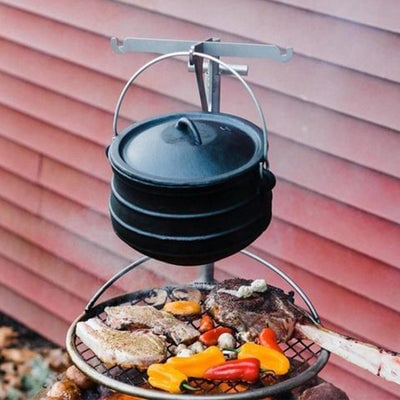 A built-in SearPlate is an available option on the Breeo X series fire pits. This is a thicker rim that gives you the ability to sear, to grill, and to cook directly on your fire pit.
This feature is the perfect embodiment of the Breeo brand and ideology. It's not just a fire pit; it's an opportunity to gather with friends and family and have a fun, meaningful, immersive experience. (It's even a way to safely spend time together through the pandemic.)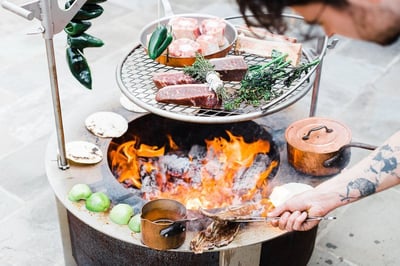 Have Any Questions about Live Outdoor Cooking at Your Northern Virginia or Maryland Home?
If you think a Breeo fire pit could be a part of your dream backyard, contact us today. We're always happy to help!