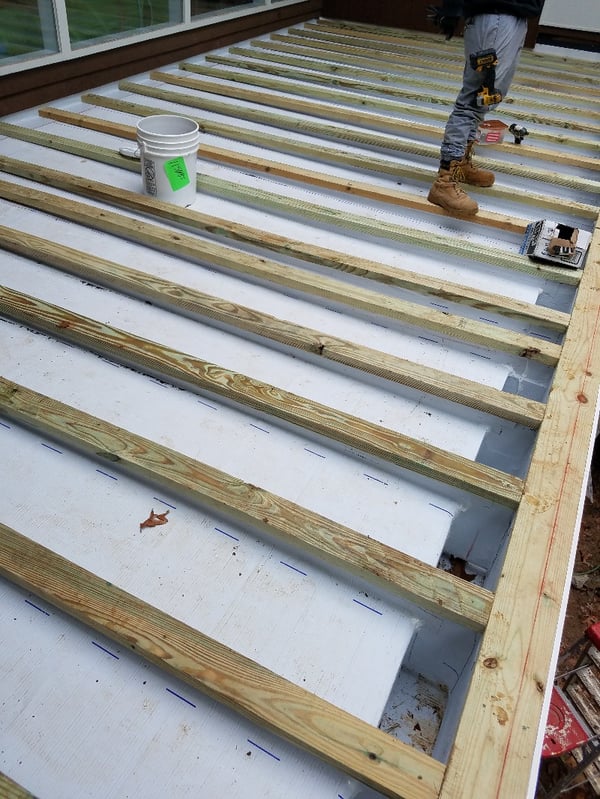 Sick of wasted space under your elevated deck? Want a dry area you can safely place patio furniture, electronics, and more? Especially in the Washington, DC; Virginia; and Maryland regions, where rainy weather is all but a given, a dry deck system could just be the answer for you. Here's what you need to know about the system Design Builders uses to solve this problem.
What Is the Design Builders Dry Deck System?
When Design Builders approaches a dry deck project, we essentially are looking to create an actual roof underneath that elevated deck. The process, therefore, is the same as you'd find for any roofing project.
Taking the waterproofing to that extreme offers the homeowner many advantages: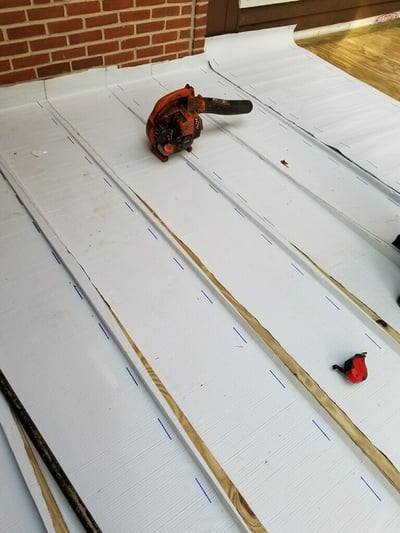 Benefits of the Design Builders System
Because you're creating an actual roof, it is, by design, entirely waterproof. Other systems are close but not wholly free of leaks. The ZipUP UnderDeck system, for example, is generally about 95 percent waterproof.
Just like every job we do at Design Builders, our dry deck systems are custom. Whatever your home's layout, we can accommodate. You also aren't limited in your choice of ceiling options. (With the ZipUP product, you are.) From a design perspective, this gives you the highest level of customization.
Compatible with Electrics
Whether you're looking to install lots of infrared heaters (a big trend in 2021 outdoor living spaces), fans, lights, or more, the Design Builders dry deck system is compatible with as many electric devices as you'd like to install. All the waterproofing processes happen from above, so you can safely add any number of electrics
This gives you the freedom to customize the space as you see fit, without worrying about adjusting your plans based on the limitations of the dry deck system itself.
Other systems, such as Trex RainEscape, use gutters to divert the water away from the under-deck space. Design Builders uses concealed tubes. This creates an entirely clean aesthetic look.
One of the benefits of working with a custom design and build firm is that small details are often accounted for and incorporated into your design. With this dry deck system, for example, it comes with a mesh screen to ensure leaves and other debris don't end up clogging your concealed tubes.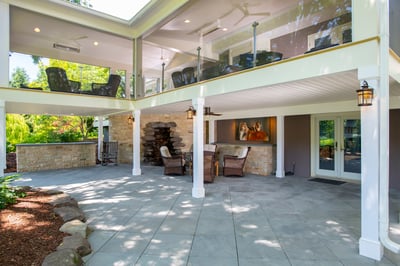 Disadvantages of the Design Builders System
This system does cost more than either the ZipUP or other manufacturer options. If you're just looking for something basic that looks nice, gives you a good deal of waterproofing, and doesn't need to accommodate a lot of electric items, a less expensive system could be a better fit for your home.
Given the nature of how our system is built, you can be left with a larger-than-average piece of trim facing. If that slight design anomaly bothers you, you can opt for an all-steel deck frame. This will allow for slimmer trim with our dry deck system. (It also offers a host of other benefits, from durability to sustainability.)
Want to learn more about all your dry deck options? Read through three of the industry's most common systems.