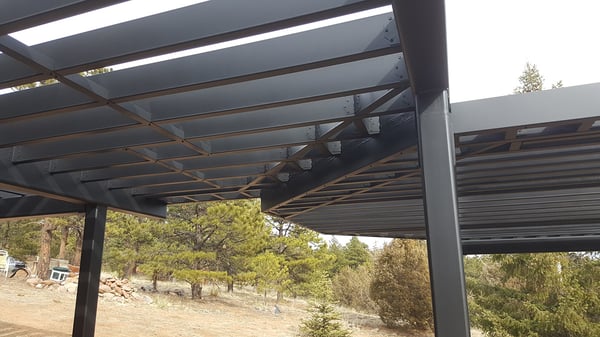 If you're considering adding a new deck or completely rebuilding an existing one, you're likely thinking a lot right now about deck framing systems. While pressure-treated wood is currently the industry norm, if you live in the DMV (Washington, DC, Maryland, and Virginia), you should give some serious thought to the benefits of an all-steel framing system like Evolution, by Fortress Building Products.
What Is Evolution, and What Sets It Apart?
Evolution, by Fortress Building Products, is a deck framing and stair system. Unlike most deck frames in the US market, though, this product does not utilize pressure-treated lumber. Rather, it is an all-steel solution.
The use of steel rather than wood provides a litany of benefits, including the following:
A deck frame that will last as long as your composite or other wood-alternative decking boards
Aesthetically pleasing powder-coated structure
A frame that doesn't contribute to deforestation
An integral part of a sustainable decking system
Stronger, straighter, more durable components to your deck
Low-maintenance system
Great value over the life of the product, including significant resale value
Compatibility with any type of decking board
Fire-, insect-, and rot-resistant material
Designed for quick, easy installation
Designed for fewer posts and greater spans
Build to Last in a Harsh, Variable Climate
As anyone who lives here knows, the DMV frequently experiences harsh weather, including intense sun, rain, snow, and big temperature swings throughout the year. That can quickly take a toll on anything exterior to your home. Even pressure-treated lumber can deteriorate at an alarming rate when exposed to such variable weather. If you want greater peace of mind that your investment is going to last in that kind of environment, it makes sense to opt for a material like steel, which doesn't bend, splinter, warp, rust, or deteriorate—even in the harshest of climates.
Make Your Home Stand Out in the Competitive DC Real Estate Market
Washington, DC, and the surrounding areas are hugely competitive in the real estate market. If you want top dollar, it's important to help your house stand out. A durable, all-steel deck framing system could do just that. Not only is the frame itself as beautiful, sleek, and modern as the rest of the deck (no needing to hide this material with fascia!), but its durability means potential home buyers know they'll be saving on maintenance costs, repairs, and eventual replacement.
Steel is also compatible with many design aesthetics, including creating curved decks. This visual interest can help create a wow factor that will entice potential buyers, and all other factors being equal, it can be the distinguishing element that attracts someone to your home over another.
Are you located in the DMV and need advice, guidance, or insight about your next home project? Design Builders specializes in exterior living spaces in the Virginia, Maryland, and DC regions, and we'd love to talk through what materials and design concepts are most compatible with our specific climate and your particular home.