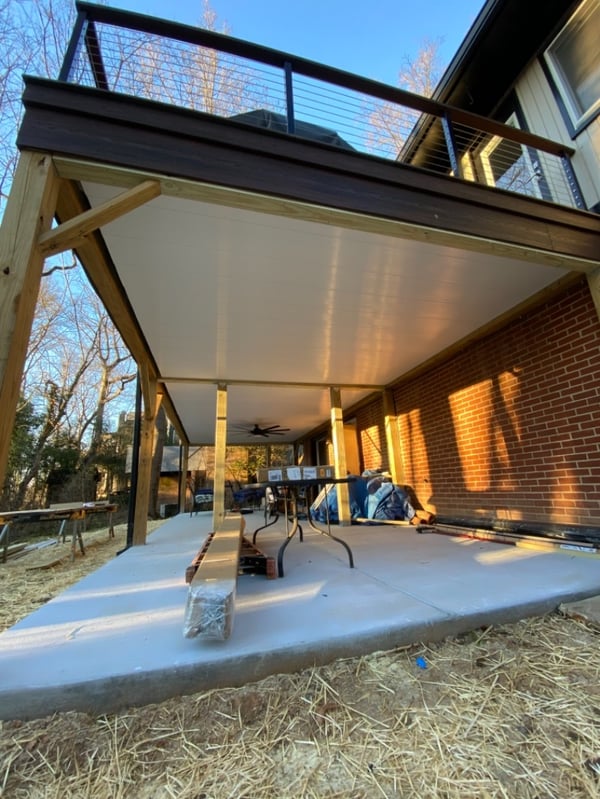 If you're looking to create a usable space underneath your elevated deck, you're going to need some sort of dry deck solution—a drainage system that diverts water away from the area under your deck, leaving it dry. (Read about 3 common dry deck systems here.)
Here's everything you need to know about the ZipUP UnderDeck solution:
ZipUP UnderDeck System: Pros and Cons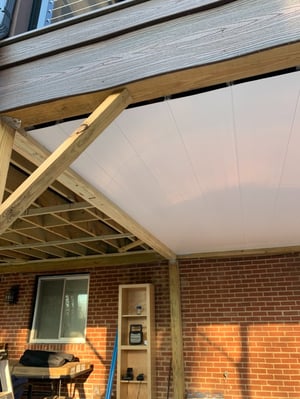 Pros of the ZipUP UnderDeck System
Quick and Easy Installation
A quick installation can save you on hassle and installation costs.
Compared to other dry deck systems, this is the least expensive.
Ceiling panels come in gray, beige, and white. If you want a custom color, the panels are paintable with latex paint.
Ceiling panels come in serrated, pebble, smooth, and Cape Cod.
Get extra peace of mind knowing your installation is protected by a lifetime limited warranty. (Read all terms and conditions of that warranty.)
The ceiling panels are resistant to staining, mold, mildew, rust, and corrosion.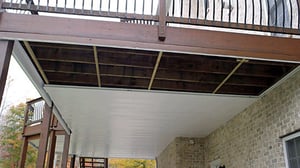 Cons of the ZipUP UnderDeck System
Lots of Electrics Are Not Recommended
Every electrical addition (lights, ceiling fans, heaters) requires putting a hole into a ceiling panel, and every hole increases your odds of getting leaks. If you're interested in a ton of electrics, another system (Trex RainEscape or the Design Builder's system) is recommended.
Heaters Should Be Avoided
The ceiling panels are a vinyl product, and vinyl is not highly compatible with heat. If you're looking to install heaters (an increasingly popular choice), avoid this dry deck system.
Not 100 Percent Waterproof
In general, these systems tend to keep about 95 percent of the water at bay. If you need to guarantee that all water is kept out of your under deck living space, this isn't the ideal choice for your home.
Not a Lot of Design Selection
Yes, you get several color and texture options, but if you're looking for a specific design aesthetic, ZipUP might not be able to accommodate. If you're looking for total freedom with your ceiling choice, you'll need to opt for another system, such as the Design Builders dry deck solution.
Conclusion: Is the ZipUP UnderDeck Solution Right for Me?
A ZipUP UnderDeck solution is great for those looking to create a clean, simple under deck look. It's ideal for those seeking a mostly (but not entirely) waterproof space under an elevated deck at the most economical price point.
If, however, you're interested in adding a lot of electrics to this outdoor space, you have a specific design aesthetic in mind, or you need the area to be completely waterproof, the ZipUP UnderDeck system is not a great fit. A different system is likely to cost more, but it could also much better meet your needs.
Want to discuss what dry deck system would work best in your Virginia or Maryland home? Reach out. We're always happy to help!