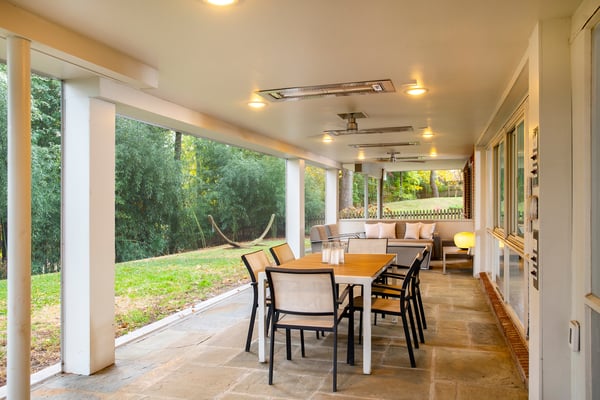 What Are My Options for a Dry Deck System?
In climates that experience a lot of moisture—very much including Northern Virginia and Maryland!—a dry deck system can be invaluable. Here's a quick rundown of what this kind of system entails and three of the most common systems on the market today.
What Is a Dry Deck System?
A dry deck system is any drainage system that creates a dry area underneath an existing second-story or elevated deck.
Installing a dry deck system is usually done for two reasons:
One, it makes that space under the second-story deck usable. Because you're removing the moisture problem, you can safely put out patio furniture, electronics, or other additions that would otherwise be ruined after exposure to the wet.
Two, it directs water away from your deck substructure, which minimizes the opportunity for decay and rot.
3 Common Dry Deck Systems
The ZipUP UnderDeck solution was designed to be straightforward, economical, and simple. It's a vinyl ceiling panel that provides a finished, polished look to the underside of your deck. In this application, water diverts to the existing gutter system. Generally speaking, it keeps out about 95 percent of the water and moisture.
Panels can easily be removed or, if necessary, replaced. This allows for access to any electric, plumbing, or mechanical systems. It also allows for occasional cleaning.
This system is not highly compatible with a lot of electrical elements. Therefore, if you're looking to install something like Infratech heaters, a different dry deck system will be more effective for you.
At Design Builders, we have our own system for achieving a dry space under an existing deck in any of our DC, Northern Virginia, or Maryland projects. Our system is essentially the same process as building a roof, which means we stand behind it being 100 percent waterproof. If you're looking for absolutely no water or moisture getting through to your under-deck space, our system is the way to go.
It doesn't require having visible gutters, so you get the most clean, sleek, streamlined look possible. With the fully waterproof aspect, you can also add as many electrical elements as you'd like, including lighting, heaters, and more.
It is more expensive than either the ZipUP or other manufacturer options, but it also provides that extra peace of mind and the increased aesthetic appeal.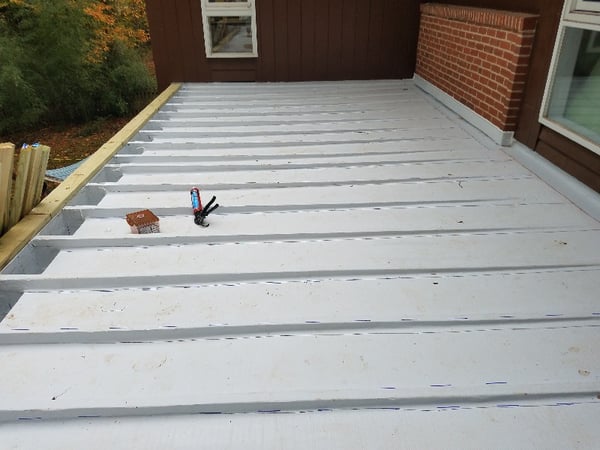 Other Manufacturers (Including Trex RainEscape)
There are a number of other under-deck drainage systems on the market, and one of the most popular and well known is the Trex RainEscape system. These available systems vary in price and effectiveness, but generally they keep around 99 percent of the water off the under-deck area. Like the Design Builders system, this keeps enough of the water out that they are compatible with electrics.
They tend to be slightly less expensive than the Design Builders system, but they also often incorporate gutters to divert the water away. This isn't a negative in and of itself, but from a design standpoint, it's not as clean and sleek as it could be.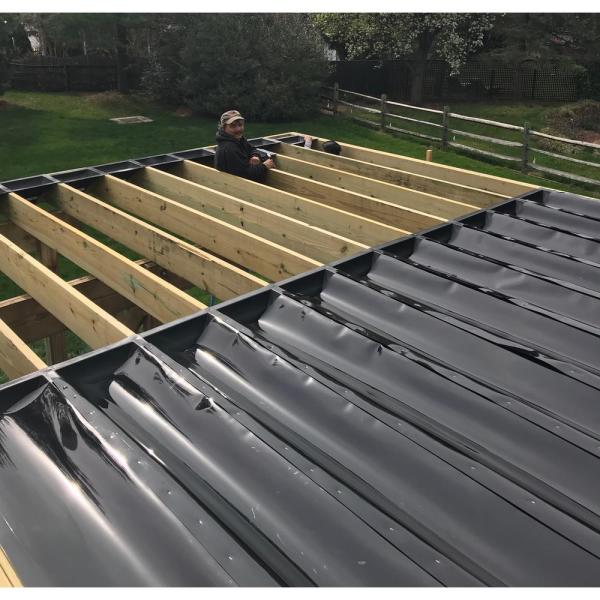 Questions about Dry Deck Systems?
Wondering what dry deck system is best for your Northern Virginia or Maryland home? Send us an email, and we'll get back to you as soon as possible!