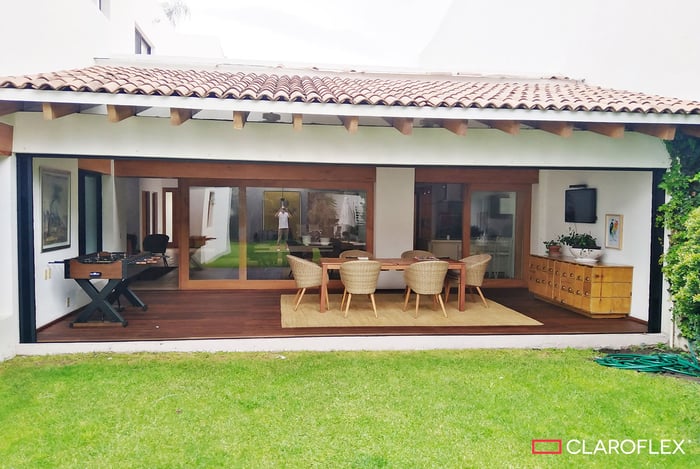 Designing with architectural glass provides a number of benefits for Virginia and Maryland homeowners. (See this article highlighting some of the biggest advantages.) If you're specifically interested in frameless glazing (also known as "glass walls" or "glass curtains"), consider a solution from CLAROFLEX. Their PIVOT system is an innovative, aesthetically beautiful, and functional addition to any remodel of your outdoor living space. With that in mind, here are some high-level highlights to know about this system.
PIVOT Systems and Glass Selection
Both laminated and tempered glass are compatible with a PIVOT system. These panes are available in 8, 10, and 12 millimeters. (That correlates to about 0.31, 0.39, and 0.47 inches.) Varying glass thicknesses allows you to choose the panels that best meet your needs, both from a functional and aesthetic standpoint.
Maximum Dimensions for the CLAROFLEX PIVOT System
To assess whether a PIVOT system will be compatible with your given exterior space, the maximum dimensions are as follows:
Individual Panel Width: 800 millimeters (almost 31.5 inches, or about 2.6 feet)
Individual Door Width: 1,000 millimeters (about 39.4 inches, or almost 3.3 feet)
Individual CLAROFLEX SlidingDoor Panel: 950 millimeters (about 37.4 inches, or about 3.11 feet)
Maximum Height: 3,200 millimeters (almost 126 inches, or about 10.5 feet)
CLAROFLEX recommends a maximum of sixteen panels per opening. These systems, however, are very adaptable. If you're working toward a specific design that requires more than this recommendation threshold, reach out, and we can discuss the logistics and feasibility of your project.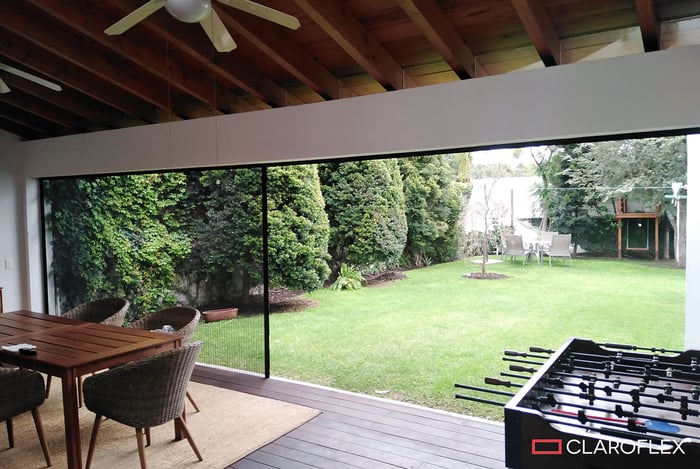 Technical Specifications and Features of the PIVOT
Whether you're an individual homeowner or you're looking for options in the construction or remodel of a commercial space, here are some technical features to keep in mind about the PIVOT system.
Wind Resistance: Class 6, which correlates to about a 10 on the Beaufort wind scale. (This chart illustrates that these conditions are "seldom experienced on land.")
Sound Insulation: 34 decibels (dB)
Thermal Transmittance: 5.6 W/m2K
Air Permeability: Class 2
Advantages of the PIVOT Design
From an aesthetics perspective, the PIVOT system offers all the benefits of any frameless glazing system. This includes everything from view preservation to the modernity of glass to the compatibility of glass in any given design space.
The PIVOT system design, however, provides a number of unique benefits compared to similar products on the market. That includes the following:
No bearings or wheels. Individual panels move over a sliding surface, making seamless, silent operation possible without the addition of bearings or wheels.
Corner navigation. The PIVOT system allows for panels to pass through corners ranging from 90 to 270 degrees.
Multiple opening options. This system allows for inside or outside opening from either side.
Both top and bottom door locks are available, if necessary or desired.
Weight transmission. The weight of the system is transmitted to the bottom track. This increases the overall safety of the design, and it means you don't have to invest in costly or complicated reinforcement where the system meets the ceiling.
Little required maintenance. The system is designed specifically to avoid the need for expensive yearly or otherwise ongoing maintenance. Other than keeping the glass clean, your maintenance requirements are nearly nonexistent.
Money savings on installation. The ease of installation means you have fewer billable hours to pay your contractor or build team.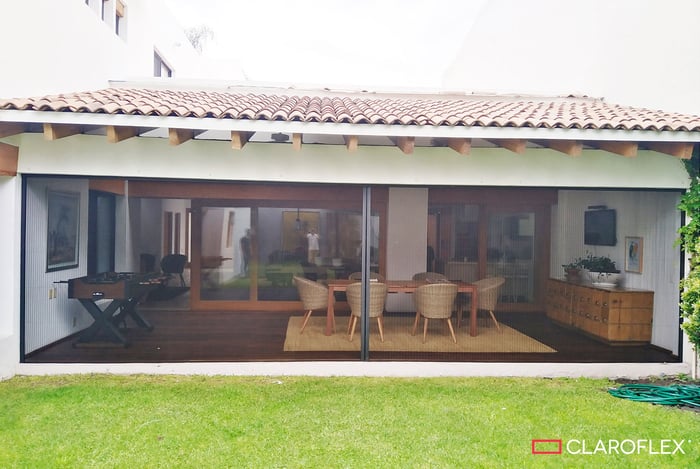 Additional Resources to Learn More about Frameless Glazing Systems
Love the look of these frameless glazing systems? Want to gather more information about the company and their product lines? Check out this collection of resources we've curated for potential clients: