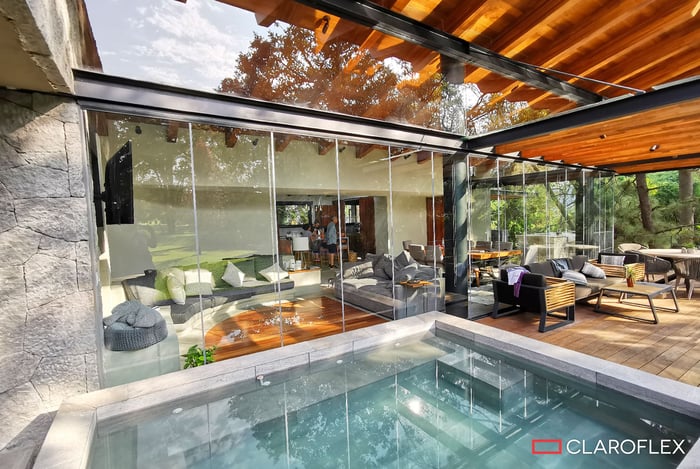 A frameless glazing system—sometimes referred to as a "glass curtain"—can be used in a variety of settings. Discover more about all the ways to utilize CLAROFLEX systems in your home or business.
Commercial and Residential Applications
The first important note about the CLAROFLEX SLIDE and PIVOT systems is they are equally applicable in commercial and residential settings. Whether you're a restaurant looking to capitalize on your view, a business in the hospitality industry that wants to make a dramatic and modern design statement, or a private homeowner who simply loves the look of floor-to-ceiling glass, a CLAROFLEX system can be a great fit in any of these instances.
While CLAROFLEX provides benefits in any environment and geography—see the top ten reasons to install frameless glazing—it offers some particular advantages in Maryland and Northern Virginia. Check them out here.
Want a full breakdown of the two main systems from CLAROFLEX? Check out the SLIDE, as well as the PIVOT.
Internal and External Use of Glass Curtains
At Design Builders, we focus on exterior living spaces. We provide design and build services for custom decks, patios, screened porches, and outdoor kitchens. (See our portfolio here.) While we exclusively handle the exterior applications of frameless glazing systems, the CLAROFLEX product does have internal uses as well.
If you're interested in using this product for an indoor renovation or remodel, check out the CLAROFLEX website for more information. Also feel free to reach out to us with any questions. Even if it's a job we can't complete, we're happy to lend our expertise and to provide additional resources, if possible.
5 Most Common Uses for CLAROFLEX Frameless Glazing
Terraces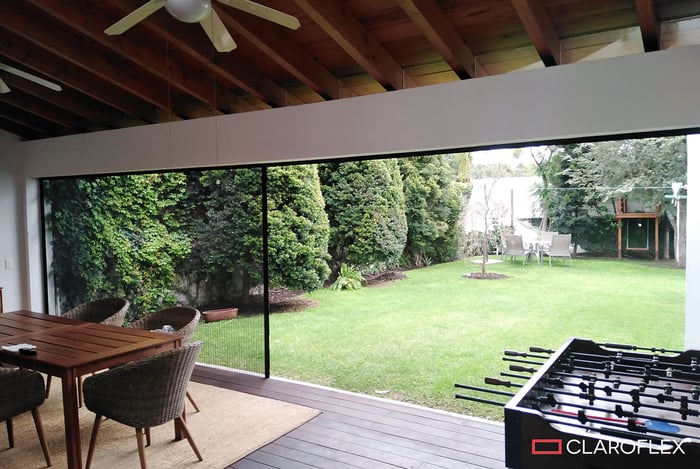 Does your home have a lovely terrace that could be enhanced with frameless glazing? Whether you're looking to keep the bugs out or you want a bit of shelter from inclement weather, frameless glazing is an amazing way to retain your views while keeping the open-air feel of an existing terrace.
Balconies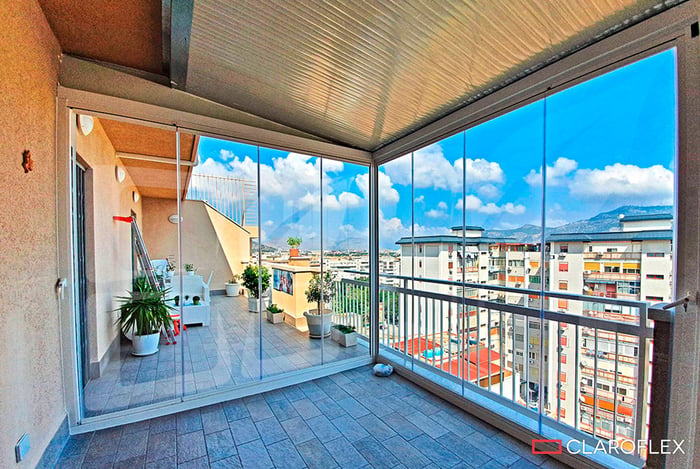 From apartments to condos to single-family residences, lots of home types contain balconies. These offer a slew of benefits:
Great for natural light
A pleasant place to work
An area to grow plants or veggies
A space for your pets to relax
Additional space for entertaining
To get even more out of your balcony, consider enclosing it with frameless glazing. This will help you retain all the benefits of the space while adding the upsides of protection from bugs, pollen, wind, and moderate temperature changes.
Porches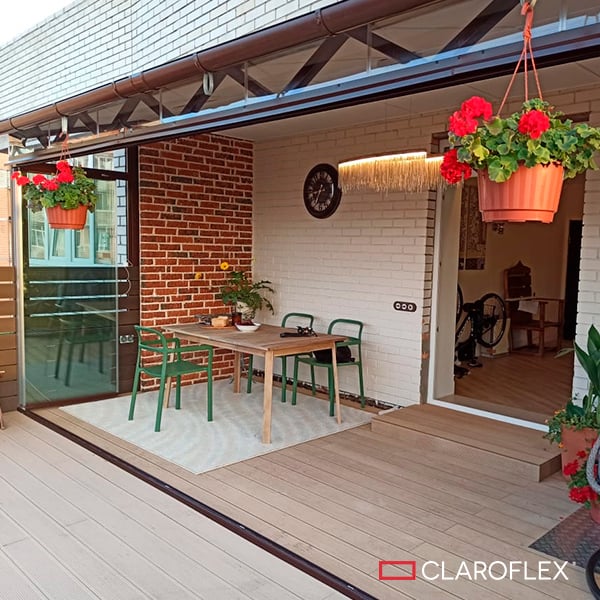 Screened-in porches are a perennially popular choice for outdoor living spaces, but one trend is becoming increasingly prevalent in this arena: the ability to seamlessly transform the enclosed area into an outdoor-air space.
This can be achieved in a number of ways. Maybe it's using retractable screens, or perhaps it's with a system like CLAROFLEX, which can either be slid open or pivoted open (depending on the chosen system).
In any case, the ability to switch between being enclosed and open air is of increasing interest to homeowners.
Decks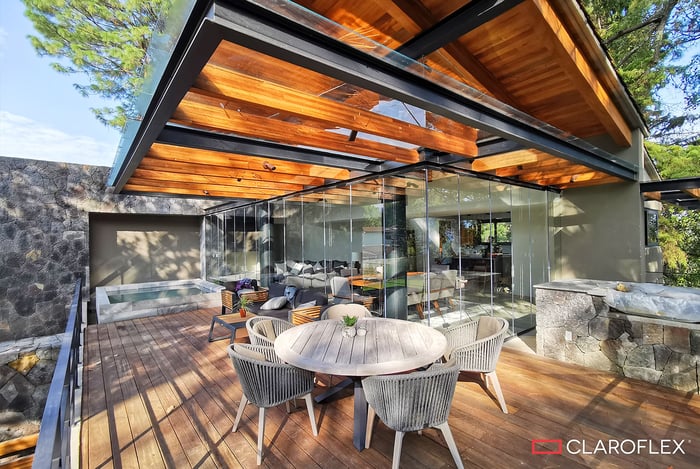 Transform any deck into a stunning enclosed area with a CLAROFLEX system. Preserve your views while adding to the usable square footage of the home.
Looking for other unique deck ideas? Have you ever considered a glass floor? What about a walkable skylight? Check out the most common ways to incorporate architectural glass into your outdoor living space.
Love the look of traditional wood or composite decking but still want a bit of visual interest? Consider incorporating a custom decking inlay.
For more ideas about ways to make your deck stand out, contact us. We always love to talk design!
Space Dividers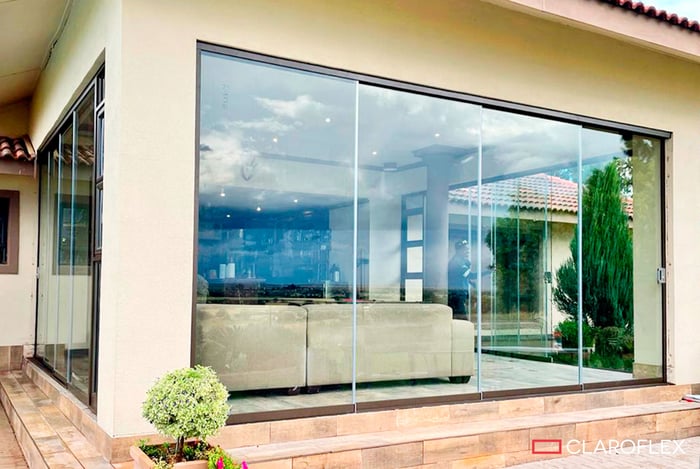 A CLAROFLEX system can be a seamless, aesthetically pleasing way to divide and differentiate space. Some of the most common use cases include private homes with pools, as well as dividers within commercial office spaces.
Have any other questions? Want to discuss design? Reach out, or request your no-obligation quote today.