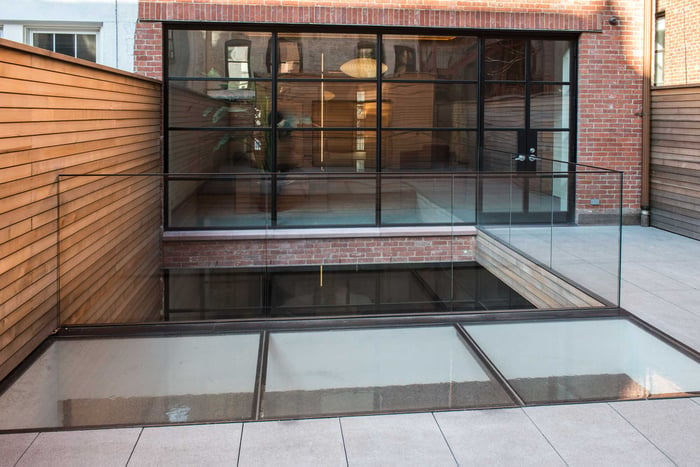 When you think of standard materials for an outdoor living space, what comes to mind? Pressure-treated wood? Vinyl? Stainless steel? Maybe composite decking? While each of these materials is entirely viable for outdoor spaces, one option is often overlooked: glass. If you're planning a renovation or a new build, here's how you can incorporate glass into your outdoor oasis.
5 Ways to Incorporate Glass into Your Exterior Renovation
Glass Flooring
Glass floors can be a dramatic addition to any exterior living space, including decks. Give your guests simultaneous beauty and just the right amount of vertigo-induced thrill!
If you're using glass as part of your flooring, just make sure you're using the proper antislip glass. Be especially certain to ask your contractor if it's rated for exterior use, as some are only intended for indoor applications. (Learn more about whether glass flooring is slippery here.)
Need some inspiration for projects that blend glass into the architectural design? Check out these private residences and commercial spaces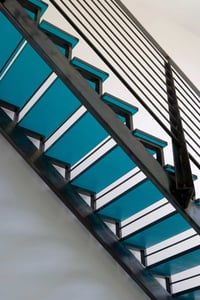 Glass Stair Treads
When you add glass treads into your staircase, you have the opportunity to transform that functional area into something that's also a striking part of your design aesthetic. Glass stair treads are modern, sleek, and integrate surprisingly well with just about any given material. From rustic lumber to polished stainless steel, glass never looks out of place. It's part of what makes it such an ideal material for custom design work.
Get an idea of how glass staircases translate into different designs with these completed projects.
Glass Countertops
Move over Dekton, quartz, and granite. There's a new player in outdoor countertops! Glass for exterior countertops isn't the industry norm—not by a long shot—but glass offers some distinct advantages, and it also lends a highly unique, customizable, and sleek appearance to any backyard patio or outdoor kitchen.
(Don't forget to talk to your contractor about how scratch resistant the glass is. From chopping limes to sliding highballs, bar tops often take a lot of abuse!)
Walkable Skylights
A skylight is a wonderful way to allow natural light to permeate an otherwise dark area below. As long as the surface is not on a pitch, you can take this common architectural element and turn it into something truly unique: a walkable skylight. As with glass flooring, make sure all safety considerations are taken into account: thickness of glass, failure redundancy built into the design, and antislip treatment.
See some examples of walkable skylights here.
Glass Bridges
Adding a glass bridge over a water feature can be a stunning custom addition to any home. Maybe you're walking over a serene koi pond in your backyard, or perhaps you're getting an up-close-and-personal view of a stream that runs through your property. The sky is really the limit with these designs. If you can imagine it, there's likely a way for glass to make that idea come to life.
Have any questions about architectural glass? Want to discuss ideas about how to incorporate it into your Maryland or Virginia exterior renovation? Contact us today. We're always happy to help!