If you're looking to build or design a deck, one consideration is whether or not you want a decking inlay. As with any design feature, it is up to the individual customer to decide whether a decking inlay is the right design fit. If so, that customer then needs to decide what specific inlay he or she wants. A professional design and build team can walk you through this process and your options, but the following are some general tips and information regarding deck inlays to keep in mind.

Decking Inlays: What You Need to Know before You Decide
Decking Design Styles through the Years
Decking designs have undergone a lot of changes—even within the past twenty years. Generally speaking, though, whether talking about decades ago or today, back decking boards are almost always installed parallel to the house. This avoids straight lines when looking out from or at the house, and it creates a more uniform look. (It's much more common for front porches to be perpendicular to accommodate for water runoff.)
If people wanted to deviate from that parallel look, it became common in the 80s and 90s to install boards at a forty-five-degree angle. Some people also chose a herringbone pattern where two boards met at forty-five-degree angles. However, many design firms now consider these looks somewhat dated.
In modern deck design, there are many ways to improve the overall look of a deck, including better handrails, better decking material, different trims, and so on, and one such option many people are gravitating toward is a deck inlay—a small pattern worked into the otherwise uniform decking boards.
Advantages to Incorporating a Decking Inlay
The first, and perhaps most obvious, reason is aesthetics. A small, tasteful inlay can be a beautiful addition to a high-end deck job. The only word of caution design and build firms offer is that less is more with inlays. A small touch can really make a deck visually pop, but it can be a slippery slope. That is, too much of a good thing can transition from elegant to over the top. Of course, the final design is ultimately the customer's decision, but industry professionals tend to champion more restrained inlays.
The other main advantage is logistical. Deck boards tend to come in lengths of twelve, sixteen, and twenty feet. If your deck is twenty-five feet long and a single board can't span its length, an insert in the middle of the deck is one way to make a natural break and avoid the deck boards having too many joints and gaps.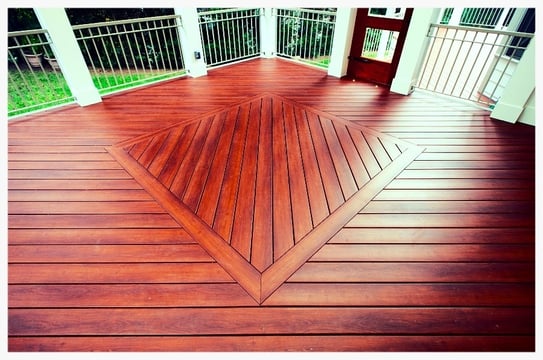 Types of Deck Inlays
When it comes to deck inlays, the sky is really the limit. A good design and build firm can accommodate a wide range of custom designs. Some of the following are common pattern choices for inlays:
This is a simple pattern with different colored wood for the perimeter of the square and inside the square. When placed in the middle of a deck, it can even approximate the look of a nice outdoor rug.
This can be a single leaf or multiple leaves, and each of those can be as detailed or basic as desired.
Patterns need not be cut only from straight lines. Circles are possible and always an elegant choice.
One of the more intricate choices, the Gaelic knot demonstrates the feasibility of designs that incorporate a lot of different wood types and colors and detailed work.
Whether you choose your name or a family name, any letter or combination of letters is possible.
Picture Frame Borders
If you don't desire a full inlay but you want your deck to have some extra aesthetic appeal, many decks installed by high-end design and build firms will come standard with a picture frame border. That's one deck board around the perimeter of the deck to visually designate the edge and give the deck a finished, polished look.
For any questions about decking inlays or the design, construction, or install of your new deck, please feel free to contact a representative of Design Builders, Inc.