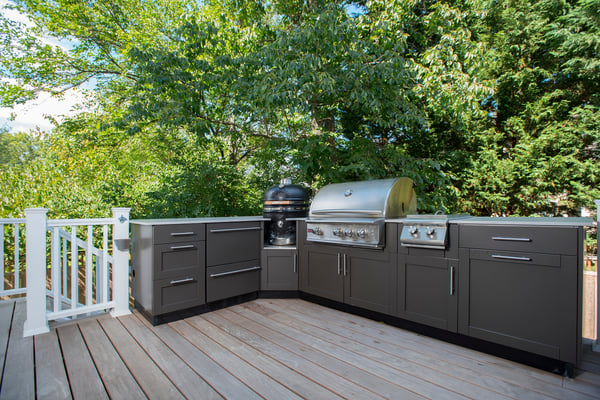 Outdoor kitchens in the exterior living spaces of Maryland; Virginia; and Washington, DC, homes continue to be increasingly popular, and every year, they become more elaborate and more suitable to year-round use. If you're thinking about redoing your backyard kitchen or designing one this year, Design Builders is following six trends for you to keep your eye on in 2020.

Custom Outdoor Kitchens: Top 6 Trends to Watch in 2020
Trend #1: Ice Maker Outside
If you're interested in using your outdoor kitchen primarily for entertaining, an ice maker is essential. When people are constantly refreshing their drinks on hot days, it's much more convenient to have this feature outside than making people continuously walk in and out of the house.
Ice makers are also more effective than ice buckets, which quickly lead to melted ice on hot summer days, and less obstructive and unsightly than multiple coolers littering your space. You probably won't use this feature every day, but it will be invaluable on the days you do need it.
As these outdoor kitchens in Maryland expand in scope, watch for more and more of these kinds of internal kitchen features to be added to the exterior space as well.
Trend #2: Kamado-Style Grills
Grills have always been the star of outdoor cooking, and kitchens today are no exception. However, the types and styles of grill have advanced a lot since the days of exclusively using round-topped charcoal grills.
Kamado-style grills are ceramic, and they are growing in popularity every year. Several companies have popularized this style of grill, including Kamado Joe, Saffire Grill, and Big Green Egg.
These grills allow you to cook at extremely high temperatures (up to 800 degrees), and everything is controlled by air ventilation. These types of grills are largely popular because of their versatility. You can close the grill and use it as a pizza oven; you can smoke meat over a low heat for extended periods of time; or you can even leave the grill open to use as a charcoal cooking surface, which is great for infusing your meal with wood flavor.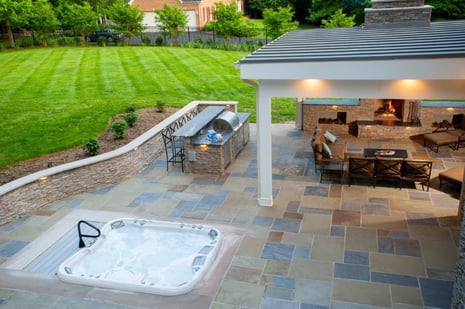 Trend #3: Creative and Aesthetically Pleasing Exterior Storage Options
As outdoor kitchen designs become more elaborate in 2020, it follows that more items will fill your stainless steel kitchen cabinets. This quickly leads to the need for good outdoor kitchen storage options. People are increasingly turning to high-quality exterior kitchen cabinets for this purpose.
Especially if you have large items to store (cushions, seat covers, and so on), wide-open, decorative cabinets like Danver outdoor kitchen cabinets are infinitely more refined and attractive than large plastic storage bins or tubs stacked haphazardly in your outdoor living space. In addition to the aesthetic benefits, good storage also simply allows you to maximize your usable outdoor space.
One trend that's particularly popular is adding kitchen island designs. This provides counter space and extra storage, but it also serves as a focal point for people to gather and socialize during events.
Trend #4: Multiple Styles of Cooker Within One Kitchen
People who get the most enjoyment and use out of a backyard cooking area are those who enjoy cooking in a variety of ways, which accounts for why multiple cookers are becoming so popular in outdoor kitchen designs.
Rather than limiting yourself to just gas, just charcoal or just a pizza oven, you can install several different cooking appliances to ensure you can make whatever you want throughout the year.
Small touches like a side burner for boiling water can make your cooking area so much more versatile, and without a lot of extra expense or hassle, you can suddenly cook multiple things at the same time.
If you're interested in using your Danver outdoor kitchen in Maryland consistently for entertaining, this ability is invaluable for saving you time and for ensuring every meal comes together as seamlessly as it would in your indoor kitchen.Trend #5: Cleanup Options Outside
The downside of entertaining is, of course, that you'll have to eventually clean up the mess. If you don't want to leave the party, though, consider building in cleanup options directly into your outdoor kitchen.
This can be as simple as a sink or as comprehensive as a dishwasher. Both allow for cleanup to be done outside, which means you no longer have to keep leaving the gathering to shuttle dirty dishes into the house.
Trend #6: Heating Options for Extended Use throughout the Year
If you've designed your outdoor kitchen exactly how you want it, you want to be able to use that space for as many months out of the year as possible. To help achieve that goal, consider the installation of various heating systems.
Whether you go with Infratech infrared heaters or a natural wood-burning fireplace, you can easily make your outdoor kitchen in Virginia or Maryland usable for ten months out of the year rather than six. For avid entertainers and cooks, having an outdoor space that remains comfortable for you and your guests for those extra months means you don't have to sacrifice doing what you love just because the weather isn't cooperating.
Do you have questions, comments, or concerns about an outdoor kitchen design in Maryland; Virginia; or Washington, DC? Drop us a line!