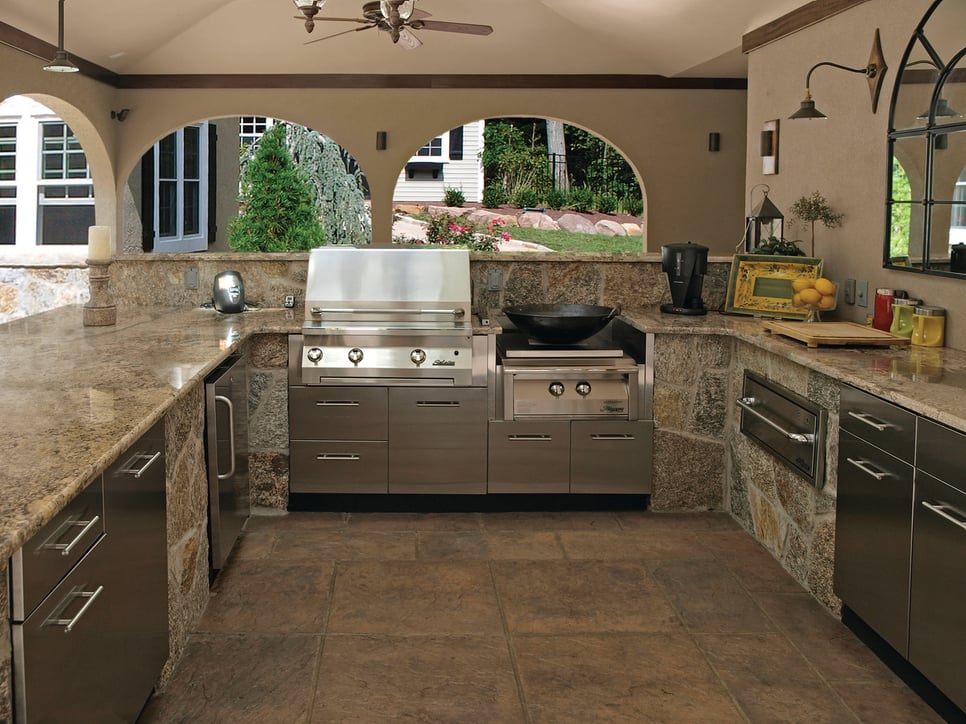 Why Danver stainless steel outdoor cabinets are the King of outdoor kitchens in Virginia, Maryland & DC
While it was the case just a few decades ago that backyard kitchen ideas were thought of as peripheral to a main house, they are now very much a part of existing homes as much as any living room, basement, or den. With that shift in mentality, homeowners have come to expect bigger and better things from their outdoor living spaces. Danver Stainless Outdoor Kitchens has established itself as a leader in this field by offering high quality outdoor cabinetry for patio storage, grilling areas, and the best outdoor kitchens in Maryland and NOVA.
Outdoor furniture giant Brown Jordan partnered with Danver to build their stainless steel outdoor kitchen cabinets, but why should you? Keep reading to learn how experience, workmanship, and materials render your local Danver cabinet dealer your optimal source for upscale outdoor cabinetry.
I. Danver's workmanship is second-to-none, with the warranty to back it up

The first major differentiator is apparent to anybody who has seen Danver stainless steel cabinets in-person: the workmanship and quality of their American-sourced materials are unmatched by other types of outdoor storage solutions.
Kitchen cabinets by Danver - including stainless steel Brown Jordan cabinets - come standard in brushed stainless steel, which is as durable as it is eye-catching. Backed with a lifetime warranty, Danver stainless steel outdoor cabinetry outperforms products made with other materials. They can also be upgraded and customized with powder coating (paint) or even marine grade stainless.
Workmanship is also guaranteed through Danver's manufacturing process. Danver's products, which are made-to-order, are preassembled in their Connecticut factory to ensure orders are shipped in perfect condition. With troubleshooting contained by Danver (as opposed to homeowners or contractors in the field), potential issues are diagnosed and addressed immediately by the very people making the cabinets for perfectly executed outdoor kitchen ideas every time. They will not ship parts out that are scratched or that fail to fit together.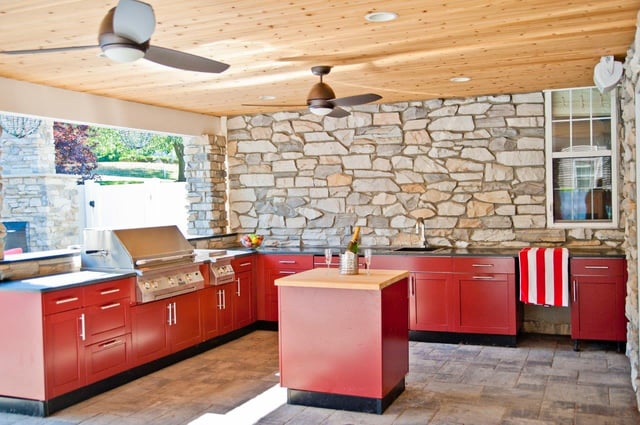 Brown Jordan outdoor kitchens use cabinets made by Danver. Seen here with Key West doors in Redwood trim in Woodbridge, VA
II. Product diversity: Danver cabinets come in all shapes, colors, and sizes

Danver is unique in that it offers alternatives to the desirable - though some would say clinical - stainless steel look. Their cabinets can be configured with different door styles, cabinet sizes, appliance accommodations, and powder coat finishes to meet any existing or planned design needs. This diversity makes it possible to treat outdoor spaces with the same care as interior kitchens, to the point where interior and exterior spaces can be aesthetically unified thematically. Even wood grain finishes are an option.
Powder coated Danver cabinets in Virginia and elsewhere represent an entire line of cabinets that take one's entertaining needs, cooking requirements, and other factors into consideration. Green Egg Cookers, Blaze Grills, refrigeration units, and pizza ovens are among the appliances that are accounted for by a particular product offering from Danver. While other cabinets can make the outdoor space feel like a design afterthought, Danver's color selection and quality makes it a true addition to the main home.
III. Experience in the Interior World
Perhaps the largest advantage is that the makers of Danver started in high-end interior kitchens. When they expanded into exterior kitchen work, they took that mentality of quality and beauty with them.
Danver also took many of the specialized features that were available with interior cabinetry and applied them to outdoor kitchen cabinets, so people who were looking for those upscale touches outdoors could only find them with Danver cabinetry.
IV. Experience in Stainless Steel
Stainless steel is not the easiest material to work with. It requires specific knowledge and skill to successfully craft, and this is most often beyond the ordinary manufacturer. Stainless steel, after all, requires specialized machinery as well as people who know how to run those machines.
Danver's background is in sheet metal and sheet metal design, so it is well positioned (in terms of hardware and personnel) to work with this material.
Many others who work in cabinetry have expertise in wood or perhaps plastic but not stainless steel. Wood and plastics, however, simply cannot hold up to the extremes of weather and temperature that outdoor cabinets are going to be exposed to.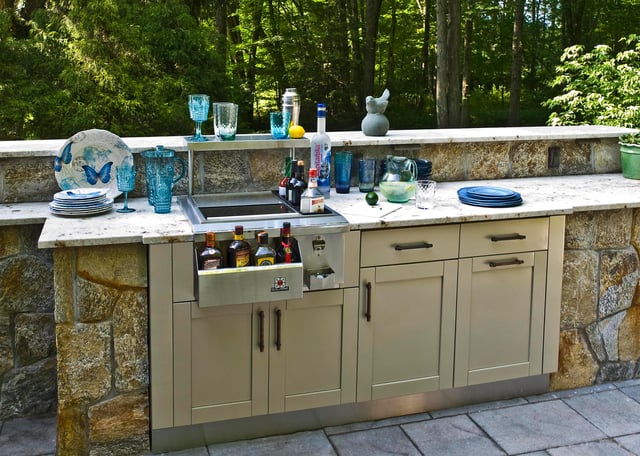 Powder coated stainless steel outdoor cabinets wth flagstone base representing Danver cabinets in Maryland
V. Stainless Steel versus Wood or Plastic
For outdoor cabinets, stainless steel proves itself time and time again as superior to other cabinetry materials. namely wood and plastic.
PVC and high-density polyethylene have issues supporting their own weight, and they tend to sag over time. This causes structural issues and the hassle of upkeep and maintenance for continued usability. Wood, on the other hand, needs to be kept clear of outdoor grills and other combustibles, which can be complicated from a design standpoint.
All these problems, however, are alleviated by opting for stainless steel instead.
For more information about what sets Danver outdoor storage cabinets apart, how these stainless steel cabinets could fit with your exterior space, or how to install Danver cabinets, contact your local Danver cabinet retailer today.