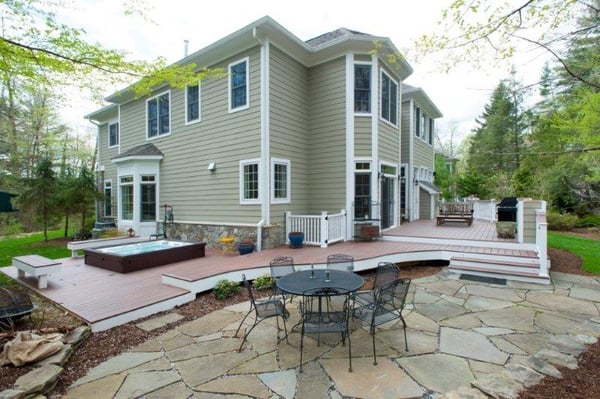 Avoid This Big (and Common) Outdoor Living Space Mistake
With a price tag that can exceed six figures, a fully custom outdoor living space is no small project. To ensure you get the most value out of that investment, James Moylan, president and CEO of custom design and build firm Design Builders Inc., has some simple advice. Avoid this one mistake he sees homeowners make again and again.
Take Your Time Designing Your Outdoor Living Space
Whether you're considering a custom screen porch or a fully functioning outdoor kitchen, designing your ideal outdoor living space shouldn't be a rushed process.
"Any custom outdoor living space is a big investment. You can easily spend $50,000 to $100,000, or even more," says Moylan. "Think about it like buying a high-end car. You wouldn't purchase one without test driving it. So, take your time with this home improvement. Put some real effort into the design process. If you do, you can create a really special space."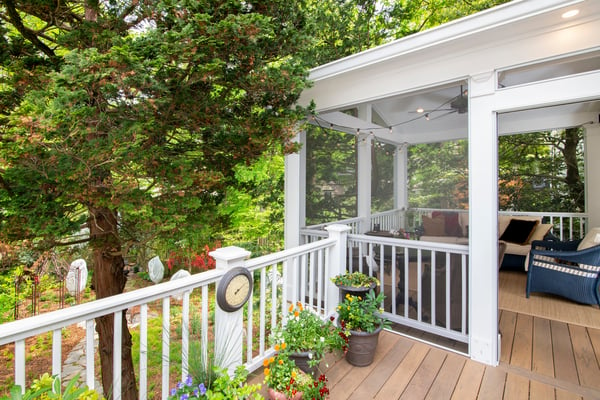 4 Reasons to Spend Time Planning Your Outdoor Living Space
Don't rush that new deck or patio. Here's why.
Get the Materials You Want
Start the design and planning phase early. If you do, you leave yourself enough runway to research all the materials you want to use.
With supply chain issues still plaguing the home construction industry, you also leave yourself enough time to ensure all those desired materials come into stock.
"Spend the time. Do your homework," says Moylan. "Check out all the materials available."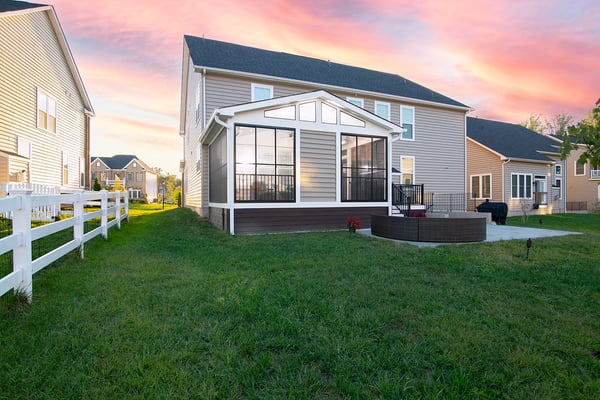 Give Yourself Time to Save
Not sure how to pay for a home renovation? From home improvement loans to HELOCs, you have lots of options.
However, if you're not looking to finance your home improvement, you'll have to give yourself enough time to build up your savings.
While you're building those funds, start the planning process for your project.
Working with a reputable design and build firm likely means that company is several months out anyway. Make the best use of that waiting time by saving and carefully planning your perfect outdoor space.
"One note about saving," says Moylan. "As with any home improvement project, save up more than you think you'll need. Unexpected costs always crop up."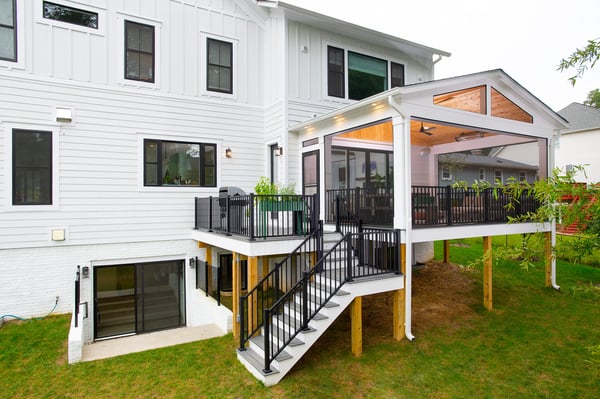 Create a Space Tailored to Your Life and Property
Think through exactly how you want to use this outdoor living space.
Is this an area where you'll be hanging out mostly in the morning, afternoon, or evening? Then think about things like where the sun comes up relative to your property. If you're adding a television, will that create glare? Will that make the space too hot?
All these considerations can be dealt with through proper, careful design and discussions with your design and build team.
Think about an entire year and what kind of gatherings you typically have. From holidays and birthdays to family reunions and block parties, what events did you host at your house? How many people attended? What activities did you do or wish you could have done?
As you're designing your space, create something that will accommodate all these annual events.
Some potential features:
Drawers and storage for cushions and blankets
Outdoor kitchen (with appliances and features tailored to your life)
Exterior trash convenient to the inside
"When you use your outdoor living space, it's fantastic. But it takes time, effort, and thought to get there," says Moylan. "Done right, it can be something that really changes your whole life. It can also separate your backyard from everyone else's and make your home really stand out."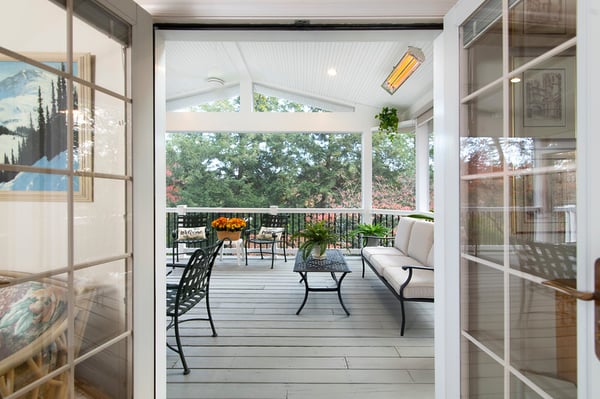 Create a Space That Offers a Better Return on Your Investment
When you design an outdoor living space too quickly, you can end up with features, materials, or layouts that don't actually suit your lifestyle.
You might, for example, be drawn to a retractable television. It's sleek, fun, and trendy. But think carefully about how you'll actually use the space. If you don't plan on watching TV all that often in your new screen porch, this isn't a wise place to put your funds.
If, however, you want to maximize how much you can use the space, invest in ways to create an all-season room. That includes things like heaters and bug screens to make the space comfortable and livable all year round.
"If you give yourself enough time in the planning phase, you'll likely end up saving money because you'll cut out ideas, products, and materials you don't actually need in the design," says Moylan. "You'll also have time to maximize elements that get you the best value for your money and offer the most positive impact on how you use the space."
Want to Learn Even More?
Check out these related articles:
Ready to Start Planning Your Perfect Outdoor Living Space?
Want to create a unique, custom outdoor living space in your Northern Virginia or Maryland home? Want to work with a company who can walk through the entire process with you—from design to refinement to construction?
Then reach out to Design Builders today.
For decades, we've specialized in high-end screen porches, decks, patios, and outdoor kitchens. We'd be happy to discuss your dream project and help it become a reality!