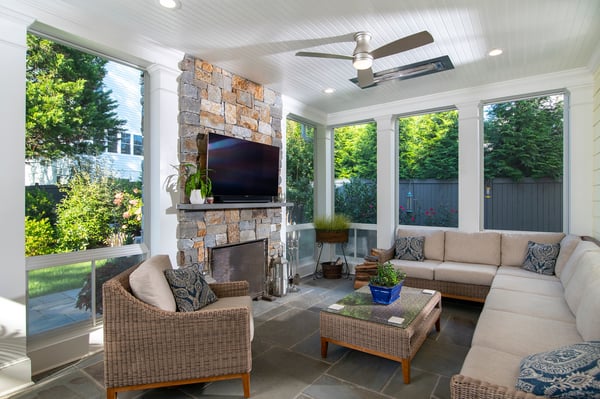 Make Your Outdoor Living Space Functional and Comfortable All Year
There's been a dramatic shift in the outdoor living space market. While areas like decks, patios, and screen porches used to be seen as places to enjoy just in spring and summer, that is no longer the case. What were once six-month (or maybe nine-month) rooms are now being designed, stylized, and built to be fully year round. If you're interested in designing or renovating a four-reason room in your home, here are the four top considerations to keep in mind.
4 Must-Have Features for Year-Round Outdoor Living Spaces
Stay Toasty with a Heat Source
The first consideration when making an outdoor living space comfortable, functional, and pleasant all year round is heat. How are you going to battle those icy temperatures and blasts of winter wind?
Even in an area like Northern Virginia and Maryland, which experiences relatively mild winters, having a heat source is crucial.
This can be any of the following: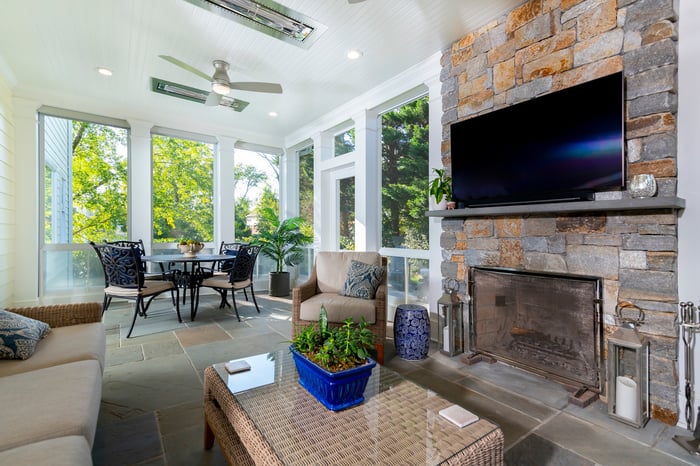 Just make sure to talk to your design and build firm to ensure your vision is feasible. A fire pit, for example, needs to be built with proper ventilation. It should never be used in an enclosed space without adequate airflow.
If you want a functional outdoor space throughout winter, investing in some heating source is necessary.
Beat the Heat
When summer rolls around, it seems like the obvious time to enjoy your screen porch or other outdoor living space. The heat, however, can make these spaces just as uncomfortable as the cold in the winter.
While traditional air-conditioning isn't possible in outdoor spaces (even enclosed ones), you do still have several options to beat the heat:
Ceiling fans
Evaporative coolers, or "swamp coolers"
Misting systems, such as those around pools
Aluminum pergolas or other structures that offer fixed or retractable shades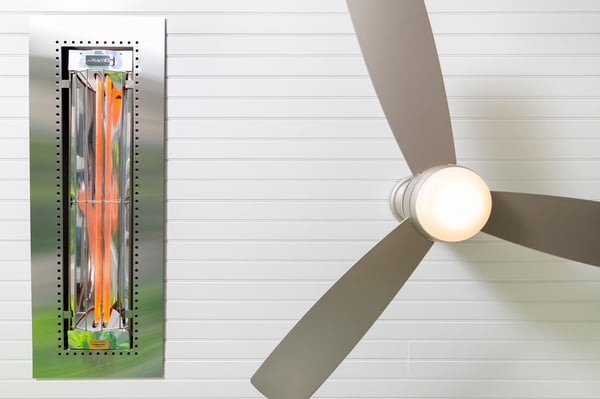 The best solution for you depends on what kind of room you're interested in creating, the weather you experience, and budgetary considerations.
Beat the Bugs
The other major nuisance to battle in the summer, especially in the Northern Virginia and Maryland region, is bugs. Flying, buzzing, biting insects can turn what should be a pleasant experience on a deck, screen porch, or patio into something far less enjoyable.
Keeping the bugs at bay can be done in a number of ways. If you're designing an entire enclosed outdoor area, vinyl windows can help you stave off insects while still maximizing views and ventilation.
If you're creating a more open-air space, something as simple as a ceiling fan can help drastically reduce the number of mosquitos.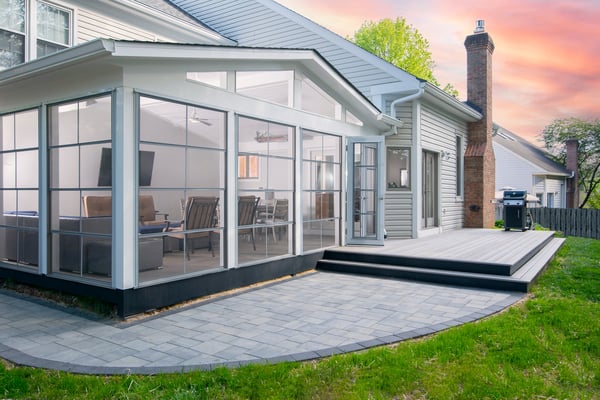 Capitalize on Ventilation
Another important factor to consider with any outdoor living space is ventilation. Proper ventilation can help you regulate the temperature within the space. It can make a room retain its outdoor feeling. It can even give people more peace of mind as they gather in these enclosed or semi-enclosed spaces.
Something like retractable windows gives you that freedom to choose between a fully enclosed and open-air outdoor experience.
Are You Interested in a Year-Round Outdoor Living Space?
Are you looking to create a new outdoor living space? Renovate an existing space to be more functional, stunning, and comfortable all twelve months of the year?
Get the process started with a free outdoor living space quote.
We're Design Builders, a design and build firm that specializes in these custom, high-end spaces. If you're located in Northern Virginia or Maryland and have any questions about transforming your exterior space into a year-round haven, we're always happy to answer questions and to help!