How to Get That Outdoor Living Space, Even if You Don't Have the Cash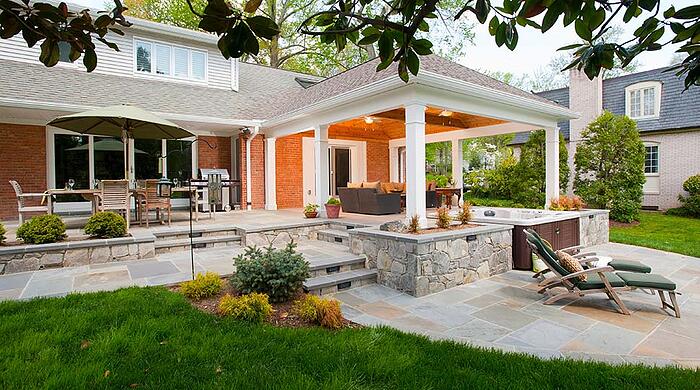 Inflation. Rising cost of living. Fluctuating prices in building materials. It's no secret that it's harder than ever to afford home renovations. Does that mean you should forget about that screen porch addition you've been dreaming of for years? Not necessarily. Here are seven different options for how to pay for a home renovation.
7 Options for Paying for Your Outdoor Living Space Renovation
Savings
If you have the cash available, this is the most straightforward and cost-effective way to pay for your outdoor living space.
If you can't save the entire amount, however, don't discredit the saving method entirely. If you can cover a large portion of the project with cash, the small remainder can potentially be financed with one of the other six options below.
Doing this minimizes how much interest you have to pay over the life of the loan. It also opens up more lending opportunities. Certain loans do have maximum limits. Without knocking the number down with your savings, your project might exceed those limitations
Home Improvement Loans
This is a type of personal loan. It is unsecured, meaning you will not have to put your house or any other assets up as collateral to secure it.
This is good and bad news.
The good news is you're not at risk of losing your home or other asset if you fail to make your loan payments in full and on time.
The bad news is the loan terms are not often as favorable as some other loan options. For example, compared to home equity loans or HELOCs (see below), this type of loan has a lower maximum loan amount and shorter repayment terms.
The specifics of each loan will vary, but in general, expect a home improvement loan to have a maximum repayment plan of twelve years and a maximum loan amount of $100,000.
If you need more than that maximum, you'll either need to cover the difference in cash or you'll need to choose a different loan option. The shorter repayment period also means your monthly loan obligation will be higher than it would be with a longer loan.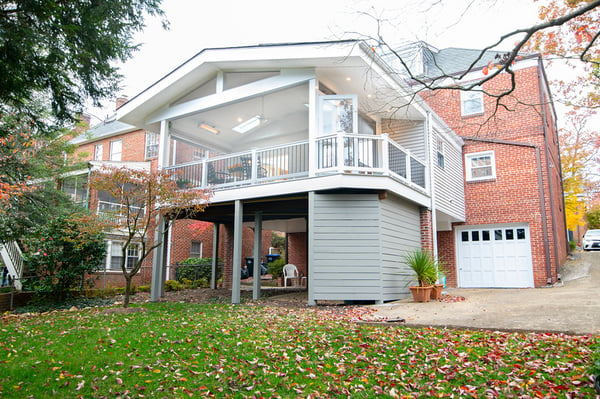 Home Equity Line of Credit (HELOC)
Unlike a general home improvement loan, a HELOC is secured. You will have to back this loan with your home as collateral. Should you be unable to pay back your loan for any reason, this puts you at risk of losing your house. However, by backing that loan, it does mean you can get more favorable interest rates.
A HELOC is somewhat unique in that it's not a set loan amount. You're approved up to a maximum, and you can pull from that revolving line of credit.
Your interest rate will be variable. This means you can't be certain whether your monthly payments will go up or down over the course of paying off your loan.
To capitalize on this type of loan, you do need sufficient home equity. Typically, you should have at least 15 percent equity in your house.
Home Equity Loan, or Second Mortgage
A home equity loan (or "second mortgage") is similar to a HELOC in that it's a secured loan. You will need to offer your home as collateral.
There are, however, several key differences.
For one, the interest rate is fixed. You know your monthly payments will never change over the course of repaying the loan.
Two, it's a one-time lump sum fixed payment amount, not a revolving line of credit.
If you're trying to decide between a home equity loan and a home improvement loan, equity-based loans tend to offer higher borrowing limits, making them better suited for larger home improvement projects. Their repayment periods are also longer, which can minimize your monthly payments. (This does increase how much you'll ultimately pay over the course of the loan, though.)
Having a better credit score will help you secure the best interest rates.
With this type of loan, keep in mind that a decline in your property's value could end up putting you underwater on your mortgage.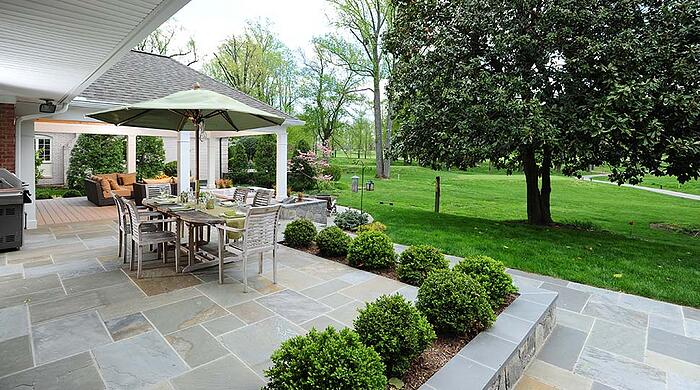 Cash-Out Refinance
This option is essentially a way to take out the equity you've earned in your home early and apply it to home improvements, including an outdoor living space addition or renovation. In a cash-out refinance, you replace your mortgage with a new, larger mortgage, and you get the difference between those mortgages as cash in hand.
Here's an example of how it works. Say you currently owe $300,000 on your home's original mortgage, and you have $200,000 in equity. You want to add a deck or patio for $40,000. In a cash-out refinance, you would end up getting a brand-new mortgage for $340,000. (That's an increase of $40,000 from your existing $300,000 mortgage amount, and your equity drops from $200,000 to $160,000.
While this type of loan does mean it will take longer to pay off your mortgage, you can lock into today's interest rates. This is good news if rates are lower than when you originally secured your mortgage.
Given today's interest rates, this might not be a favorable option right now.
Because this is basically an entirely new mortgage loan, there are potential fees to consider:
Home appraisal

Origination fees

Applicable taxes

Other loan-related closing costs
As of 2021, the average refinancing cost was $2,398.
Credit Cards
The option of putting your home improvement project on a credit card isn't right for everyone or every situation. It is, however, possible, and in some instances, it can actually make financial sense.
If the home improvement expense is relatively low, a credit card is a possibility. The average credit card interest rate in 2022 was 20.6 percent. So, if you're going this route, make sure you aren't on the hook for paying that kind of interest for very long.
Introductory 0 percent rates are one way to pay for your project without accruing any interest. Just make sure you can cover the entire financial burden before that introductory rate expires.
Also, you must ensure your credit limit is high enough to cover the home improvement expense.
If your credit card has a rewards system, this is one way to accrue a small bonus from the project. Say your new deck costs $30,000. If you get unlimited 2 percent cash back, that's an extra $600 in your pocket.
Government Loans, Specifically HUD Title 1 Property Improvement Loans
A HUD Title 1 Property Improvement Loan could be one way to finance your new outdoor living space. Here are some high-level details about this loan type:
The property must have been occupied for at least ninety days.

Even if you don't have equity in the home, you can borrow up to $25,000.

Renovations must improve the livability of the home. (Upgrades like fire pits, swimming pools, and other "luxury" items don't qualify. Talk to a lender to discuss your potential project and its eligibility.)

Title 1 loans require a debt-to-income ratio of 45 percent or less.

Interest rates are fixed.
If you qualify, a government loan does typically have lower interest rates and more favorable terms than traditional bank-backed loans.
Whatever loan you're choosing, always make sure to compare rates from multiple lenders. Rates and terms can vary, and doing your due diligence could mean savings hundreds, or even thousands, over the life of your loan.
Have Any Questions about Financing Your Outdoor Living Space?
Love the idea of expanding your outdoor living space but don't have the entire amount in cash right now? One of these financing options could be right for you.
Not sure how much that deck, patio, or screen porch is going to cost? Get a quote today.
We're Design Builders, a custom design and build firm specializing in high-end outdoor living spaces. Once you have a ballpark idea of cost, you'll have a better sense of what kind of financing (if any) will help you achieve your dream space.