10 Common (but Avoidable) Screen Porch Mistakes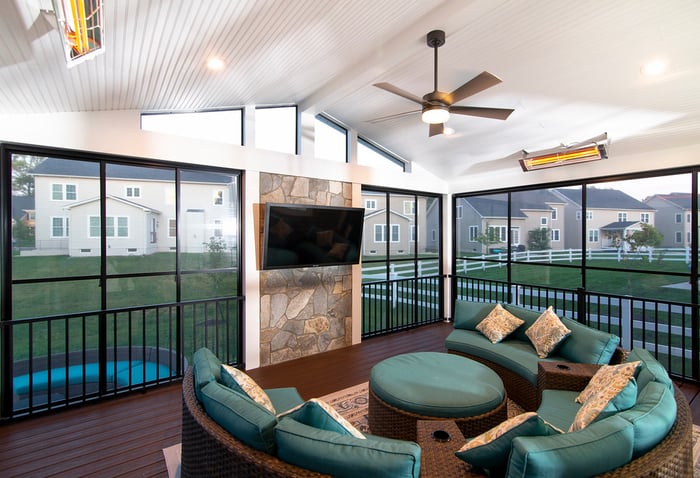 From bug-free living to extra square footage, there are numerous screen porch benefits. These outdoor living spaces are a sizable investment, though. To ensure you maximize the ROI, enjoyment, and functionality of your space, don't fall victim to these ten common screen porch mistakes.
Save Time and Money by Avoiding These Screen Porch Mistakes
Not considering how long you're going to be in your home
Designing a screen porch for you and your family and designing one for resale are too very different things. Before you start mapping out what you want, figure out if you're designing for the long haul or for a quick turnaround.
If you're looking to stay in your home long term, the design elements should be tailored to you and what you want. Maybe that means lots of fancy electronics (speakers, televisions, outlets galore) because that will enhance your enjoyment of the space.
If you're looking to sell soon, though, design with an eye to maximize screen porch ROI. That means getting the most functionality out of the space without any of the extras or frills.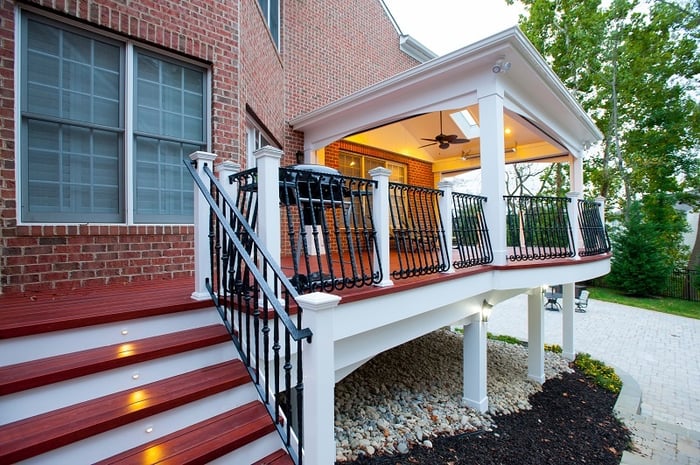 Not creating a strategic plan
When you start designing a screen porch, think strategically about what type of outdoor living space is most conducive to your home and your property.
When considering all these factors, start with some basic questions:
Will the land require extensive (costly) work to accommodate a screen porch?

What kind of weather or seasonal nuisances should the screen porch account for? (Bugs, anyone?)

What are my must-have, my nice-to-have, and my only-if-there's-room-in-the-budget items?
Not sure what you want? Not sure what options are even available? Get a screen porch estimate from a local design and build firm. This will give you a ballpark idea of what's possible and what your dream screen porch is going to cost.
Not disclosing your budget to your design and build team
We get it. Working with a design and build firm can be tricky. It requires a lot of trust and cooperation, and contractors are notoriously villainized for charging too much, taking too long, and cutting too many corners.
This leads a lot of homeowners to hold back when sharing anything to do with budgets. They think if they tell the contractor what they have to spend, the contractor will make the project cost that amount.
The result? You don't end up with your ideal screen porch.
If you're open and honest about your budget with a trusted design team, the contractor can help you determine what you want to get out of your screen porch and maximize that for the money.
Say, for example, you eventually want add infrared outdoor heaters to your screen porch, but you know you can't afford it all at once. If you tell your contractors, they can rough in the electrical work while everything is already open, allowing you to add the heaters easily and cost effectively down the line.
This is known as adding a stop point to your project. If you and your contractor are working as a transparent team, it's much easier to do, and it can save you a lot expense.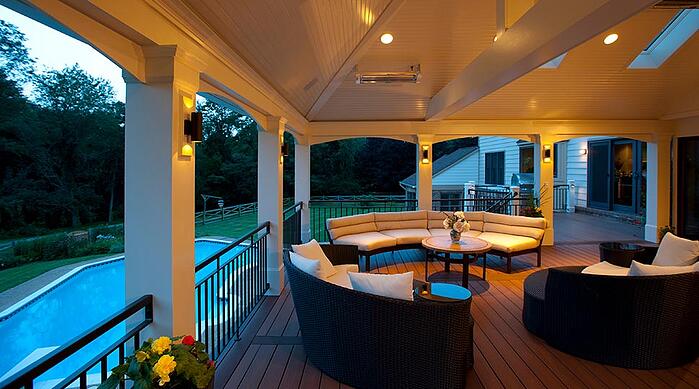 Putting the screen porch in the wrong location
The exact positioning of your screen porch matters. When deciding how to orient and to place your screen porch consider two big factors: privacy and environmental factors.
If privacy is a concern for you, make sure you're accounting for where neighbors or passersby would be able to see into your screen porch. This might mean anything from adding a privacy wall to installing screens that are clear to look through but dark looking in.
In terms of the geography, think about weather and seasonal nuisances. What will you need to build around?
It could be any or all of the following:
Bugs

Wind

Snow and ice

Pollen

Intense heat
Designing a screen porch that's too small
You don't want to go through the hassle, time, and expense of adding a screen porch just to create something that's too small to be truly functional.
What does "truly functional" mean? It depends on how you want to use it. If you only need a one-person reading nook, you could keep the square footage low. If you're looking for a place to entertain guests and loved ones, you would need more space to accommodate those plans.
This is another place where being open with your budget is helpful. Your contractor can help you determine where you could save money on finishings or extras in order to get adequate square footage for what you need.
Also, if you're planning on staying in your home for a long time, don't forget to plan around the future. If your family might expand or you're looking to open a home office, all those kinds of things could affect how you want to use the space later.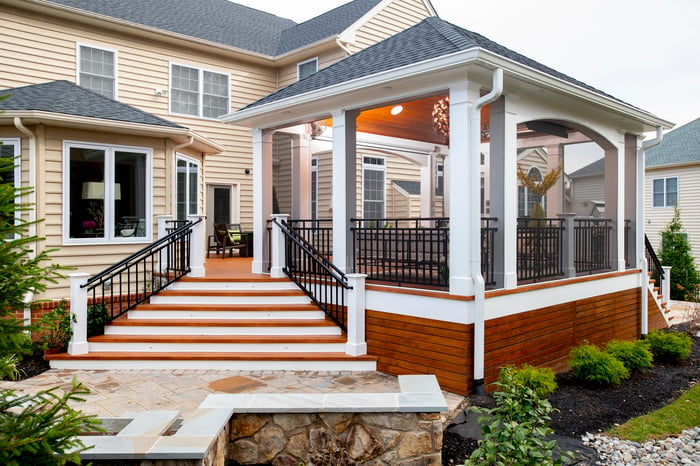 Designing a screen porch that's too large
On the other side of the design coin, you also don't want to build a screen porch that's needlessly large. This can end up upping your budget without adding any real functionality.
Work closely with your contractor to determine how much space is that happy medium: not so little it won't work for you now (or in the future) and not so much you're spending more than necessary.
Choosing high-maintenance materials for your new screen porch
Again, this is a big consideration if you're going to be in your home for a long time. High-maintenance materials, such as wood decking versus composite decking, require yearly upkeep. That means time, energy, and money for sanding, staining, painting, or replacing
The more years you spend in your home, the more those annual expenses add up over time. You can end up eventually saving yourself money by choosing low-maintenance or maintenance-free options for your decking, railing, and other screen porch components.
It's a different story, however, if you're looking to build the most cost-effective screen porch because you know you're selling soon. In that case, it could make more financial sense to choose a material that's less expensive now, even if it's more costly in long-term maintenance.
Not considering the entry point
One key feature of a screen porch is the entry point between the main home and the addition. Make sure to account for the natural flow of traffic within your home. Where will this screen porch make the most sense? Off the kitchen? Living room? Den?
This consideration will also affect your construction needs. Will you be using an existing door or adding a new one?
Also think about whether you'll want direct access to the outside from that screened-in porch.
Make sure your entry points make sense for how you want to use the space. If you don't, transitioning from the home to the screen porch is always going to feel awkward or unnatural.
Choosing the wrong level of amenities
Screen porches have become more than just a place to get away from the bugs. They are now truly extensions of the main home. They are every bit as luxurious, finished, and comfortable as any interior square footage.
When deciding what amenities to include and which to skip, think about how you want to use this space. Will you need:
An

outdoor kitchen

?

Televisions, speakers, and audio equipment?

Retractable screens?

Heating elements?

Low-voltage lighting?

Top-of-the-line composite decking
Decide which amenities are a must for you. Don't include anything that boosts the price tag but not the value you derive from the space.
Making the screened-in porch look like an addition
In an ideal world, you want your screened-in porch to feel like it's always been there. It should blend seamlessly with the primary home. This applies to interior finishings, but it also means matching siding, roof lines, roof material, and exterior color schemes.
Often this is the difference between a cookie-cutter design plan and a custom screened-in porch. Lower-end screen porches can feel like design afterthoughts; higher-end spaces feel like a more visually integrated part of the home.
Questions about Building a New Screen Porch in Your Northern Virginia or Maryland Home?
If you have any questions, don't hesitate to reach out.
At Design Builders, we specialize in high-end custom outdoor living spaces. Whether we work together or not, we're always happy to answer your questions!