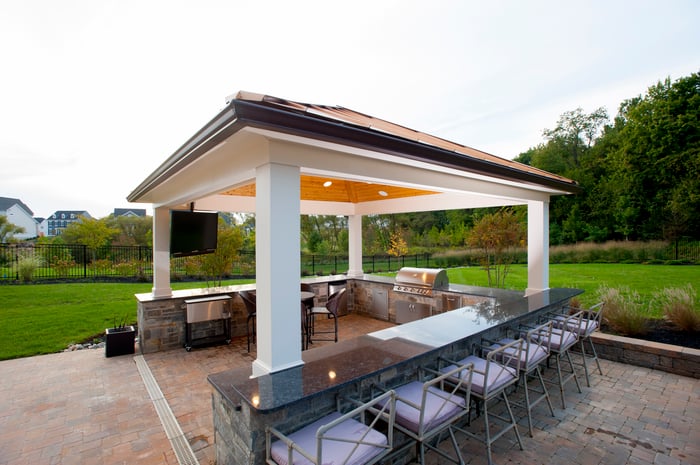 Outdoor kitchens and outdoor kitchen cabinetry are vastly different than they were even a few years ago. Today, there are so many options to think through, materials to choose from, aesthetics to match, and functionality to consider. (That's to say nothing of the actual installation process.) If you're feeling overwhelmed or want professional guidance with your outdoor kitchen plans, learn more about Design Builders's virtual outdoor kitchen cabinet design services.
What Do Our Outdoor Kitchen Cabinet Design Services Include?
Design Builders' outdoor kitchen cabinetry design services essentially help you navigate through all your outdoor kitchen options. These consultation services include the following:
Providing information, feedback, and potential design layouts for your outdoor kitchen.
Offering consultation services for the cabinet installation.
Directing onsite installation with our white-glove install services. (This includes a premium cost. Contact us for more information.)
The world of outdoor kitchens has evolved dramatically, and it's easy to get lost in the options. With our design services, you can leverage our years of expertise to get the aesthetics and functionality you want while also staying on budget. Because we work with all the major outdoor kitchen companies, we can let you know where and how to save money, where it's worth the splurge, and what materials and products are available on the market today.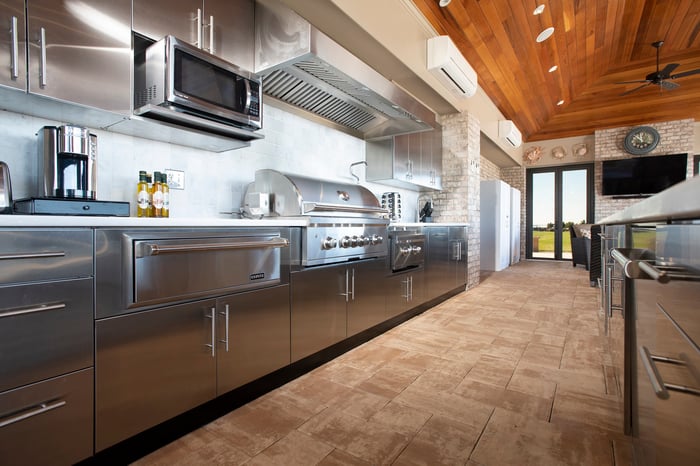 7 Reasons to Work with Design Builders
One-Stop Shop Experience for Your Outdoor Cabinet Needs
It can be difficult finding a contractor you trust. (One survey found just 31 percent of people had a high level of trust in their contractors. Another 60 percent said they had moderate trust, and the last 9 percent said low.) Once you've found a contractor whose expertise and experience you trust, you don't want to deal with the hassle of then finding another one. While Design Builders markets itself just like any other company, most of our new work comes from one source: referrals and recommendations.
With the Design Builders outdoor kitchen design program, you get that one-stop shopping experience. We're there every step of the way to provide our guidance, expertise, and insight, ensuring you get design services that are tailored to your exact specifications and needs. We're specialists in this area, and we're here to explain the process, to answer questions, and to ensure you get the cabinets that are right for you.
If desired, we can even offer the actual installation work. (See reason #2 below.)
We'll Come to You for White-Glove Installation
As our name suggests, Design Builders is both a design and build firm. If you'd like our team to handle the actual installation of the outdoor kitchen cabinets, we're happy to do that. On a case-by-case basis, we're happy to fly our installers to you—wherever you are in the world. Depending on the size of the job, it's usually a one- or two-day install.
This white-glove installation service would include a premium for the travel costs, but we're happy to discuss those options with you. If you have questions about this or would like an estimate for what an installation would cost, don't hesitate to reach out.
We Offer This Service Globally
From Chicago to Tokyo to Bermuda, wherever you are in the world, as long as you have Internet access, you can benefit from our design services. Whether you're local and just prefer to benefit from the advantages of online design services or you're halfway across the globe, we're happy to work with you to get you the outdoor kitchen cabinetry you've always wanted.
Years of Experience in Outdoor Kitchen Cabinetry
We've been in the design and build industry for over fifteen years, and we've watched our specific market and the industry as a whole evolve dramatically. We've watched as outdoor kitchens have gone from masonry, brick, and stone to the luxurious and functional stainless steel outdoor cabinets of today.
We know outdoor kitchens, and we specialize in cabinets. In over ten years of installations, we've put in hundreds of these units. We know what works and doesn't work, and we've come up against just about every issue, challenge, or barrier in the book. Whatever your outdoor kitchen needs, it's very likely we can help.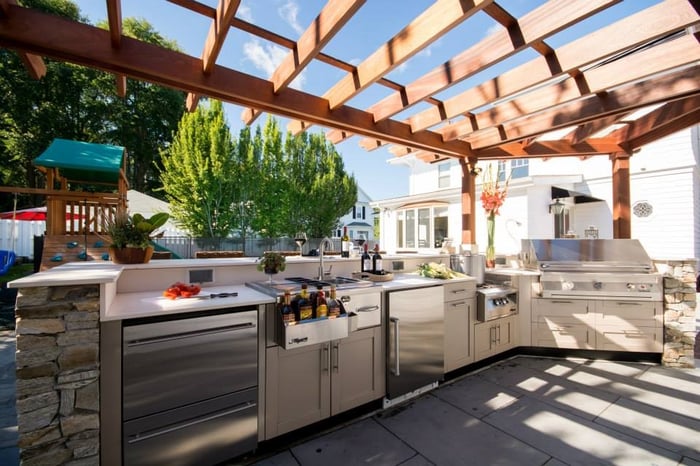 Experience with Many Types of Customers
One major benefit of our extensive experience in this industry is that we've worked with many different kinds of customers. From homeowners to builders to architects, we've offered our expertise and design services to a wide array of clients.
We know the nuances and challenges that affect each of these customers, and we can walk you through everything you need for a seamless, quick, effective cabinet layout design.
For other builders specifically, let us know if you have a showroom or a community that's going in soon. We would like to offer an outdoor kitchen to add to your model or showroom. We can discuss discounted pricing on your first units, as well as steps for setting up your sales team to be knowledgeable on how to sell these products. This can be a great financial opportunity for your business, and we're happy to lend our expertise and guidance to facilitate that.
Other Companies Don't Offer This Service
Homeowners looking to get design consultation with the companies that provide the actual products are usually disappointed. Often, these companies simply do not offer this type of design service. A company like Danver, for example, provides the high-quality product itself but will direct customers to a third party for design guidance.
Go Beyond Outdoor Kitchen Cabinets
Cabinets are a vital component of an outdoor kitchen, but they're certainly not the only element. Working with us means you also get access to all our vendor connections—for cabinets and otherwise. We can help you navigate the often overwhelming and confusing landscape of outdoor kitchens in general, helping ensure you get the best appliances, brands, selection, pricing, and overall layout for your space.
To that end, we have partnerships in place with brands like Danver, BBQGuys, Caesarstone, Trex, and more.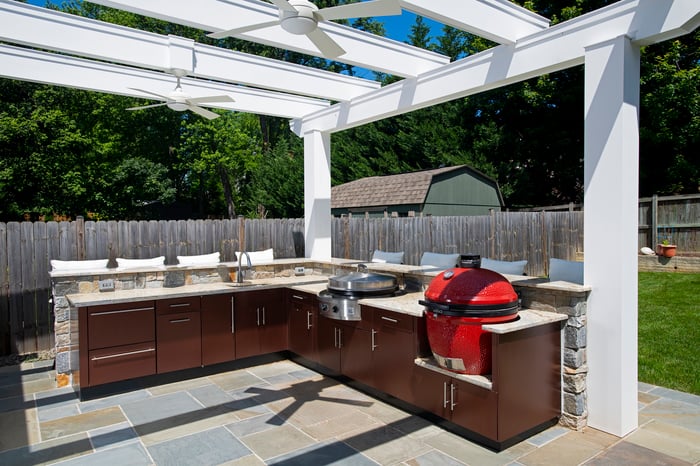 Advantages of an Online Design Process
At Design Builders, our design and estimate process has been entirely online for many years. (To see what this process entails, check out this step-by-step outline.) From time savings to increased efficiency to a reduced carbon footprint, this process provides a litany of benefits. Check out our itemized list here.
Learn More about Our Virtual Outdoor Kitchen Design Services
Interested in learning more about these services? Ready to get started on the design of your outdoor cabinetry? Wherever you are in the process, don't hesitate to reach out.