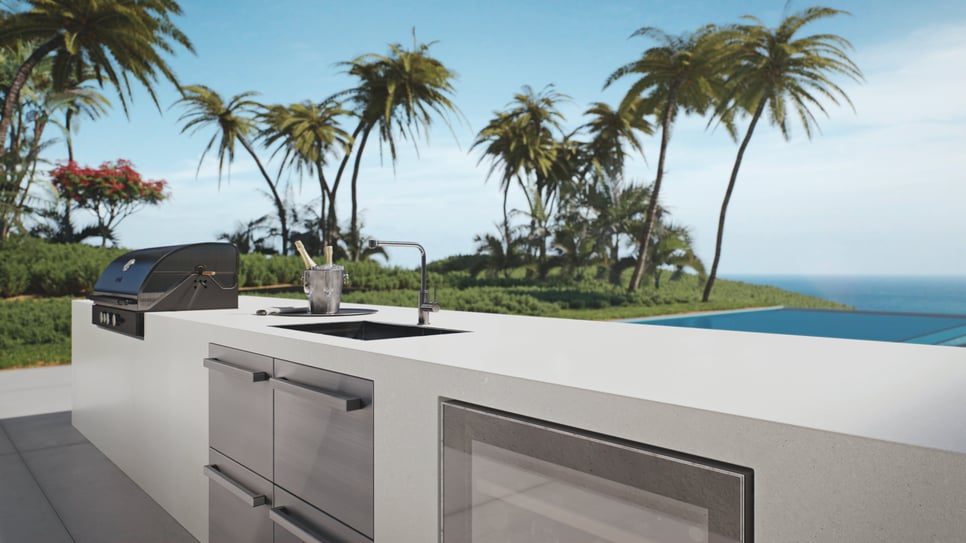 If you've ever researched what kind of countertops you want to add during a kitchen remodel, it's very likely you've come across quartz as a long-lasting and easy to maintain high-end countertop material. Today we're looking at one of our favorite producers of quartz surfaces: Caesarstone.
History of Caesarstone
The company was founded in 1987 and is the inventor of quartz surfaces. The company was the first to utilize advanced technologies and expertise to produce high-quality surfaces consisting of up to about 90 percent quartz, binders, and pigments. Their headquarters are in Kibbutz Sdot Yam in Israel, and it currently has production facilities in Israel and here in the United States (right outside Savannah, Georgia).
The technology to create engineered stone surfaces was first developed in 1963 by the Breton company, which was located in northeast Italy. They licensed this process under a trademark name, Bretonstone®. Various companies then licensed this technology, including Silestone, Cambria, and Caesarstone. Each company added its own aesthetic flair and nuance to the process.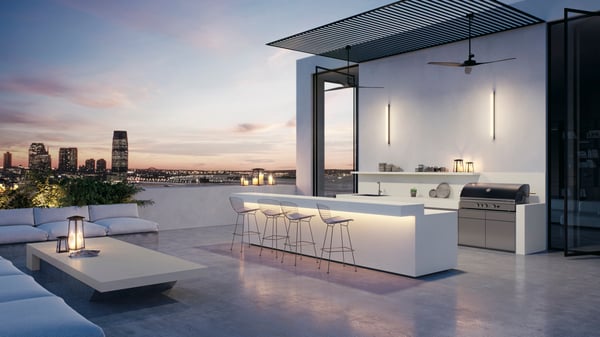 What Kind of Products Does Caesarstone Make?
The company continues to lead the industry with new designs and colors, offering a premium product, that is highly functional, design forward and beautiful. Caesarstone has essentially become synonymous with quartz countertops, but their quartz slabs can be used in a variety of applications:
Kitchen countertops
Bathroom vanity tops
Wall cladding
General interior design accents, such as fireplace surrounds and the like
Outdoor installations like kitchens, firepit tops, and water features
Where Can You Get Caesarstone Quartz Products?
Caesarstone is currently available in about fifty countries across the globe. It works through a network of six subsidiaries and many distributors around the U.S. With such an established distribution system, pretty much anyone who's interested in Caesarstone would have access to their products.
For more information about where to buy near you, check their interactive map.
Adapting the Interior for the Exterior
Caesarstone's designs have brought them well-deserved notoriety in the design and build arena, and they recently expanded their offerings with an outdoor collection: Solaris. It brings all the beauty, elegance, and modernity of their interior quartz countertops with added UV resistance and durability for exterior environments. This is huge news for anyone interested in building a truly unique, beautiful outdoor kitchen.
Here at Design Builders, we're a premier design and build firm servicing Northern Virginia; Maryland; and Washington, DC. Because we focus almost exclusively on custom high-end exterior spaces, including outdoor kitchens, the introduction of this exterior countertop line from such a trusted name in the home build and renovation world is a game-changer for us.
If you're thinking about renovating an existing exterior space or you're looking to do a new build, we're so excited to discuss whether this new product is right for your home!