Screened-in porches have come a long way from the rickety, drab structures where grandmothers used to read romance novels in rocking chairs.
Thanks to advancements in technology and design, some of the screened-in porches of today are surprisingly cool, with cutting-edge sound systems, sleek fire pits, and state-of-the-art grilling facilities.
When it comes to designing a screened-in porch for your home, your choices are seemingly endless. To give you some ideas, we've included a list of seven of the industry's latest features and design trends.
1. Low-voltage lighting
---
Over the last few years, low-voltage lighting options have grown in both popularity and variety. You should consider low-voltage lighting for accent and mood lighting, as well as energy efficiency.
One of the latest low-voltage lighting products on the market is under-rail lights, which are installed under the railings so they are virtually unseen. Under rail lights produce a warm, soft glow that shines downwards so bulbs are out of sight, and can be adjusted for brightness.
Another innovative low-voltage lighting option on today's market is recessed deck lighting that actually recesses into the floor, blending harmoniously into steps and stairways. These attractive, low-voltage accent lights are ideal for enhancing the safety and beauty of your deck, and are available in many different styles and sizes.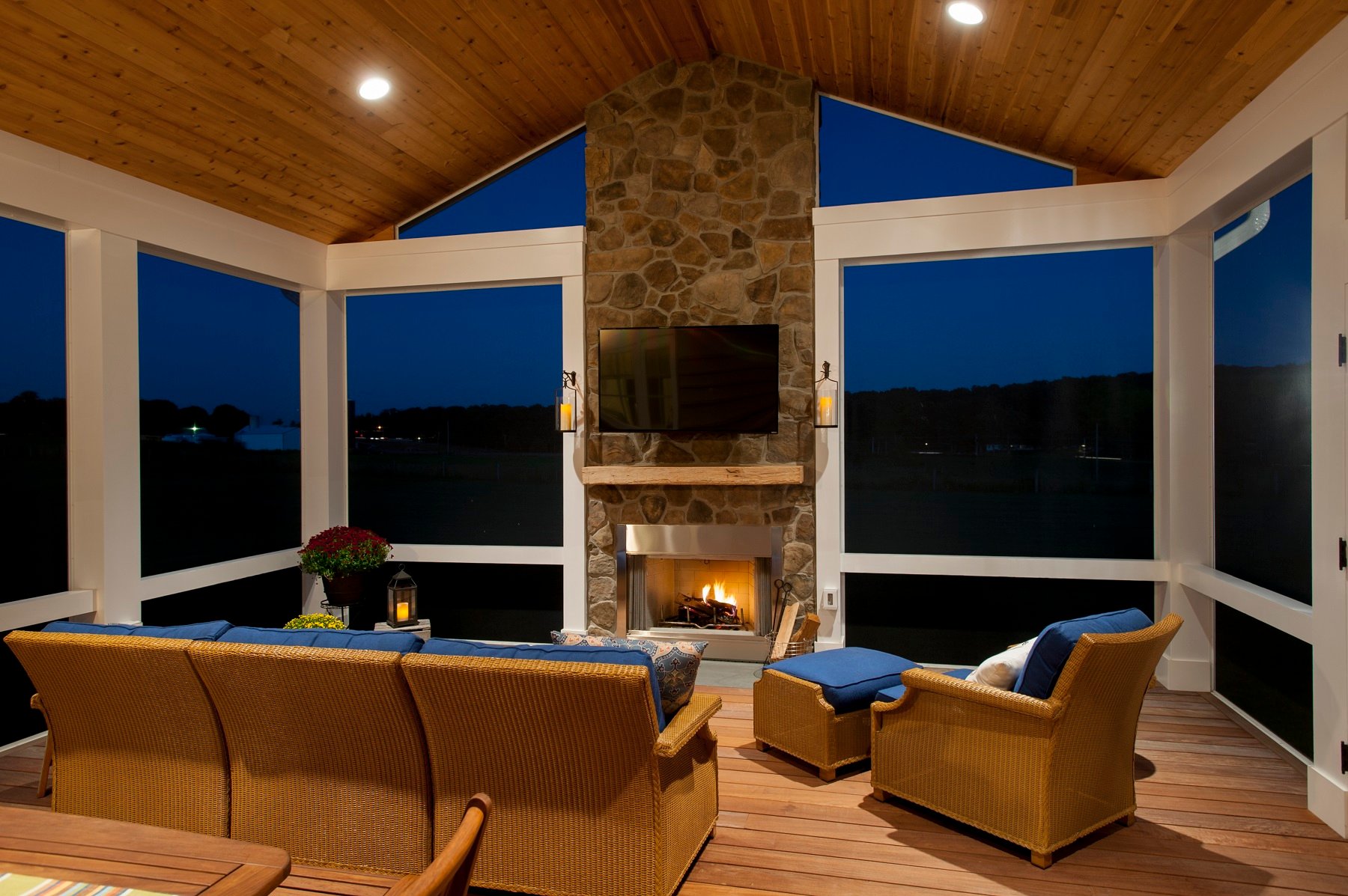 2. Motorized screens
---
Motorized retractable screens, like Phantom retractable screens, can provide protection for your screened-in porch when the weather gets rough. Durable motors move the panels up and down tracks to block drafty breezes, harmful UV rays, and hard rain, or to lock in air conditioning or heat. Screens are made of a transparent high-quality vinyl solution, so they can keep out weather and pests while providing a near-perfect view to the outside. Motorized screens can be a wonderful addition to screened-porches in the mid-Atlantic area, enabling homeowners to continue to use their screened-in porch throughout our frosty winters and sweltering summers.
3. Outdoor kitchens
---
Outdoor kitchens are becoming increasingly more sophisticated, equipped with luxurious amenities such as pizza ovens, dishwashers, and refrigeration systems. Stainless steel outdoor cabinets have recently made their way onto the market, offering homeowners spacious, weather-tight protection for the cooking equipment and ingredients beneath a sleek and stylish exterior.
4. Havana Gold
---
Trex, one of the nation's largest manufacturers of wood-alternative outdoor living products, recently added a new shade to its collection (pictures here) of nine other decking and railing colors — Havana Gold. Havana Gold is designed to simulate the look of natural tropical hardware with a warm, glimmering color and realistic wood-grain patterns. Havana Gold decking is durable, low-maintenance, and environmentally friendly.
5. Outdoor fireplaces
---
Today, homeowners have a sweeping array of outdoor fireplace designs to choose from, from traditional patio wood fireplaces to rustic antique stone fire pits to dazzling glass fire tables. Fireplaces create an intimate and cozy atmosphere in your screened-in porch, while keeping your family warm on chilly autumn nights.
6. Infrared heaters
---
Outdoor infrared heaters, like those from Infratech. are an efficient way to heat your screened-in porch, and are typically less expensive than outdoor fireplaces. This unique warming system transfers heat directly to people and furniture instead of heating the air. Infrared heaters give off a gentle glow that is nearly invisible to the naked eye, and do not emit odors, carbon monoxide, or other hazardous greenhouse emissions.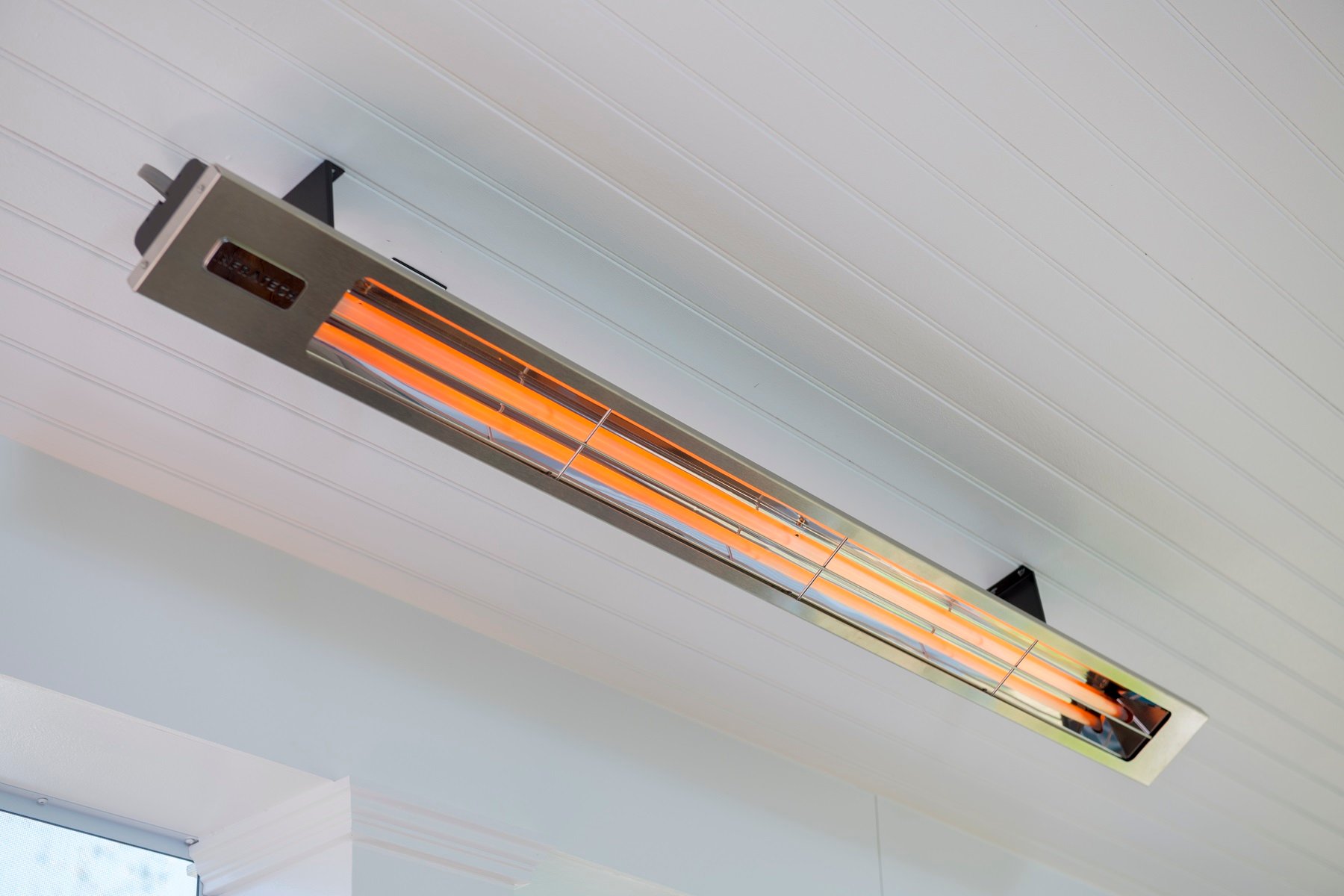 7. Outdoor entertainment systems
---
There a variety of specialty outdoor sound systems and screens available today, designed to be weather-resistant and waterproof. Many popular speaker manufacturers—including Bose, Boston Acoustics, and Polk Audio—offer speakers approved for outdoor use and designed to provide superior sound in an open-air environment.
Bringing video outside can be a bit more tricky than audio, but if you're set on hosting game day or movie nights on your screened-in porch, you've got options. You can find LCD televisions from manufacturers like SkyVue and SunBright designed to operate outdoors and in harsher temperatures.