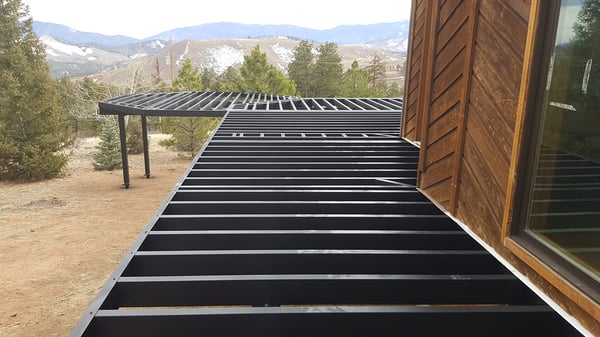 When building decks in a commercial space, there's even more to consider in terms of safety, aesthetics, durability, and cost than when installing decks in residential homes. With the increased traffic and wear and tear, it's imperative to use the best materials available for commercial decks. With that in mind, here are the top twelve reasons to consider an all-steel deck frame solution like Evolution for your commercial venture.
Fire-Resistant Material
Steel, especially as opposed to wood, is resistant to fire. Commercial kitchens account for many of the fires that occur in nonresidential spaces, so steel is something to give particular attention and thought if your commercial space involves cooking, grills, or open flames.
Insect-Resistant Material
Insect damage can be catastrophic to wood-framed decks. If you have an infestation of carpenter ants, carpenter bees, termites, or powder post beetles, you could have structural damage to your wood frame. Given enough time, this could require the replacement of the deck long before you anticipated. With steel, you never have to worry about these kinds of issues. That could potentially save you and your commercial venture a lot of money and stress related to safety concerns.
Free of Insecticide and Fungicide
Deck frames that use pressure-treated wood are often soaked in both insecticide and fungicide to curb problems associated with bugs and fungi. Having these kinds of toxins in a commercial space becomes especially problematic because so many different people are going to be using the space over its life-span, and you can't be sure who is going to be sensitive to these kinds of material.
More Environmentally Friendly Components
Steel is an inherently eco-friendly product because it's both recycled and recyclable. Wood, on the other hand, contributes to deforestation. Natural wood, when compared to steel, has no place in the most sustainable deck possible. More and more consumers are looking to spend their time and money at places that invest in green products, and putting steel in your commercial application could be one facet of that effort.
Increased Aesthetics from Powder Coating
With wood deck frames, most people end up installing fascia because the pressure-treated wood looks less than desirable after several years exposed to the elements. With an Evolution steel system, though, the components of the frame are powder coated black. This creates a pleasing, modern, but still visually unobtrusive aesthetic.
Less Need for Repairs or Replacement
Steel is an incredibly durable and resistant material, even when exposed to severe weather. If your commercial venture is anywhere in the Washington, DC; Virginia; or Maryland region, you know the kind of intense weather patterns and extreme temperature swings the material will be exposed to throughout the year. With steel, you don't have to worry about warping, twisting, cracking, or splitting, which means less time and money spent on repairs or outright replacements.
(Interested in learning more? Check out this article about why Evolution makes sense in the DMV.)
Quicker, Easier, Cheaper Installation
The Evolution frame system was designed to be quick and easy to install. Anyone who has ever installed a wood frame should be able to handle an Evolution system because the steel cuts and installs similarly to wood. You don't, therefore, have to find a specialty installer. A quicker, easier install also means you're on the hook for less billable labor hours, so you can save up front on install costs.
Safety-Minded Design
Safety is always paramount when it comes to building decks, but the liability and risk increase when dealing with commercial ventures. Because of its durability and resistance to the elements, even after years of exposure, steel is an inherently safer product than wood. When building elevated decks, rooftop decks, or the like, it's an invaluable material from the safety perspective.
Low Maintenance Requirements
Most deck frame systems are made from pressure-treated wood, which will eventually degrade, rot, and fail. Even with expensive, time-consuming maintenance, wood won't last forever. Steel will outlast wood, even without all the hassle and expense of maintenance. When you're running a commercial venture, this is one less thing to worry about.
Generous Warranty
In commercial spaces, the bottom line is always important, and as with any investment, you want to ensure it's protected. When you go with an Evolution steel deck frame system or its accompanying Evolution steel stair system, you get an industry-leading twenty-five-year limited manufacturer warranty against defects. (Click through to learn more about Fortress warranty policies.)
Compatibility with Any Type of Decking
When designing your commercial space, you want the aesthetic freedom to make your deck look however you want it to look. One big advantage of the Evolution steel frame system is its compatibility with different kinds of decking material. From composite to natural wood to porcelain pavers, Evolution can accommodate just about any decking material.
View Preservation
Whether you're installing a deck at a hotel, a restaurant, or a multifamily residence, views can be a major selling point for your commercial venture. With traditional deck frames, however, multiple posts are often required for structural integrity. With steel, you can maintain that safety while using fewer posts and columns. (This preservation of your view is just one benefit of fewer posts in an outdoor living space.)
With its strength, durability, and aesthetics, steel is the ideal choice for commercial ventures.