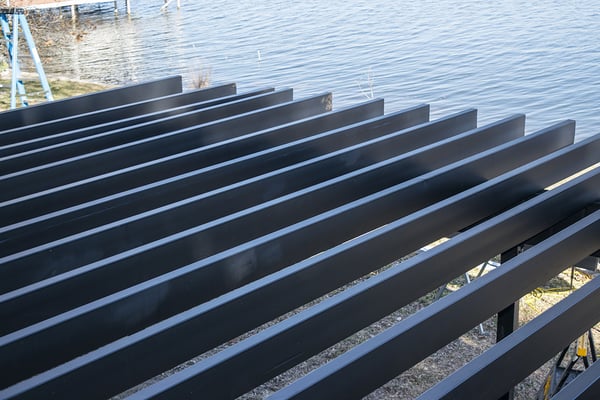 Whenever you make a significant purchase for your home, you likely do your research to make sure you're getting the best quality at the best price. No matter what brand you choose, though, the unexpected can always happen, so working with a company that backs up their promises with a warranty can give you great peace of mind.
One of our preferred brands here at Design Builders, Fortress Building Products, does just that. Here's everything you need to know about the company's warranty policies:
Fortress Railing Warranties
Cable Railing

FortressCable H-Series: 15-year warranty
FortressCable V-Series: 15-year warranty

Steel Railing

Fe26: 15-year warranty
Fe26 PLUS: 10-year warranty

Aluminum Railing

Al13: Limited lifetime warranty
Al13 HOME: Limited lifetime warranty

Glass Railing

Pure View: Limited lifetime warranty

Handrail Systems

Handrail System: 15-year warranty/limited lifetime warranty
Baluster Railing: 25-year warranty
Fortress Decking Warranty
Fortress Deck Infinity Decking carries a 25-year limited residential warranty and a 10-year limited commercial warranty. The variance between residential and commercial is meant to take into account the increased wear and tear imposed on the product in a commercial setting.
Fortress Framing Warranty
The Evolution steel deck framing system has an impressive 25-year limited manufacturer warranty against defects.
(Interested in this product and want to learn more about how the Evolution deck framing system got to where it is today? Here's a timeline that breaks it all down.)
The Philosophy behind the Warranty
By creating a product that's specifically designed to be durable and long lasting, a company can more confidently offer a generous warranty. When it comes to their products, that's exactly the mentality of Fortress. Because they are confident in the design, craftsmanship, and manufacturing of their decking, railing, framing, and more, they can translate that confidence into industry-leading warranties for their customers.
The warranty, however, is just one benefit of working with this brand. For eco-conscious consumers, their all-steel deck framing system is also a crucial part of building a sustainable deck.
Warranty Resource for Existing Fortress Building Products Customers
If you already have a product installed from Fortress Building Products and you need to make a warranty claim, use this link to their warranty claim page.
Before you can submit, you'll need the following:
Pictures of the product
Original proof of purchase
Date of purchase
If applicable, a manufacturing date code
Allow approximately three to four weeks for any claim to be processed. Product replacement for defective elements is always subject to product availability. If something is not in stock at the time of a claim, the piece will be back ordered and shipped when available.
Questions about claims processing can be directed to Fortress at 844-909-1999.
For more detailed information about each product-specific warranty, check out this warranty page.
Are you interested in learning more about what Fortress Building Products provides and the benefits of their product lines? Feel free to reach out! We're a design and build firm working in the Washington, DC; Virginia; and Maryland regions, and we're big proponents of the Fortress brand. If you have any questions, we're happy to help in any way we can.