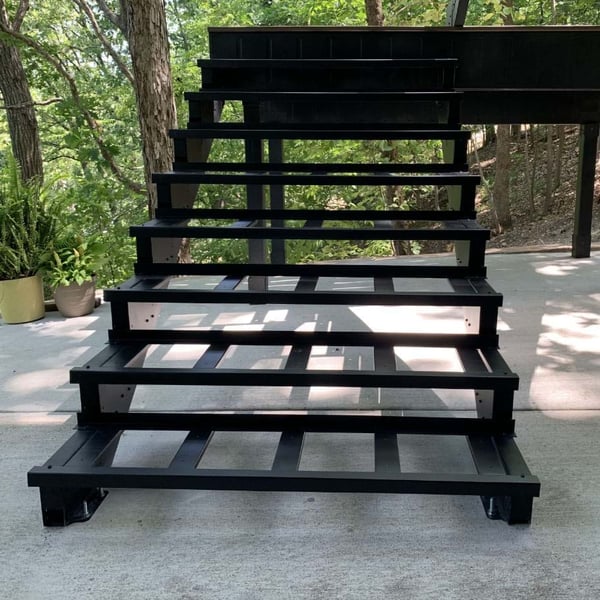 If your new outdoor living space will incorporate a deck, you might be considering the benefits of building a steel deck framing system. However, it's important to remember that a deck is only as strong as its weakest component. If your frame, choice of deck board, or stair system is vulnerable, it could mean a big hassle (and expense) to replace. That's why many who opt for a steel frame go for steel stairs as well, and the industry gold standard for that pairing is Fortress Building Products.
What Is the Evolution Steel Stair System?
Introduced in 2020, the Evolution steel stair system is a companion product to the Evolution steel deck framing system, also by Fortress Building Products. The stair system is an all-steel solution, meaning you get all the benefits of steel, including increased durability; resistance to rot, fire, and insects; low maintenance requirements; better aesthetics; and more.
Steel is also particularly resistant to the detrimental effects of extreme weather patterns throughout the year. Even in intense heat, rain, wind, or cold, the steel won't bend, warp, or splinter, making it an especially smart choice in the DMV.
Main Components to the Evolution Stair System
Designed to be easy to assemble, the Evolution stair system contains a limited number of easily built and easily installed components:
Just attach the stair bracket to the Evolution joist, and then fasten with an Evolution self-drilling screw.
Stair Strap and Anchor Bracket
The brackets attach the stringers to the deck and anchor to the concrete, which is the same building process for wood decks. Any installers familiar with deck building will be able to seamlessly transition to the installation of an Evolution steel deck frame and stair system.
These trays connect the stringers, providing structure and attachment points for the actual treads. With two stringers, you can safely and easily span four feet.
Interested in installing this product? If you're using the adjustable stair bracket, simply use this Evolution stair calculator. Once on the page, just enter your stair configuration and a few other parameters, and it'll walk you through how to build your specific stringer. This tool benefits do-it-yourself installers, as well as professional installation teams.
5 Main Advantages of the Evolution Steel Stair System
Why should you choose Evolution stairs? Here are the top five reasons:
Compatibility with the Evolution Steel Deck Framing System
If you're already installing the Evolution steel deck framing system, opting for the accompanying stairs makes sense. The stairs are designed to be intuitively and easily added to any Evolution frame, working seamlessly with Evolution joists and beams. If, however, you want to add the stairs to any other kind of decking system (wood, PVC, composite, tile, or more), the Evolution stairs are also entirely compatible with them.
Black Sand Powder Coating
Evolution steel stairs are powder coated (color: Black Sand). This helps them be even more resistant to the elements, and it gives them a finished, modern, aesthetically superior look. (If you prefer the more traditional look of fascia, however, the deck and stair system is compatible with that as well.)
Save Time and Money (on Installation and More)
Deck stairs are typically quite time intensive, and as a homeowner, that means more hours you're paying installers to work. With quick, easy assembly, Evolution stairs can save you on initial installation costs. Because of the durability and low maintenance of steel, you also save over the life of the product in repairs, replacement, and upkeep costs. You can even save on actual material. Stringers typically need to be spaced 10", 12", or 16" on center; Evolution's tray allows you to span 48", potentially cutting down on how many are required in your job.
Increased Safety
Your deck stairs get you, your family, your friends, and your pets on and off your deck all year. Building those stairs with pressure-treated lumber means they will slowly rot, get unstable, and eventually fail. With steel, you're getting a much safer and more complete system. They even come with a twenty-five-year limited manufacturer warranty. As a noncombustible material, steel is also resistant to fire damage, and you never have to worry about insect damage or weather-related warping.
First of Its Kind
The Evolution stair system is the first complete steel stair system in deck framing. When you go with Evolution, you're getting a product from the industry leader and gold standard.
Just like steel deck framing offers myriad benefits, a steel stair system can be a hugely beneficial addition to your outdoor living space—especially when you go with Evolution, by Fortress Building Products. In the Washington, DC; Virginia; and Maryland regions, which experience extreme weather, steel can be an invaluable building material. We're a design and build firm servicing those areas, and we're big fans of steel in general and this brand in particular. If you have any questions, don't hesitate to reach out!