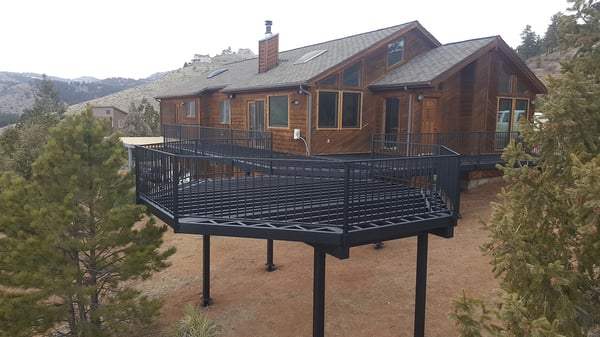 A view can be one of a home's greatest assets, but it's often diminished or obstructed altogether by the necessity for posts and supports. Especially when you're looking at more complex multilevel decks, these posts can become especially intrusive or disruptive to views. With recent innovations in the deck industry, though, this isn't always necessary anymore. Evolution, an all-steel deck framing system from Fortress Building Products, can help.
What Is Evolution, by Fortress Building Products?
Evolution is a deck framing system made entirely from galvanized steel, and it offers a host of benefits to homeowners. This includes the following:
Extreme durability.
Resistance to fire, rot, warping, splitting, and insect damage.
Powder-coated finish that resists corrosion and aesthetic degradation.
A design created by deck builders, making it intuitive and quick to install.
A perfectly level system that builds (and stays) flat.
Compatibility with any type of decking material, including natural wood, composite, tile, porcelain pavers, and more.
Low-maintenance product with a twenty-five-year limited warranty.
Eco-friendly and sustainable material.
One of the more overlooked benefits, however, is its ability to provide greater spans between supports. This means you can install fewer posts—without compromising on structural integrity or safety.
3 Reasons You Want Fewer Posts in Your Home Design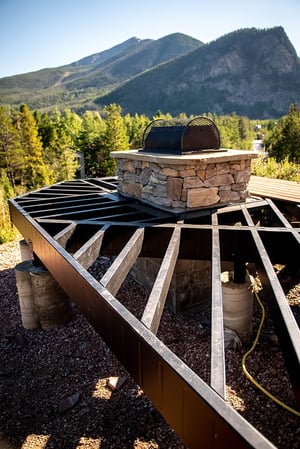 When it comes to exterior design, contractors and builders tend to lean toward as few posts as possible. Why is this such an industry norm? Here are the top three reasons it can benefit you to minimize how many posts you incorporate into your design:
Improve the Quality of Life While You're Living in the Home
Whether you're looking at mountains, water, trees, open fields for incredible sunsets, or your own backyard, views are a great way to increase the enjoyment you get out of your home. For many homeowners, sitting on the deck, relaxing, and taking in the view is one of the great, simple pleasures of owning property. Posts, columns, and certain kinds of railings can disrupt that view and seriously detract from the enjoyment. Having a system like Evolution, which allows for greater spans and fewer posts, helps keep that primary asset of your home intact.
Improve the Resale Value When You're Looking to List
If there's something about your house you enjoy as a homeowner, it's a good bet that feature is going to be a big selling point when it comes time to list. Views are no exception. If you have a beautiful, unobstructed view, that can pay off big when it comes time to select an asking price. If that same view is blocked, however, it can minimize the impact and value of that feature. Utilizing the extra span provided by the Evolution system could help you maintain a view that ends up playing a big role in getting your home sold at a desirable price. (While the numbers are hard to quantify exactly, here's one report about the dollars-and-cents value of a home's view.)
Looking to sell soon? Interested in how to increase the resale value of your home? Check out this information about how decks affect resale value or these seven tips for getting the best ROI out of a screened-in porch.
Maximize the Usable Square Footage
When it comes to exterior living spaces, people tend to care more about size than the quality and expense of the finishing touches. If you're having to drop a ton of posts, that can seriously disrupt the usability of any living space underneath a deck. By increasing the span and limiting the posts, you're able to capitalize on that entire area as a more open, viable space.
When it comes to posts, designers, contractors, and builders agree: less is more. That can get complicated, though, with traditional deck framing systems, which require frequent posts for structural support. When you graduate to steel, those spans (and the benefits) increase. Have questions? Interested in what role a steel deck framing system could play in your next exterior home improvement project? Give us a shout!