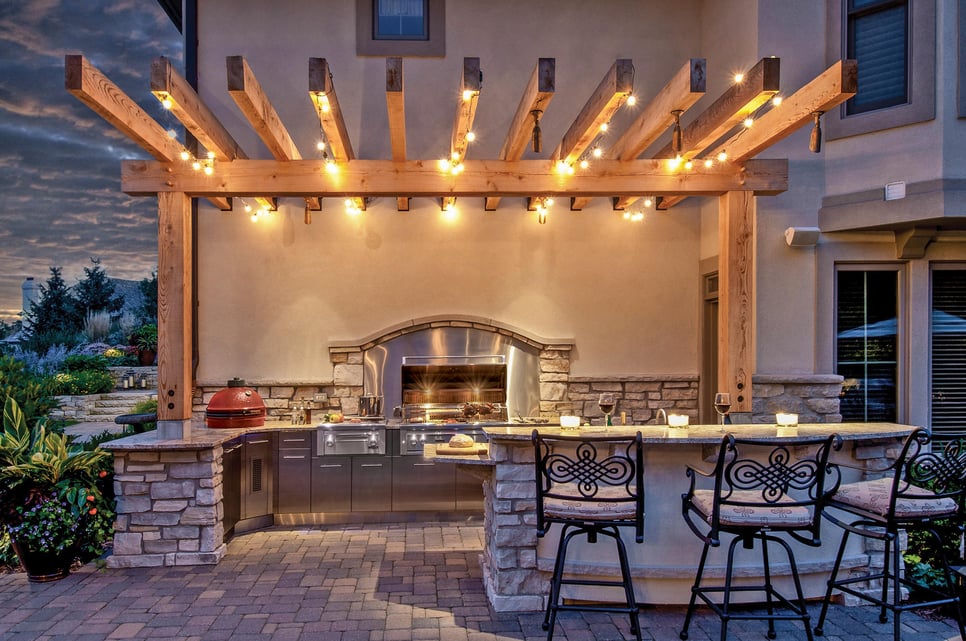 Danver Stainless Outdoor Kitchens have been in the market of making upscale outdoor cabinetry for many years. They've seen trends in outdoor kitchen designs come and go, but not every concept has proven as enduring as powder coated stainless steel kitchen cabinets or Infratech infrared heaters. With that unique perspective, Mitchell Slater, president and founder of Danver Cabinets, spoke to Design Builders about his favorite products and innovations to prevail in stainless steel outdoor cabinetry.
New Perspectives: Making Outdoor Storage Cabinets Stylish & Desirable

Unsurprisingly, Slater's fondest ideas in low maintenance outdoor cabinets were pioneered by Danver kitchen cabinets and Brown Jordan outdoor kitchens; however, innovation has factually been a hallmark of the brand since its inception. Danver was among the first companies - if not the first company - to produce stainless steel kitchen cabinets as its primary focus, forging ahead to create a new product line, since expanding to powder coated stainless steel outdoor kitchen cabinets and outdoor kitchen appliances. Powder coated cabinetry isn't what does it for high quality outdoor cabinetry, though.
"We've come up with some really interesting innovations here at Danver, mainly in the styling of the doors. Pieces that are really challenging to make even for an indoor environment, we're making for the outdoors," Slater said of his Danver outdoor kitchen cabinets.
Among the door styles introduced by Danver are beadboard and louvered designs. Each door starts with the stainless steel Danver cabinets base, but they can be painted to match any powder coated stainless steel outdoor cabinets by Danver or Brown Jordan outdoor cabinets.
"We now have this finishing that makes the stainless steel look like wood," said Slater. "But it's stainless, so it doesn't wear like natural wood. That's a very attractive finish for a lot of designers, architects, and homeowners who like to maintain the rustic look."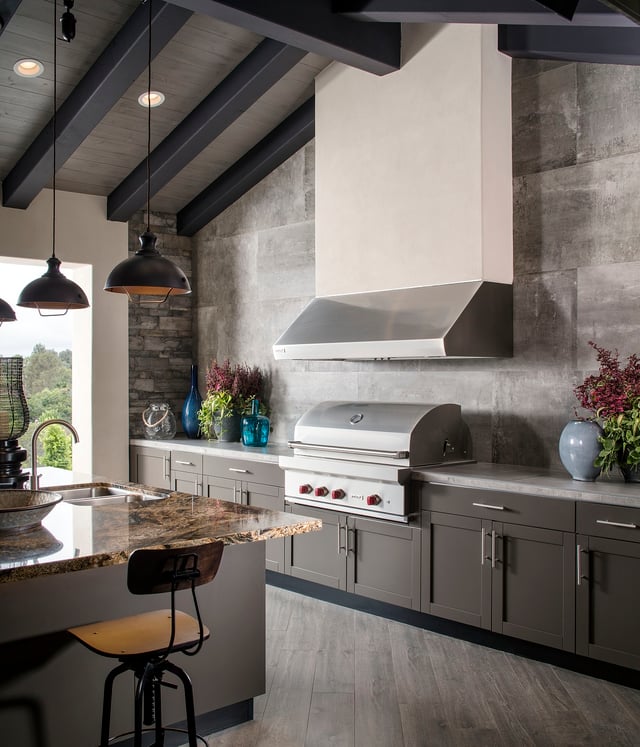 Dynamic Products
Many outdoor cooking products and appliances, including wet bars and refrigerated drawers, are specifically accommodated by Danver stainless steel cabinets. This compatibility is one major benefit of the Connecticut-based manufacturer's product line.
"So many different cooking products have become available to outdoor kitchens. It used to be you just had a grill, and you cooked hamburgers or hotdogs. Maybe a steak. That was it. People just used charcoal for that," Slater said. "Our powder coated cabinets can hold a charcoal grill if you want, but a lot of manufacturers now are creating multi-fuel grills. These can do wood, charcoal, or gas, and our cabinets can also accommodate these newer hybrid grills."
Slater also noted the recent upswing in specialty cooking products as homeowners desire to make more advanced, refined, and complicated meals in their outdoor living spaces by way of intriguing backyard kitchen ideas and porch designs.
"We're seeing a lot of product lines beyond the standard grill. Some popular specialty cooking products right now are pizza - fired or gas fired - and Kamado-style cookers. Those are to smoke ribs, chicken, pork roasts, things such as that," Slater said. "There's also the infrared grill, which is a restaurant-style machine. It allows you to control the temperature and cook something in the exact same time, every time, no matter the temperature outdoors. That's gotten a lot of traction in the market over the last few years. These kinds of specialty items are really catching people's eyes now."
Blaze Grills and Green Egg Smokers, the latter of which is visible adjacent to a consumer pizza oven in this blog's features photo, are commonly seen coupled with compatible outdoor Danver cabinets in Maryland, patios in Washington, D.C,, and more. They work equally as well with standard Danver stainless steel outdoor cabinets as they do with powder coated stainless steel cabinets.
---
RELATED ARTICLES:
---
Shifting Kitchen Design Trends and Refined Cabinet Installations

As the goods offered by stainless steel outdoor cabinet brands develop, so too do the installations they're a part of. High quality outdoor cabinets are increasingly finding themselves in the company of Infratech outdoor heaters, outdoor fireplaces (EcoSmart Fire, anyone?), and hot tubs as decks in Maryland and Virginia trend towards comfort and refinement.
"In Northern California, we had a really large kitchen done in a wood, or what appears to be a wood finish over stainless steel. It had a spectacular view of the East Bay of San Francisco. Just an absolutely gorgeous view. That was one of those times when we were as amazed as the homeowner looking at that installation."
Outdoor stainless steel cabinets are versatile can be installed on decks, patios, screened porches, screened room additions, and more; they are not just for your outdoor kitchen in Virginia, as noted by Slater.
"Another favorite project was this one kitchen installed on a rooftop. It was a difficult roof to build on. A membrane roof that wasn't level. But the installer used this Dominican tile that the owner actually got in the Dominican Republic. It was green — a nonstandard color at the time — and it had all the cooking appliances to hold large parties. It was a spectacular kitchen with really dynamic lighting."
Do you have outdoor kitchen plans suited for powder coated Danver cabinets in Virginia? Are you seeking a Danver cabinet retailer, Danver cabinet seller, or Danver cabinet pricing for an outdoor kitchen in Maryland? Please direct questions about Danver cabinets pricing, Danver cabinet prices, Infratech Heaters, and other outdoor stainless steel cabinet brands to a representative of Design Builders, Inc.
Special thanks to Danver Stainless Steel Outdoor Kitchens for contributing pictures of their outdoor kitchen cabinetry