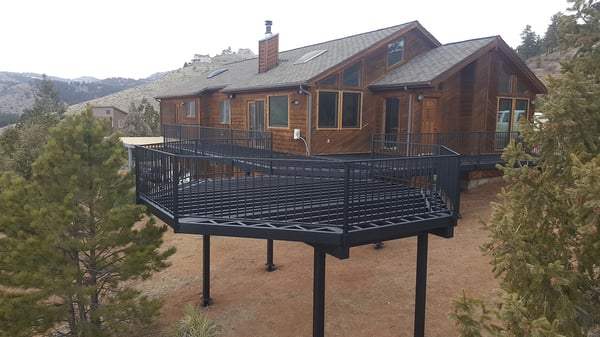 Steel Deck Framing or Wood Framing? Which Is Right for You?
When it comes to deck framing systems, wood dominates by a significant margin. While the numbers differ somewhat in foreign markets, pressure-treated lumber is still largely the material of choice for deck framing in the United States. More and more, however, contractors and homeowners alike are learning about the benefits of a steel framing system from companies like Fortress Building Products. If you're interested in learning more about this product for your next custom decking project, here are ten advantages you can expect over wood.
10 Advantages of Steel Deck Framing over Wood Framing
Your Deck Boards Won't Outlast Your Frame
As composite decking becomes increasingly popular, homeowners are experiencing a new problem. Their decking boards are now outlasting the deck frame itself. This leads to a less-than-ideal situation where you have to dismantle an entire deck just to replace the frame underneath, even though your boards are as structurally sound and aesthetically pleasing as the day you installed them. To avoid this problem, homeowners are increasingly turning to steel deck framing systems that are liable to last as long as the decking boards atop them. Even in regions like Washington, DC; Virginia; and Maryland, which experience extreme weather throughout the year, steel won't rot, crown, twist, or warp. The helps ensure the foundation of your deck doesn't become compromised, even after years of exposure.
Your Deck Frame Will No Longer Look Shameful
Steel decking frames are aesthetically superior to wood. They're clean, streamlined, and modern, and unlike pressure-treated lumber, you don't have to worry about rotting or that distinctive green tinge that eventually ruins the visual appeal of wood. There's also no need to spend the time or money putting up fascia, which homeowners typically need to install in order to hide a pressure-treated lumber frame. If you opt for the Fortress Evolution steel deck framing solution, you'll get a clean black powder-coated frame that stays that way for the life of the product.
Steel Is a More Sustainable Product Than Wood
If you're concerned about deforestation or the environmental impact of using real lumber in your decking, a steel frame could be a great alternative for you. Steel is one of the most recycled materials on the planet, and beyond that, recycling it in no way degrades its quality. This makes the material uniquely sustainable. For a fully earth-conscious deck, pair your steel frame with a brand like Trex composite decking, Zuri by Royal Building Products, or TimberTech AZEK.
Steel Is Safer Than Wood
Here's a fact: wood rots. You can extend the life with diligent maintenance and upkeep, but eventually you're going to be dealing with soft, structurally compromised wood in your framing. This can be dangerous in any situation, but it's particularly scary in commercial applications. The heavy foot traffic of commercial spaces can expedite the wear and tear on decking components—boards and frame—and if the project is several stories up, doesn't it make sense to trust something like solid steel over degradable wood?
Steel Is a Low-Maintenance Product
Steel is a long-lasting product, but the best thing about that is it's long lasting without needing frequent maintenance or upkeep. After you install it, you get all the benefits of steel for years to come without having to go through the hassle of annual painting, sealing, staining, or rigorous cleaning.
Steel Framing Might Be More Affordable Than You Think
Is steel framing more expensive than a pressure-treated lumber system? It depends on how you look at it. The up-front cost will very likely be more, but you ultimately save in other ways. Most notably, you'll have to replace a wood frame long before you'll need to replace a steel one. That's a massive investment.
There are also smaller savings, though. You won't need to pay for the materials or labor to install fascia, for example. Fascia on a deck frame is there to cover the pressure-treated lumber when it eventually looks less than desirable over the years. If you choose a system like Evolution by Fortress Framing, installation is also designed to be quick and easy. If you're having a professional install your deck, this can result in big labor savings.
In terms of return on investment, steel is also a more financially sound choice than wood. Not only does it prove its value over time, but it also increases the resale value of the home far more than a standard wood-framed deck.
Steel Framing Is Compatible with Any Type of Decking
One of the biggest benefits of a steel framing system is that you aren't limited in your decking material. Love natural wood deck boards? Those will work on a steel frame. Prefer composite, PVC, or concrete? No problem. What about something more unique like porcelain pavers? Not an issue. Whatever decking option you want to put on top of your steel framing will be compatible.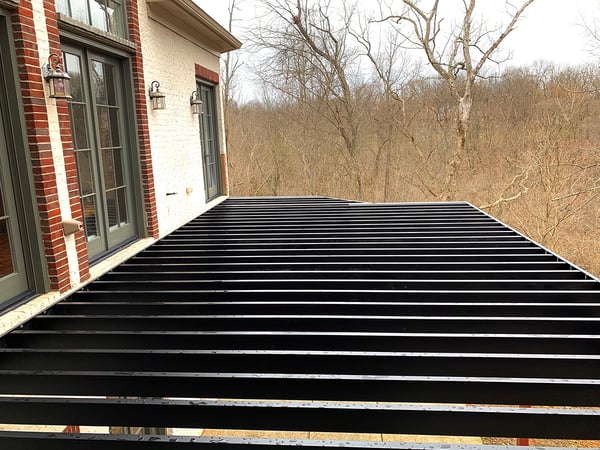 Steel Is Resistant to Fire, Insects, and Rot
If you've ever put in a wood deck (boards, frame, or both), you probably know that a big problem with this material is rot. Wood, however, is also susceptible to fires and insect damage—especially the pernicious and destructive termite. If you want to avoid all these headaches, steel is the way to go.
Quick and Easy Installation
In terms of ease of installation, the Fortress product is designed and engineered specifically to outperform other steel frame systems on the market. Even though the material is steel, it cuts like wood, meaning anyone who knows the mechanics of installing a wood frame can install the Fortress system. There's also only one fastener type required to install Evolution, and it's provided in the kit. Again, cutting down the installation time saves homeowners on costly labor hours.
10. Fewer Posts and Columns Equals Better Views
The Evolution system is engineered for longer spans, which directly results in fewer posts and columns. If there's a view you're trying to preserve or space you're trying to maximize, this can be invaluable.
Have any Questions about Steel Decking Framing Systems?
Pressure-treated lumber in deck framing is currently the norm, but as more homeowners, contractors, and designers learn about the benefits of steel, that will likely change with time.
If you're interested in learning more about Evolution by Fortress Framing or determining how steel fits into your next decking project, feel free to reach out.
We're Design Builders, a custom design and build firm servicing Northern Virginia and Maryland, and we're always happy to help!