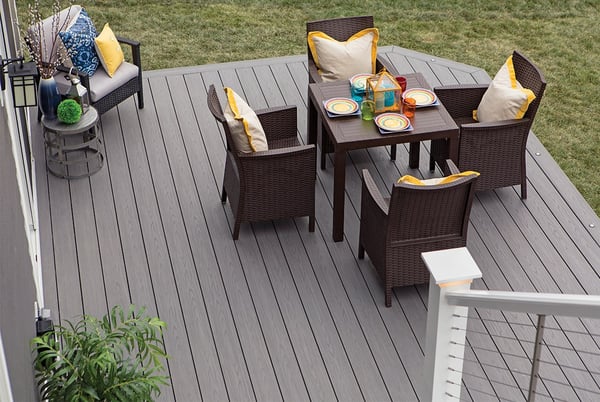 In the world of high-quality decking, several marquee names dominate the industry. However, there's recently been a major change to one of those select brands. If you're in the market for decking boards and accessories, there is big news for one of those marquee names: TimberTech AZEK.
AZEK: Now TimberTech AZEK
For all customers who know and love AZEK decking, there's been a big announcement for the brand. The AZEK decking collections are now known as "TimberTech AZEK." It's the same quality customers have come to expect from the AZEK line—just packaged, branded, and distributed under a new name.
Philosophy: What's New about TimberTech AZEK?
AZEK is proud to be moving forward in a new direction, and TimberTech is a big part of that transition. The vision for the company's future is ambitious, exciting, and intended to be even more focused on the customer experience.
All AZEK decking products are now consolidated under the umbrella of TimberTech, which frees up the company to create, manufacture, and distribute even more styles, colors, and designs within their boards. This company move and others are all part of a bigger scheme to ensure they can offer the most amazing outdoor living spaces to their customers.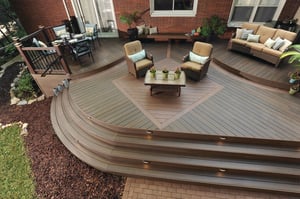 TimberTech AZEK Warranty
Buying decking material from any company is an investment, but the aesthetics, durability, and quality often more than make up for that up-front cost through added resale value to the home. (That's also saying nothing of the years of enjoyment you can get out of new, high-quality outdoor living space.)
Still, customers want assurances their investment will be properly safeguarded, and when you buy from TimberTech, their generous warranty policies provide just that. When you buy from the premium TimberTech AZEK line, your purchase is backed by a fifty-year limited fade and stain warranty, as well as a lifetime limited product warranty. (You read that right. Lifetime.)
TimberTech Pro provides a thirty-year limited product warranty and thirty-year fade and stain warranty, and TimberTech Edge gets you twenty-five-year warranties on both product and fade and stain.
In a space as competitive as decking, these industry-leading numbers are a significant differentiator for the brand and a big reason many people choose to side with TimberTech.
TimberTech Azek Decking Lines
Under the TimberTech name, there are three main product lines: AZEK, Pro, and Edge. AZEK is the premium capped polymer, Pro is the four-sided capped composite, and Edge is the three-sided composite. This range of product offerings means there's a color, design, style, and price point to match nearly every homeowner.
If you're thinking about adding an exterior living space that requires decking, you're likely in the thick of researching all the benefits, price points, and brands. If, during that research, you come across the name "TimberTech," remember that this brand is now associated with the established, trusted AZEK family.
If you have any questions about this brand or anything else related to composite decking, reach out to Design Builders today! We're a premium design and build firm servicing Northern Virginia and Maryland.