Is pressure-treated wood or low-maintenance composite decking best for a screen room with a deck?
The mid-Atlantic climate can be cruel to decks, assailing wood with bright sun, heavy rain, and icy snow throughout the year. Because our decks are subject to harsh elements, both wood and composite decking materials deteriorate over time. UV rays can cause decking to age, dry out, and fade in color, while the moisture from rain, snow, and humid conditions can bring in mold and mildew. Without proper maintenance and care, your exterior deck can end up looking dirty and worn in as little as a year.
Homeowners whose exterior deck leads into a screened-in porch may find themselves with an additional problem. Because screened-in porches are protected by a roof, the flooring and decking materials in a screened porch will last much longer than an exterior deck. As the exterior decking fades, splinters, and decays, the interior decking covered by a screened-in porch roof will retain its color and integrity. This can create a striking difference between the appearance of the interior and exterior portion of the porch.
If you are a homeowner with a screened-in porch that walks out to an exterior deck, you may discover that the exterior decking quickly fades to a different color and state than your interior decking. To avoid this disparity, we recommend choosing a composite or synthetic decking material for both the interior and exterior portions of your project. Synthetic and composite decking materials are low-maintenance and typically come with no-fade warranties. These types of materials are resistant to staining, mold, and insect damage.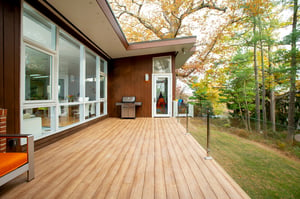 Synthetic decking is optimal for decks with covered elements
Unlike traditional wood decking, you don't have to worry about repairing, replacing, and treating synthetic and composite decking materials. Both interior and exterior portions of your deck will require minimal maintenance to keep their attractive appearance, even after a snowstorm, heavy rain, or blisteringly hot heat spell. Synthetic and composite decking products may be more expensive upfront than many traditional wood decking products, but tend to end up saving people money in the long run on care and upkeep because of their longevity and low-maintenance requirements. If any portion of your screened-in porch is exposed to the elements, synthetic or composite decking is a smart choice.
Composite and synthetic deck material options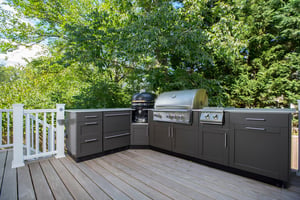 Synthetic and composite decking products come in several different varieties, including:
PVC. PVC decking is made from polyvinyl chloride, and contains no wood. Though PVC decking products are some of the priciest products on the market, they require the least maintenance and often last the longest. Quality brands offering PVC decking products include Zuri, Fiberon, WOLF, and TimberTech.
Capstock composite. Capstock or capped composite decking features a composite material encapsulated in a hardened exterior shell that provides extra protection against mildew, scratching, staining, and fading. Examples of trustworthy brands that offer quality capstock composite decking products include Trex, Fiberon, and TimberTech.
Wood and recycled plastic composite. Wood and recycled plastic decking is generally made from both wood fiber and recycled plastic with UV inhibitors and preservatives. This type of decking doesn't rot or splinter, and requires no staining or bleaching. Trex is a respected brand that specializes in wood and recycled plastic lumber.
Synthetic and composite decking are good choices for exterior decks, and screened porches with a portion that is exposed to the outdoors. However, if your porch is completely covered, traditional wood decking may be a more economical option. Your screened-in porch's roof will provide adequate protection from the elements, so fading, stains, and decay due to exterior weather conditions are much less of a problem.
If you have any questions on the different varieties of decking available, or want more guidance on choosing and installing the right material for your project, contact an experienced decking contractor.