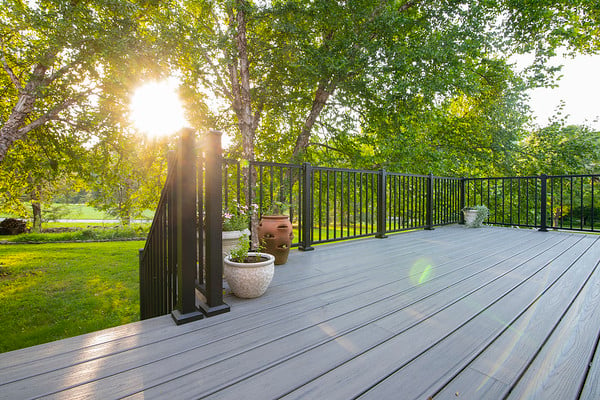 Do the Benefits of Composite Decking Make It Right for Your Home?
Trex. AZEK. Fiberon. Composite decking brands have flooded the market as more and more people have opted to shift away from natural wood. There are numerous benefits of composite decking, but it's still not right for every single project. Discover the top advantages of composite, as well as one big reason people shy away.
7 Top Composite Decking Benefits
Over the years, composite decking has become increasingly popular for outdoor living spaces, including decks and screen porches. Here are the key reasons that shift has happened.
Eco-Friendly
Wood decks, by their nature, require cutting down trees. For some hardwood decks, that can even mean threatening certain tree species.
Composite decking, on the other hand, is a more eco-friendly, sustainable product.
Trex, for example, uses 95 percent recycled or reclaimed materials in its decking. In 2021 alone, it diverted 431 million pounds of polyethylene (PE) film away from landfills and into its various products.
Learn more here: Is Trex Composite Decking Eco-Friendly?
Lasts Longer
There's no getting around it. Natural wood deteriorates over time. Natural Wood:
Rots
Warps
Chips
Cracks
Molds
Fades
This happens at varying rates, based on the environment and type of wood used, but the average lifespan of a wood deck is around ten to fifteen years. If you're meticulous about upkeep and maintenance, you can sometimes stretch that to twenty-plus years.
After that, expect to have to replace the damaged, soft, or broken decking boards.
Composites, on the other hand, are routinely said to last a minimum of twenty-five to thirty years. Brands like Trex composite decking even have fifty-year limited warranties.
Survives Harsher Environments
If you live in a harsh environment, composite decking quickly makes financial sense.
Harsh environments include any of the following:
Intense sun and heat
Extreme cold, ice, and snow
Excessive humidity
Excessive moisture
Saltwater exposure
Any of these environments (or combination of environments) can expedite the damage done to natural wood over time.
Composites, however, are designed to withstand these environments without showing any aesthetic or functional damage.
Requires Less Maintenance
To keep a natural wood deck looking and performing its best over time, there are maintenance requirements. Frequent cleaning, painting, sanding, and staining are all potentially necessary.
This ongoing maintenance requires both time and money.
When you have composite decking, that maintenance component is essentially removed. The deck might require some infrequent cleaning, but you won't have to put in the annual elbow grease and funds that are common with wood decks.
Approximates the Look of Wood
The longer composite decking is on the market, the better it becomes at approximating the look of wood. From grain pattern to color, the characteristics and aesthetic features of composite decking are becoming more convincing with every iteration.
Many composite decking brands—especially higher-end offerings, such as Zuri Decking—are now extremely realistic. They offer the depth and richness of wood color, as well as the varied and randomized nature of graining.
Is Backed by a Warranty
When you invest in composite decking, you're also getting the benefit of a warranty-backed product. The specific warranty varies with the type of composite decking you choose, but whatever the specific terms, you still get that additional peace of mind.
Has Superior Lifetime Value
Composite decking can end up saving you a lot of money over the life of the product. These savings come from several sources:
The small but cumulative expense of annual maintenance
Necessary repairs to individual decking boards over time
The significant cost of total replacement
Composite decking is a more expensive product initially than natural wood, but because of its longevity and maintenance-free requirements, it has a higher lifetime value than wood.
It's also worth noting that many composite decking brands have different offerings at different price points. Some of the more basic composite lines, including Trex Enhance, are designed to be almost comparable in price to wood.
So, Why Doesn't Everyone Go with Composite Decking Boards?
If composite decking offers all these benefits, why wouldn't all homeowners choose it for their decks, screened porches, and other outdoor living spaces?
What's the downside to composite decking?
Price.
One of the biggest outdated decking trends this year is anything that needlessly drives up cost. As homeowners become more budget conscious, people are increasingly weighing the costs and benefits of things like composite decking.
Especially if you don't intend to be in your home for a significant amount of time, something like natural wood could be just as functional and just as beautiful as composite but for a smaller up-front expense.
Ready to Build a Dream Deck in Your Northern Virginia or Maryland Home?
Thinking about adding a custom outdoor living space to your NoVA or Maryland home? Reach out today!
We're Design Builders, a custom design and build firm servicing the Northern Virginia and Maryland markets. We specialize in high-end, one-of-a-kind outdoor living spaces. If you have any questions, need a quote, or want to discuss what's possible with your property, we're always happy to help!