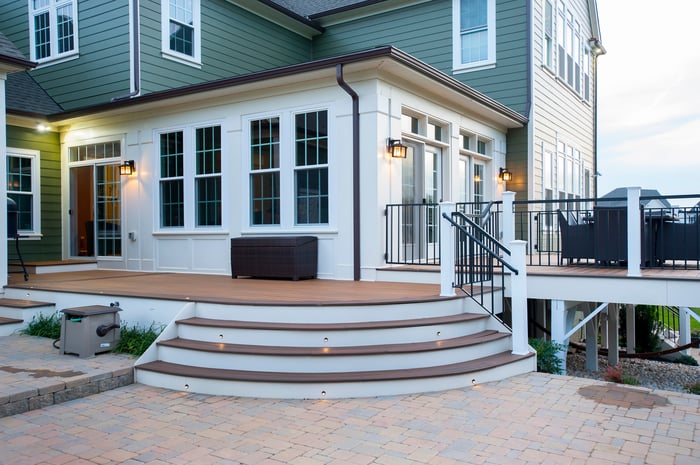 All about Sustainable, Eco-Friendly Decking from Trex
General buying trends are shifting in a big way. According to the Business of Sustainability Index from GreenPrint, nearly two-thirds of Americans (64 percent) said they'd be willing to pay more for sustainable products. This consumer desire applies to all industries, including outdoor living. When it comes to sustainable wood-alternative decking, one name consistently comes up: Trex. But is Trex composite decking eco-friendly?
Overcoming Mistrust around "Going Green"
Yes, the GreenPrint study found 78 percent of people were more likely to purchase something clearly labeled as sustainable or environmentally friendly, but it also found 53 percent of US buyers "never" or "only sometimes" believed a company's green claims.
Sustainability is obviously an important issue with today's buyers, but there's a lot of skepticism around business practices.
Trex repeatedly makes claims related to its sustainable business practices, but what exactly does that mean? How does the company live up to its eco-friendly claims?
6 Ways Trex Is a Green Company
Using Recycled and Reclaimed Materials in Its Composite Decking
Trex composite decking is made from 95 percent recycled or reclaimed materials. This includes both reclaimed industrial wood scrap and recycled polyethylene (PE) film.
What is polyethene film? It's a type of plastic that can be found in any of the following:
Single-use plastic grocery or retail bags
Plastic mailer bags
Bread bags
Case overwraps
Dry cleaning bags
Newspaper sleeves
Ice bags
Ziploc

®

bags and other reclose-able bags
Produce bags
Bubble wrap
Salt bags
Cereal box liners
Wood pellet bags
(Learn more about what is and isn't acceptable in the NexTrex® recycling program).
By collecting these products and repurposing them into decking boards, two things happen. One, you get a high-quality, beautiful, durable product. Two, all those materials are directly diverted out of landfills, where it's estimated they would take over a thousand years to degrade.
Not sure how much plastic Trex actually saves? According to the latest Trex ESG report, the company did the following in 2021:
Diverted 431 million pounds of polyethylene film from landfills
Reclaimed 646 million pounds of wood for use in Trex products
Recycled around 99 percent of the water used in the company's Virginia and Nevada manufacturing facilities via closed-loop recirculation systems
Recycled 16,659 million gallons of water
Considering these numbers, it's little wonder Trex is one of the largest plastic film recyclers in North America.
Committing to a No-Tree Decking Product
You might assume any decking company would contribute significantly to deforestation. Trex, however, has never cut down a single tree in the production of its products.
Any wood used in Trex decking boards comes exclusively from reclaimed material. Beyond that, the reclaimed wood is also locally sourced.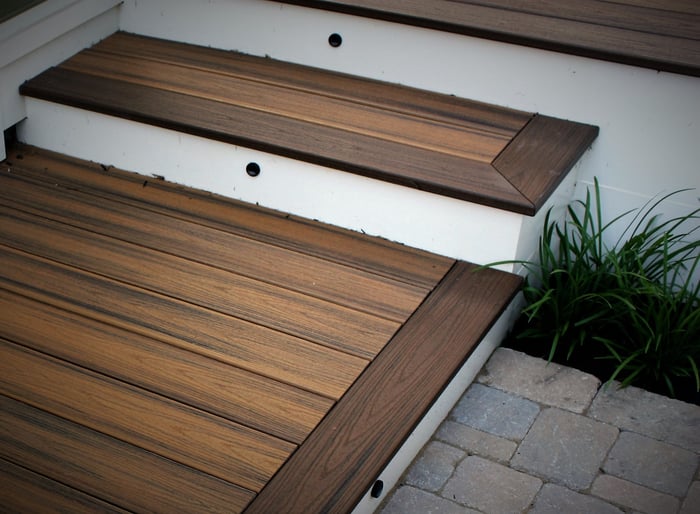 Creating Sustainable Manufacturing Processes and Thoughtful Supply Chain Management
One area where many consumers see businesses fall is in their actual manufacturing processes. The companies use the right materials, but then putting the product together takes a big environmental toll.
Trex is conscious of this and thinks about every aspect of its production process through a sustainability lens.
Manufacturing processes in Trex facilities…
Trex uses almost exclusively US-based supply vendors (around 95 percent) and deliberately creates processes that minimize environmental impact.
This includes nearshoring, a practice wherein the supply chain remains as close to the manufacturing facilities as possible. This minimizes how many miles materials have to travel, and it significantly reduces the overall environmental impact of creating that product.
Product assembly and production also occur in the company's US-based facilities.
Scaling Manufacturing Facilities Responsibly
As the demand for Trex and many other outdoor living products skyrocketed during the pandemic, Trex needed to expand to continue to meet customer demand.
Announcing plans to break ground on a new manufacturing facility in Little Rock, Arkansas, the company remains committed to innovative, strategic, responsible manufacturing that limits environmental impact on the following: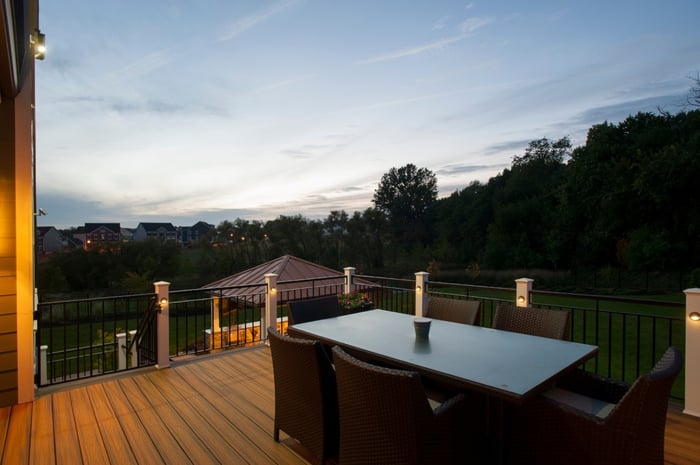 Innovating Socially Responsible Living Spaces
Stepping back and looking at the more holistic picture, Trex is also committed to working with the US Green Building Council. Together, they aim to transform the way buildings and communities are designed moving forward.
They are assessing how to create more environmentally and socially responsible living spaces that improve the overall quality of life for residents and occupants. They look to achieve that through innovative building designs and operational practices.
Working with the Community to Expand Reach
A pillar of Trex is giving back to the community and actively involving them in the company's efforts. This includes facilitating, supporting, and running many recycling programs. Using its corporate resources, Trex is able to keep even more plastic film out of the landfills by mobilizing, enabling, and educating local communities.
Trex's Third-Party Sustainability Awards and Associations
Trex doesn't just say it's an eco-friendly brand. Here are just some of the accomplishments to back up those claims:
Accepted as a member of the US Green Building Council (USGBC)
Named Green Builder magazine's "greenest" decking (Readers' Choice award, an unmatched 12 consecutive years)
Received the highest decking score in the Green Builder Media Brand Index
Awarded one of Green Builder's "Sustainable Products of the Year" for the Trex AR Deck Visualizer (2022)
Honored with Business Intelligence Group's sustainability award for the NexTrex® recycling program (2020)
Named "Environmental Vendor of the Year" by Home Depot (2016)
Ready to Create Your Eco-Friendly Deck?
Thinking about adding a new deck or screen porch to your Northern Virginia or Maryland home? Interested in creating the most sustainable deck possible?
You're in luck! We're Design Builders, and we specialize in creating high-end custom outdoor living spaces.
Get a no-obligation quote today for your new Trex deck.