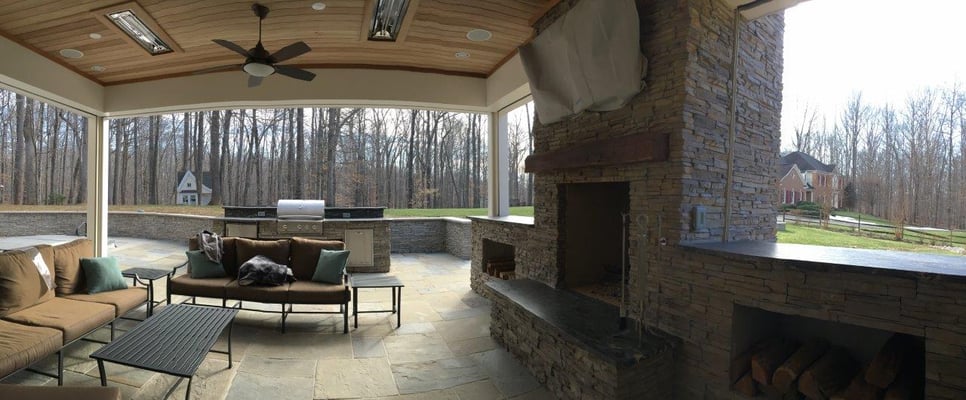 When people are interested in investing in an outdoor living space, one of the primary concerns is how to maximize the usability of that space for as many months of the year as possible. Depending on the particular climate and weather patterns of the region where that outdoor space is being designed, this can mean combating both hot summers and cold winters. In terms of winter months, infrared heaters and other outdoor patio heaters are one common means of battling lower temperatures.

Popular Outdoor Heating Systems in Virginia
One of the most prominent names in electric outdoor heaters is Infratech Infrared Heaters. Their products, the latest of which are slim enough to have their profiles tucked into the ceiling of a screen room, are commonly seen electric outdoor heaters in Virginia. Rather than heating the air like traditional interior heaters, these units use infrared energy to warm the objects they are pointed at.
Infratech outdoor heaters can be used as alone - though usually in pairs - or in conjunction with other heating measures, such as outdoor fireplaces. In the pictured motorized screen porch and outdoor kitchen in Clifton, Virginia, new Infratech heaters are used to add versatility to an impressive outdoor wood burning fireplace with flagstone outdoor kitchen cabinets arrangement.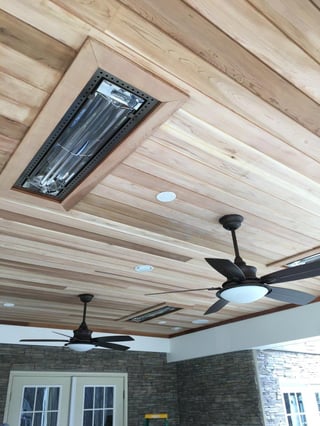 Installing Infratech Heaters in Virginia and Maryland

The installation process for Infratech outdoor electric heaters essentially involves four major components: the circuit, timer, analog box, and heater itself.
The first important thing to note about an Infratech heater is that each heater takes its own circuit, one that is essentially similar to what a conventional oven runs on.
When installing, remember that you must take into account how far away the circuit box is. Once that's been determined, each circuit is going to have what's known as a "home run" wire. This wire goes from the circuit box all the way to the final destination.
From the circuit box, the home run wire then goes into the timer box. This timer cuts off the heaters at specified times to ensure they don't run overnight or at other unnecessary times.
The next destination for the wire is the analog box. This is essentially a device to convert the power and allow the heaters to run on traditional power.
The last stop of the wire is into the Infratech heater itself.


Note that these steps and components are specific to an Infratech heating system and should not be used as a guide for installing patio heaters as part of another electric outdoor heating system.
Covered Porch Ceiling Type
The installation of the actual heater will vary slightly depending on the type of ceiling you have. If you have a flat ceiling, you can recess the heaters into that ceiling in much the same way you can recess lights.
If, however, you have cathedral ceilings or ceilings at an angle, you'll need to use Infratech heaters with brackets. This way, the unit can be surface mounted and angled so as to shine flat to the ground.
In this particular project, the heaters were Slimline units, all of which were fully recessed.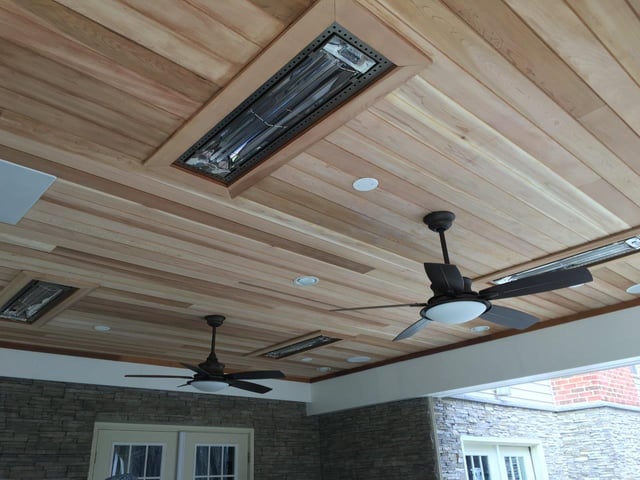 Screened porch with Slimline Infratech Heaters Virginia. Click here for an Infratech heaters review.
Issues to Consider When Installing
There are several issues to take into account when it comes to Infratech installation. The first issue is where you want everything located from the circuit to the heaters themselves. If well planned from the design phase, this can result in essentially hidden wires. The only visible portion will be the last wire running from the heater to the ceiling. On a surface-mounted unit, that usually means only about five inches of exposed wire.
The other major issue to consider is how you want to run the heaters—individually or connected. After all, if you run two heaters to one analog box and one timer back to the circuit, turning on one heater will actually turn on both. Many people prefer the freedom and convenience to run each heater individually, so this is something to note with your installation team in order to ensure the heaters are installed to your liking and specifications.
For more information about how to install Infratech heaters, how much do Infratech heaters cost, or how these outdoor heaters Virginia might benefit your existing or potential outdoor living area (with or without motorized retractable screens), contact us today! We'd love to answer any questions on this topic, retractable screens for covered porches, and more.