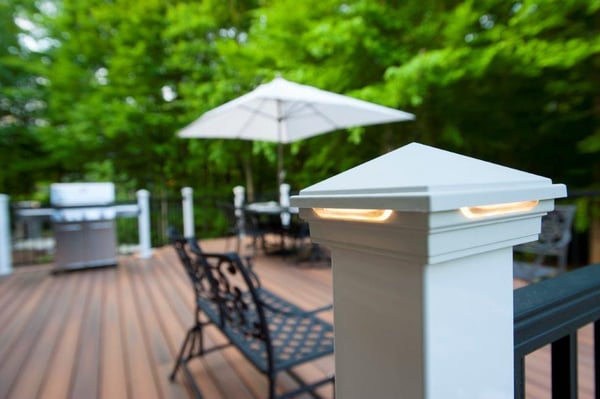 Be Efficient and Economical When Building a New Deck Design
When you come down to it, decks serve to increase the amount of usable space around on your property. They are functional and accessible to all ages for entertaining, relaxing, cooking, and more. However, they can cost a lot in terms of the time and money required to invest in the design of a quality product, especially in the Maryland, Virginia, and Washington DC area. To ensure a solid economical plan heading into a project, Design Builders offers 5 top tips.
1. Have Reasonable Expectations for Your Plans and Your Budget
---
Decks are a significant investment. The fact is, almost any home improvement project will likely cost more than you are expecting. It's important to have an idea of a target price range for your project and to budget any deck accessories and porch add-ons appropriately. That said, decks are one of the most attainable outdoor living spaces you can construct. they will cost considerably less than a screened-in porch area or an outdoor living space with, for example, Danver stainless outdoor kitchen cabinetry.
Having reasonable expectations for what your budget is and for what deck upgrade options are available to you will set you up for success as opposed to a headache. For example, premium Zuri decking may look like real hardwood, but low-maintenance Trex deck boards could provide acceptable performance and looks at a value. Knowing what you can accurately and realistically budget for before getting too far into the planning process will ensure a smoother experience for both you and the deck contractor you are working with in Maryland, Virginia or Washington, DC.
2. Plan to Use Pressure-Treated Wood for the Deck Base Structure and Hardwood Deck Boards
---
While not low-maintenance like Trex, Zuri decking, or Archatrak deck tiles, hardwood has the benefit of being the real thing. It has the desirable real wood look that synthetic wood decking, also known as engineered deck boards, are manufactured to replicate. Hardwood decking and exotic woods have become overlooked in recent years due to the prevalence of low-maintenance materials, as well as overlooked as a cheaper "starting" material.
Hardwood rooftop deck with proper maintenance after 5 years.
The fact of the matter is, the largest drawback of hardwood is the overall durability and maintenance required for proper upkeep. It will also eventually dry out, which leads to splintering, graying, and discoloration, however these issues will not be experienced for likely 20 years down the line with proper staining, maintenance, and upkeep. This also means a hardwood is a good material to use if you want to build a deck that will increase the value of your home for sale if you plan on only using the deck for a couple of years before moving to a new home.
3. Be Discerning with Deck Add-ons and Accessories
---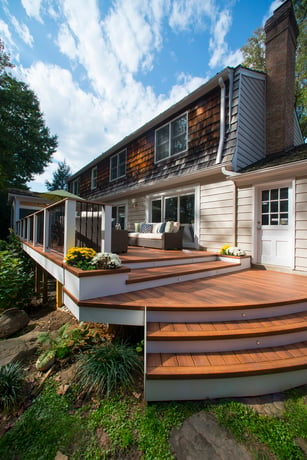 As with screened porches - albeit to a lesser extent - homeowners will see the price on a project to creep upward with added amenities and extras. A custom stone outdoor fireplace, for example, can add more than $20,000 to a deck with a patio right off the bat. While decks don't have the luxury of being able to accommodate features like motorized porch screens, Infratech infrared heaters, or ceiling-mounted outdoor televisions, other options can cause the budget of a project to skyrocket. These include high-end decking finishes or using products like premium Zuri decking or including a Danver outdoor kitchen on your deck.
If your budget is your primary concern, beyond staying educated of costs and realistic with your expectations, you have to realize that "basic" is not bad. A simple electrical package and a lack of bells and whistles is, in the least, a recipe for a deck that increases the usable square footage of your property and provides ample room for entertaining, dining, and more.
Considering your brand options for low-maintenance materials if you absolutely do not want to use hardwood is a recipe for success. We mentioned Zuri earlier, but there are perfectly fine alternatives that still perform despite aesthetic tradeoffs. Companies like Trex and Fiberon offer decking products at multiple price points that will last for years and meet an economically efficient budget. Think about whether the less expensive products will last as long as the premium brands and whether it will cost more to maintain certain products over time; long-term costs are important, too.
4. Plan on Completing the Deck Project in Stages
---
Some homeowners know what they want but are not prepared to pay for their dream deck design upfront. In these cases, discussing with a reputable deck contractor in Maryland, Virginia, or Washington, DC to complete a deck in stages is a viable option. With proper planning, completing a deck in phases as opposed to spending what you can now and adding to it later - which entails additional costs to accommodate the new plans - can be an economical over-time plan.
For example, if a homeowner wants to build a ground-level deck that is above a certain square footage in area but to also include features such as upscale railings and flower boxes, a phased deck project could be a good idea. Building the deck first without handrails first means more deck boards can be purchased and installed so that the deck meets the size requirements, while the railings and integrated flower boxes or in-deck bench seating can be added in a year or two, with the contractor accounting for these future deck add-on additions in the original design. Simply put, phasing out a deck project allows homeowners to have their cake and eat it too, albeit over a longer period of time.
5. Consider Your Needs and Wants
---
Everyone wants a jacuzzi hot tub spa on their deck or in their screened porch. Is this a need, though? Considering what you want versus what you need can guide the compromises you may need to make in order to make your dream deck design a reality. For example, you may want a beautiful Danver outdoor kitchen complete with powdercoated cabinets and a Green Egg Smoker. But if you're on a budget and what you fundamentally need is a deck with room for entertaining and cooking, there's nothing wrong with a traditional propane or charcoal grill from Home Depot coupled with enough space for some outdoor furniture. Maybe you want a $20,000 outdoor kitchen, but you will also get enjoyment of a deck that you can actually build with a grill you can bring home yourself at a fraction of the cost.