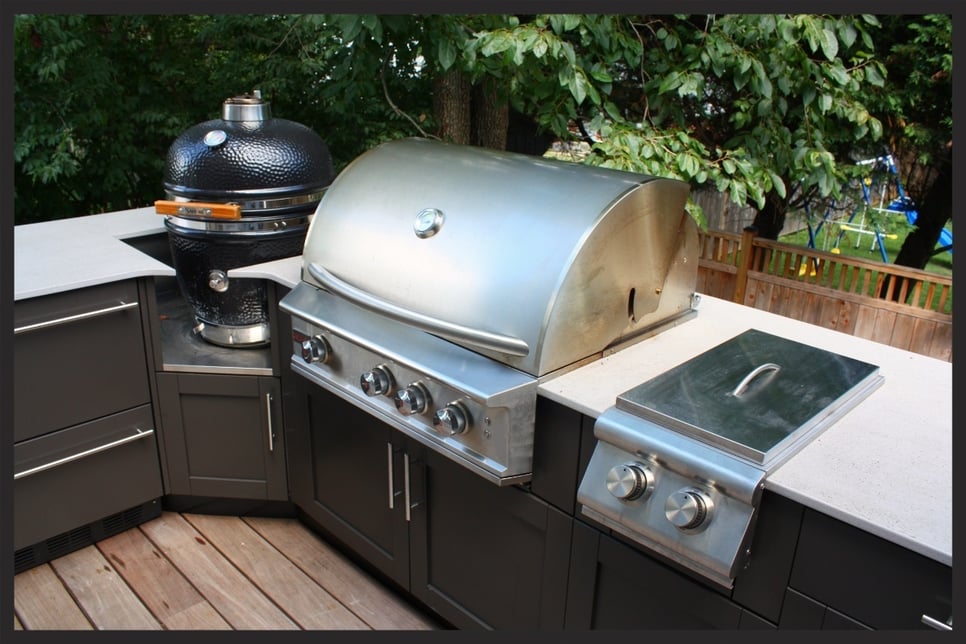 Every backyard kitchen needs some outdoor storage cabinet options, and one brand that consistently stands out from the crowd is Danver Cabinets. Their line of outdoor kitchen cabinetry offers the end user a host of benefits, from diverse design options to ease of installation. If you're currently looking into your exterior cabinet options, consider putting a Danver outdoor kitchen on your radar.

Why Danver Outdoor Cabinets May Be a Good Fit for Your Outdoor Kitchen
A. Design Advantages of Danver Stainless Steel Kitchen Cabinets
Danver is known for the stylistic touches of their cabinetry, which give any kitchen a polished, clean look with the added benefit of storage and utility.
Cabinets by Danver are also designed to keep out pests and rodents, so you don't have to worry about outdoor critters getting into your stored items. Every cabinet is fully finished on the inside and offers a variety of design options, which cannot be said for other manufacturers of stainless steel cabinetry (which is also Danver's sole product). There are many door styles to choose from, and in terms of color, you can go with the raw, sleek look of stainless steel or custom powder coat to complement your décor.
For a blending of aesthetics and function, Danver stainless steel outdoor kitchen cabinets are consistently at the top of the list for both homeowners and designers.
B. Installation Advantages of Danver Outdoor Kitchen Cabinets
One of the biggest benefits people get when selecting Danver stainless steel cabinets is the ease of installation. Stone cabinets, on the other hand, involve cutting; grinding; invasive, hard-to-clean dust; and multi-day installations, while Danver can be up and running within the day.
This means less cleanup time, less money you need to dedicate to the installation crew, and fewer days where your schedule and life are interrupted by this home improvement job.
C. Versatility of Compatible Add-Ons for Outdoor Stainless Steel Cabinets
Danver and Brown Jordan are made to be compatible with any number of appliances. This means the sky is essentially the limit when it comes to what porch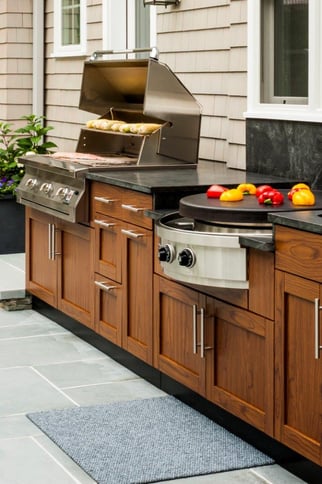 accessories you want to add to your kitchen. Whether you prefer natural fuel, gas, or dual-fuel grills, Danver can be made compatible.
Similarly, you can choose to install just about any number of kitchen add-ons:
Fridges

Ice makers

Beer taps

Wine coolers

Cocktail bars

Hot plates

Dishwashers

Washing machines

Dryers
Just about anything you want to install, Danver can accommodate. The price will obviously go up with every accessory you want to include, but the options are open to you.
D. Danver & Brown Jordan Work for a Diverse Clientele
Danver kitchen cabinets aren't exclusively available (or right) for homeowners. They also go great in condominium buildings, apartment complexes, restaurants, hotels, hospitality services, and more.
Because of their mobile units - their mobile stainless steel cabinets were developed for the hospitality industry - they're also a convenient option for anyone in the food service, outdoor living, or catering industry.
Anyone can purchase Danver with confidence because of the company's insistence on high quality and impeccable style. Whether used in a residential or commercial application, Danver products are going to be beautiful, versatile, and capable of withstanding even adverse or severe weather conditions over time.
E. Learn More About Brown Jordan & Danver Outdoor Kitchens
Contact us for more information about outdoor Danver cabinet prices, Danver cabinets in Maryland, where to buy Danver cabinets in Virginia, or how to install Danver cabinets for outdoor kitchen ideas in Washington, D.C.; Design Builders is your local Danver cabinet retailer and Danver cabinet installer. You can also visit the Danver Stainless Outdoor Kitchens and Brown Jordan Outdoor Kitchens websites for great outdoor kitchen pictures and outdoor kitchen designs.