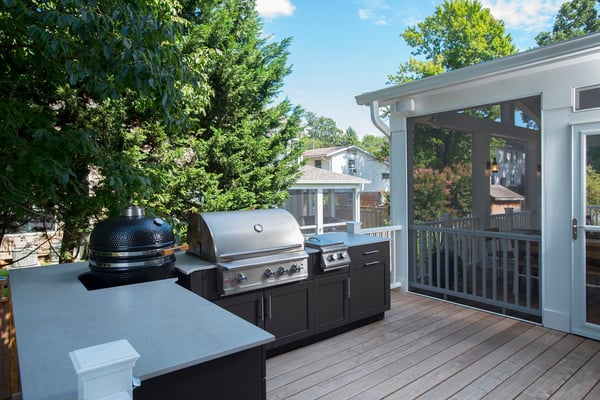 Outdoor kitchens have exploded in popularity over the last decade, and they've become especially desirable with the continuing pandemic. (Just check out these current benefits of an outdoor living space.) Any exterior building project, however, needs to be completed with care and thought. This helps ensure the structure is durable and lasts for years to come, even when exposed to the most extreme elements.
3 Nonnegotiable Building Tips for Outdoor Kitchens
Account for Water
Water is arguably the most damaging element any outdoor kitchen will encounter. While no builder can stop water entirely, it is possible to build in such a way that water is directed safely away. To accomplish this, everything should be constructed 3/16th of an inch off level. This will ensure water will flow in the desired direction.
With products like countertops engineered for exterior use, durability is not usually the issue. Water won't penetrate or damage the actual porcelain, Dekton, or other material. The potential concern is breakage or cracking. This can occur when the contractor doesn't take water fully into consideration and it's allowed to seep through where no one was paying attention. (Think seams or points of adhesion.)
Ensure Your Base Is Solid
When building outdoors, you're battling constant change. The ground and the land are always flexing and eroding. Anything you build must be able to handle these fluctuations over time.
It doesn't matter if you're dealing with countertops or cabinets. Even the most well-crafted, high-quality products put in by the most skilled installer can fail if the base is not sufficient. (For example, a solid surface countertop built on a dirt base is very likely to crack eventually.)

In terms of the installation, your contractor should pay special attention to these details:
Anywhere adhesive is used in the project.
Anywhere with seams. (Will wind, rain, or mud be able to get into these crevices?)
Proper insulation practices.
The base where any product sits. (The quality of materials and workmanship needs to be just as high as any other component to help ensure project longevity.)
Pick Your Exterior Products (Very) Carefully
When selecting the exterior elements of your outdoor kitchen (everything from grills to countertops), think carefully about the material you're using. It's going to be put through a much more rigorous test than any internal product. Sun, rain, wind, snow, heat, extreme cold, and UV exposure are all on the table, and the products you choose for your outdoor kitchen need to be able to withstand this year after year. (Consider both functionality and aesthetics to ensure your kitchen works and looks as great as the day it was installed.)
For lumber, this means always going with pressured wood. For countertops, it's only selecting material that can handle exterior conditions. (Caesarstone, for example, released the Solaris outdoor collection, which is specifically engineered for outdoor living.)
If you're unsure what to select, talk to your design and build firm. They can provide advice and guidance about what best suits your climate, project needs, and design preferences.
Bonus Tip: Get Peace of Mind with Your Outdoor Kitchen
Warranties are always a great way to have peace of mind. They can protect you financially in case anything goes wrong. In nearly all cases, though, you have to follow the manufacturer's rules of installation and general guidelines for that warranty to be valid.
Both contractors and fabricators will often default to the homeowner's preference or desire, so make sure to verify that anything that's being installed will still qualify for its warranty. (It's never a good surprise when you think you're covered only to find out that's not the case!)
Want more information about outdoor kitchens? Check out our portfolio for some inspiration, or feel free to contact us with any questions.