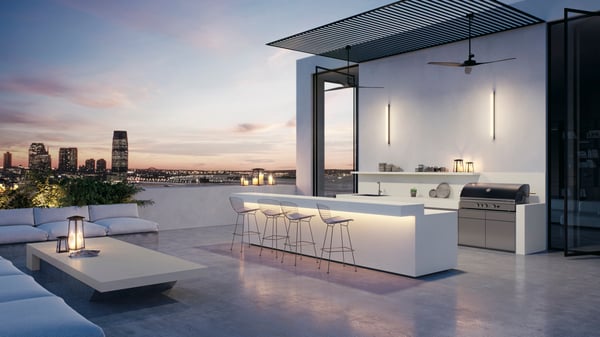 In the world of high-end countertops, a few company names immediately come to mind. If you're familiar with quartz countertops specifically, Caesarstone is invariably one of those names. You likely know Caesarstone for their interior quartz surfaces, but the company recently launched an exciting new outdoor line.
What Is the Solaris Outdoor Collection?
Caesarstone, known for their quartz kitchen countertops, vanity tops, wall cladding, and flooring, decided to supplement their interior lines with an outdoor collection.
Here are the highlights:
Name: Solaris
Material: Quartz
Available Colors:

Palm Shade 515

White base with subtle gray veining throughout. A marble look with quartz durability.



Clearskies 406

Smooth gray base reminiscent of concrete with flecks that emulate a pebble surface.

Midday 405

Sandy white base with flecks of gray and soft white for depth and texture.



General note regarding color: The countertop colors might look slightly different on different monitors. We always suggest seeing a sample in person before making any selection.
Ideal Use: High-end outdoor kitchen countertops
This is an exciting, innovative, unique new product from the name you already trust in quartz countertops.
What Makes Solaris Different from Interior Quartz Countertops?
The Solaris line went through several years of extensive testing in the lab and in real-world scenarios to ensure it's incredibly resistant to all seasonal elements and environmental conditions. Just like any quartz surface, it's resistant to scratching and staining, requires minimal maintenance, and is highly durable. This exterior line, however, is also UV resistant, ensuring the color won't yellow or degrade over time.
Note: Caesarstone does not recommend installing any of their interior lines outside. Those interior products are designed and manufactured for interior use only, and you could see color fading or yellowing if installed in an exterior space.
Will Solaris Countertops Work in My Climate?
Solaris countertops are rated to ambient temperatures of 122 degrees Fahrenheit to −13 degrees Fahrenheit. This makes them ideal for just about any environment across the United States. The extensive testing that was performed before the product release ensured they were equipped to handle whatever came their way—rain, sun, or snow.
At Design Builders, we can't wait to start adding these beautiful countertops to our outdoor kitchens and exterior living projects! We specialize in high-end custom exterior spaces, and we work exclusively in the Virginia; Maryland; and Washington, DC, markets. Given the extreme temperatures and seasons we experience here, we're confident the Solaris outdoor line from Caesarstone is going to be a big hit with our customers.
If you're looking to add an outdoor kitchen or to renovate an existing space and want to add a bold, beautiful, practical dose of elegance, luxury, and modernity to your project, reach out to us today, or leave a comment below. We'd love to answer any questions you have about the Solaris outdoor collection from Caesarstone!