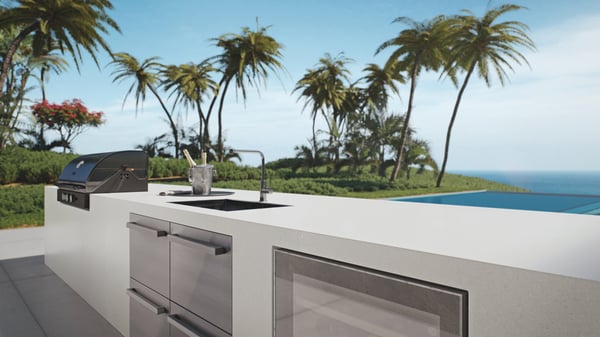 Pros and Cons of the Most Popular Outdoor Kitchen Countertops
Are you interested in adding or renovating an outdoor kitchen? If so, you're probably wondering what kind of outdoor kitchen countertops are best. Here's a quick breakdown of the pros and cons of four of the industry's most popular options.
Dekton Countertops
Dekton uses a blend of raw materials—the same used in quartz, glass, or porcelain countertops—but uses a process known as "Sinterized Particle Technology" during manufacturing. This puts those materials under high temperature and pressure, emulating the natural metamorphic process but on a vastly accelerated time frame.
Here are some high-level pros and cons of the material:
Pros:
Wide variety of unique color options
Resistant to staining, scratching, and abrasion
UV resistance means you don't have to worry about color fading when used outdoors
Able to withstand heat or cold (appliances like Crock-Pots can be used directly on the surface)
Cons:
Price is high and can be prohibitive for some homeowners
More prone to chipping and cracking than other countertop materials, such as quartz or granite
Repairs can be costly and difficult
Concrete Countertops
Concrete has become an increasingly popular option for outdoor kitchen countertops in the last few years. Whether you love them or hate them, here's a quick breakdown of what you can expect if you opt for concrete:
Pros:
Highly durable
Cracks (if they occur) are relatively easy to repair
Lends a trendy, rustic, industrial look to the kitchen
Cons:
Can crack, even when reinforced with rebar or wire mesh
Susceptible to stains and scratches, even when sealed
Note: At Design Builders, we specialize in high-end custom exterior living spaces in the Northern Virginia and Maryland regions. For many reasons, including the cracking and staining issues, we do not recommend or install concrete countertops in our projects.
Granite Countertops
One of the most popular materials for outdoor kitchen countertops, granite offers homeowners a lot to like. Before you jump to installation, though, make sure you've thought through the negatives of this material as well.
Pros:
An eco-friendly product (namely because it's a natural product, can last a lifetime, and doesn't emit radiation or gasses)
High heat resistance
Scratch resistance
Low-maintenance product
Wide price variance (some lower-end granites are less expensive than higher-end laminates)
Stain and chemical resistant, when properly sealed
Cons:
Potentially increased number of chipped or broken dishes
Requires periodic sealing (upward of ten years between sealings)
Chips can occur, especially along the edges of an undermount sink
Less variation and options within color, especially if you're looking for a solid color or a bright color
Quartz Countertops
Quartz countertops are, perhaps, best known in the world of interior kitchens. Now, they're making an increasingly big impression in the world of outdoor living spaces. Caesarstone, for example, recently came out with Solaris, their line of outdoor quartz countertops.
Pros:
Attractive aesthetics with lots of color options
Color consistency
As durable as concrete or granite—without the proclivity to chip
Highly resistant to staining and scratching
Doesn't harbor bacteria, mildew, or mold
Less expensive than some countertop options (e.g., Dekton)
UV resistance for color fade protection
Cons:
More expensive than some countertop options (e.g., concrete)
Not recommended to use appliances, such as Crock-Pots, directly on the surface
A more contemporary look than natural stone, such as granite, marble, or slate*
*For some homeowners, this is a pro.
Seams can be somewhat noticeable (about comparable to granite seams)
Get an Expert Opinion on Your Outdoor Kitchen Countertop Material
Whatever option you choose, take into account that exterior environments are much more extreme and unforgiving than interior conditions. You might love concrete for the kitchen inside your home, but think about whether you really want something porous in a wet environment.
Having trouble deciding what countertop is right for your DMV home? Contact us today, or drop a comment below. We'd love to discuss your next project!