If you're like many people in 2021, you're currently thinking about making improvements to your home. (Read more about this home construction boom and how it has affected the decking industry specifically.) With this increased interest in home improvements, we examine some distinct benefits of improving an outdoor living space in your home this year.
3 Advantages of an Outdoor Living Space in 2021
Improve Your Work-from-Home Situation
When so many in the workforce were suddenly thrown into remote work, there were definitely some growing pains. Especially with the added pressures of virtual learning, many people found their homes stretched thin. After all, they bought homes based on their requirements at the time, and suddenly now they needed one or two home offices and an extra place for their kids to learn every day.
Outdoor living spaces quickly became a go-to answer. Rather than continuing to suffer at the kitchen table every day or investing in the major remodel required for adding an extra room, people looked to their exterior property for added square footage.
Not only did outdoor living spaces serve as a welcome bit of peace and quiet for remote work, but it also offered a pleasant change of scenery for those chained to their computers all day. With people needing these spaces year-round, it's also little surprise heaters were a popular addition to these exterior remote work spaces.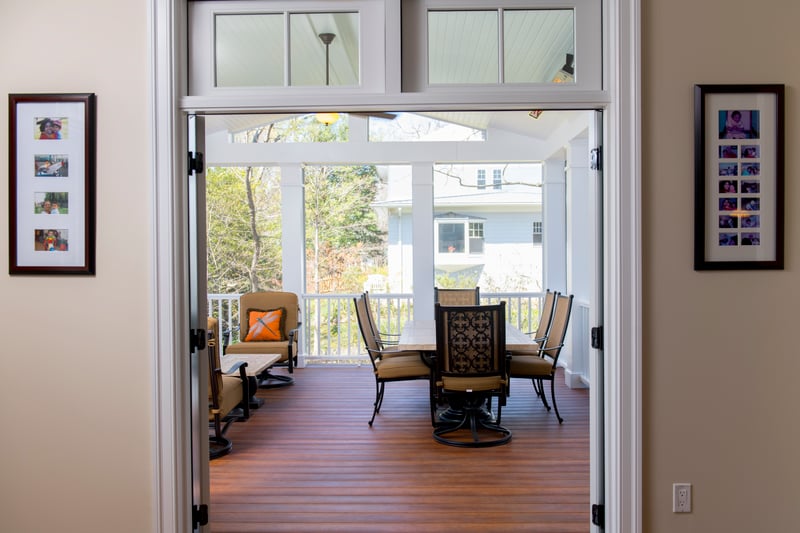 Add Beauty to Your Home
Home improvement projects were extremely popular in 2020 and continue to be in 2021. From stimulus checks to canceled vacations to people just spending more time at home, lots of reasons contributed to this phenomenon.
Whatever your motivation for adding an exterior living space to your home this year, one significant benefit is the ability to update and to beautify your home. Especially when you opt for high-end, premium products, such as Zuri decking, you can create a space you enjoy using now but one that will also benefit you if and when it comes time to list your home.
With housing markets booming all around the nation, including in our neck of the woods, more people are considering putting their homes on the market, and the addition of a beautifully designed, impeccably executed outdoor living space could offer significant return on your investment.
(Check out these articles for even more detailed information about ROI on screen porches and ROI on decks.)
Have a Space to Safely Gather with Friends and Family
Even as the vaccine continues to roll out, people aren't likely to immediately begin gathering in large groups again. Outdoor living spaces offer the opportunity to once again meet with friends, family, and loved ones but in a safe, socially distant way.
As the weather starts to approach spring, these exterior living spaces also give homeowners a place to get outside after largely being confined indoors.
Thinking about adding an outdoor living space to your home? Read up on products that could enhance the beauty, functionality, and resale value of your home. Download our free e-book on Zuri premium decking now, or check out this complementary e-book on Infratech infrared heaters.