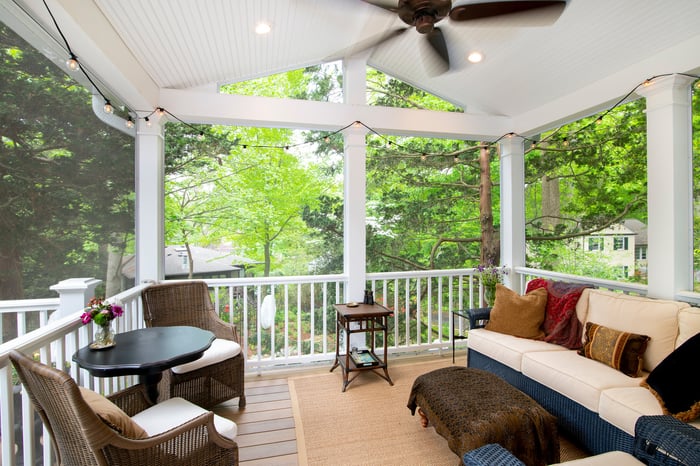 Looking to add a screen porch to your Virginia or Maryland home? If you're still in the early stages of this project, you probably have one big question on your mind: How much does a screen porch cost to build?

Average Cost to Build a Screened Porch in Virginia or Maryland
If you're in the Virginia or Maryland market, expect the average cost to build a screen porch to be somewhere around $75,000.
Here are some assumptions built into that price:
This price is for 250 to 300 square feet of screen porch.
This assumes nice finishing touches (flooring, lighting, and more). Not the cheapest option but not top of the line either.
The price of pressure-treated lumber and other materials have skyrocketed since the pandemic. Those extra costs will affect your estimate.
This is a custom design and build job where you have collaborative input about stylistic choices.
In terms of price range, the low end for screened-in porches is going to be around $50,000. If you increase the size of the porch and the quality or quantity of finishing products, expect to push upwards of $200,000.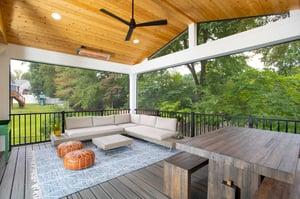 I Got a Much Lower Quote for My Screen Porch. Now What?
The world of build and design estimates can be difficult to navigate. When different companies quote you wildly different prices for the same job, how should you proceed? The best answer is…with caution.
If you get an extremely low bid on a project, maybe you just got lucky. Perhaps you found a skilled builder who is just establishing and ramping up his or her business, and the pricing reflects that.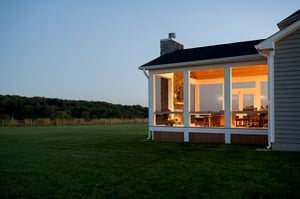 Unfortunately, the more common scenario is that an outlier bid is an outlier for a reason. Any of the following could contribute to a lower-than-expected estimate:
The builder is inexperienced. You're not paying for premium workmanship, so you won't receive premium workmanship.
The builder is cutting corners somewhere. In an effort to win jobs in this competitive, changing market, maybe the crew is moving forward without the proper permitting or using other tactics that could end up hurting you, the homeowner.
The bid isn't complete. Whether done intentionally or not, a low bid might be because it doesn't include all costs. When a project is finished, you could get an unexpected surprise as things you assumed were included in the original estimate get tacked on.
The builder doesn't specialize in custom jobs. A standard cookie-cutter project where you have little to no input costs less than a designed-from-scratch custom job. If you want personal input, collaboration, and customization incorporated into your project, the price will be higher.
The builder isn't available to you. A custom design and build firm will often offer a higher level of personalization—not just in the design plans and execution but in their interactions with you throughout the build process. If you have questions, need guidance, or want input, a custom firm typically prides itself on being available and helpful. That level of service isn't a given, and a lower bid might be indicative of the experience you'll have during the build.
Interested in learning more about pricing in today's construction industry? Check out what to expect when building a deck this year, and read our thoughts about what's going to happen to pricing, even after the pandemic passes.
As always, feel free to reach out with questions, or request a free, no-obligation quote if you're ready to get started!