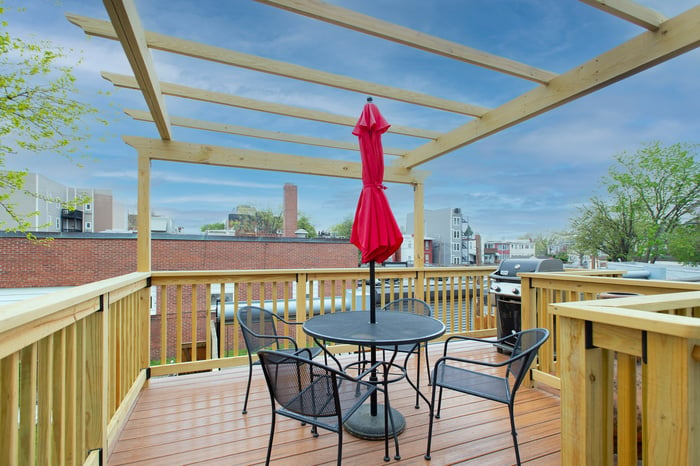 Whenever an article talks about price, the answer must always be some variant of "it depends." Decks, like anything else, are extremely variable, and a lot of factors can affect the final price. That being said, if you're thinking about adding a deck to your Maryland or Virginia home, here are some ballpark figures to guide you, as well as some insight about how the decking market has changed in 2021.
What Does the Average Deck Cost in 2021?
As a rough guideline, expect a deck from us to cost around $35,000.
Now here's what you need to know about that number:
Custom Work
At Design Builders, we create custom outdoor living spaces, and that includes outdoor kitchens, screened-in porches, and decks. We're not a company that mass-produces cookie-cutter decks. We create one-of-a-kind, custom visions, and the pricing reflects that.
Superior Materials
In addition to craftsmanship, Design Builders also uses state-of-the-art, innovative materials standard on all our decks. That includes
These materials help minimize maintenance-related costs, and they outlast other products that might be more economical initially. For example, check out this list of advantages steel framing offers over traditional pressure-treated lumber.
How Pricing Has Changed Since 2020
With the first quarter of 2020 in the books, we've looked at the data and have a good sense of how pricing has fluctuated and changed in the wake of 2020. Overall, project pricing is up about 15 percent (from pre-2020 quotes).
Factors that contribute to that increase include the following:
Materials. Pressure-treated lumber is just one example of a material that's seen an increase since the pandemic.
Permitting. With minimal staffing, permitting is slower and requires more effort to secure.
Labor. Industry pricing, including for labor, hasn't changed much in quite a while. More than anything, this uptick in pricing can be viewed as a market correction a long time in the making.
Evolution. Let's use pressure-treated lumber as an example again. Until recently, it was being sold at a loss. A natural, expected adjustment to price points is at least partially at play here.
Quality. More specific to Design Builders, any price increase can be attributed to two factors. One, we staff only high-quality, highly skilled workers. Two, we work on more complicated custom jobs that require more oversight and administrative work
Will Pricing Go Back to the Way It Was?
Because so many of these price adjustments are directly affected by or related to the pandemic, lots of people assume the pricing will normalize when the pandemic passes. Obviously, we don't have a crystal ball, but we don't see these pricing changes going back.
Labor is only going to increase over time, and materials—in a best-case scenario—will hold steady. If you're serious about taking on a decking project in Maryland or Virginia, be prepared by going in with a realistic sense of cost.
Again, every project is different. There are ways to minimize (and to increase) that baseline number of $35,000. Interested in getting a quote for the specific project you have in mind? Feel free to contact us at any time. We're happy to answer any questions you have or provide an estimate for the project you've been dreaming about!