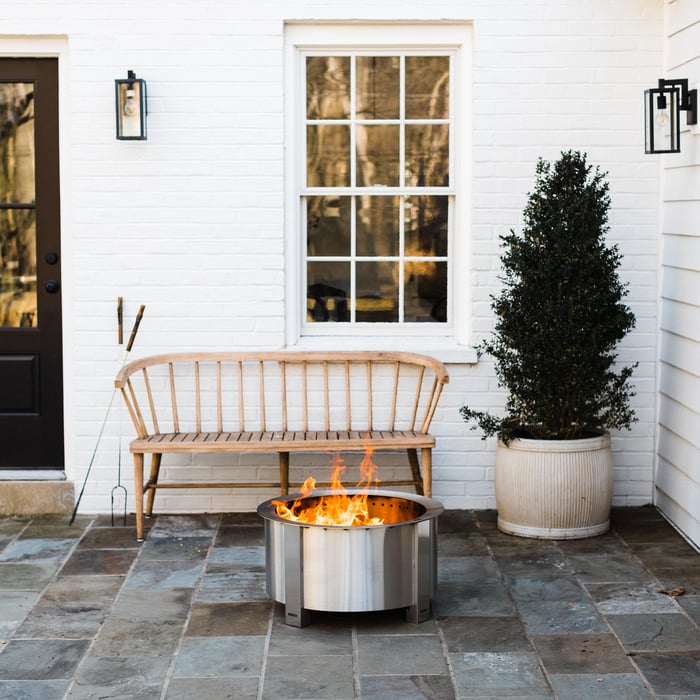 Breeo is one of the most established names in smoke-free fire pits. If you're considering ways to heat the outdoor living space in your Northern Virginia or Maryland home, you've probably come across the brand. If you're interested and want to learn more, here are answers to some of the most frequently asked questions about these smokeless fire pits.
Top 10 Questions about the Breeo Fire Pit
Is a Breeo fire pit 100 percent smokeless?
No wood-burning fire pit can promise zero smoke. All the brand promises is that their fire pits produce significantly less smoke than traditional fires when the proper smoke-prevention steps are taken.
What are the finish options, and why would I choose one over the other?
Breeo X Series fire pits come with two available steel finishes: stainless steel and Corten steel. Stainless steel will stay shiny and sleek even after decades in the elements. Corten steel, on the other hand, is designed to eventually develop a patina. This gives you fire pit a more rustic look.
The choice between the two is purely aesthetic and comes down to personal preference. Both offer the same level of durability, quality, and longevity.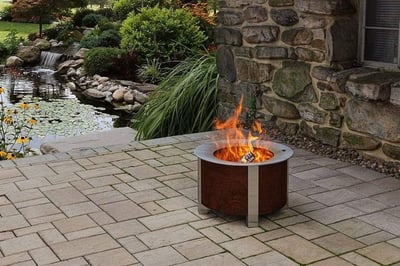 Can I put my Breeo fire pit on a deck?
It is not recommended to use a Breeo fire pit directly on a deck. This applies to natural wood decks, as well as any composite decking.
Recommended surfaces include gravel, pebbles, or dirt. If you're placing your fire pit on something like concrete, it's also a good idea to always have some sort of heat shield underneath your Breeo. Sand and gravel both work well to avoid any heat damage to the concrete.
How much space should I leave between the Breeo fire pit and any other structure?
While there's no official recommendation, this mostly comes down to common sense. Placing your fire pit at least ten to twenty feet away from anything combustible should be a safe enough margin.
Before lighting your fire, make sure to check the weather. Excessive wind can kick up extra ash and carry sparks, making an otherwise safe distance hazardous. If relevant to your area, check local burn bans as well. A Breeo provides a live fire experience like any traditional fire pit, and any restrictions or regulations apply.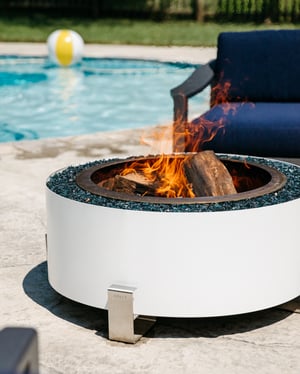 Do Breeo fire pits come with drainage holes?
Yes. Drainage holes help ensure any water that gets inside your Breeo can escape. (Remember, these are meant to live outdoors!) These drainage holes are also important in maximizing airflow. This is key to ensuring your smokeless fire pit is actually smokeless when operated.
Is installation or assembly required?
Any Breeo fire pit will arrive fully assembled and ready to use. It doesn't require professional installation.
However, if you're looking to maximize the safety of your Breeo fire pit by inserting it within a masonry surround, this might require the assistance of a professional. It depends on your comfort level with DIY home projects.
Do Breeo fire pits come with a warranty?
All Breeo smokeless fire pits come with a limited lifetime warranty. The warranty covers material defects and workmanship errors; it does not apply to normal wear and tear or misuse.
Where are Breeo fire pits made?
All Breeo products—from the fire pits themselves to the suite of accessories—are made in the United States.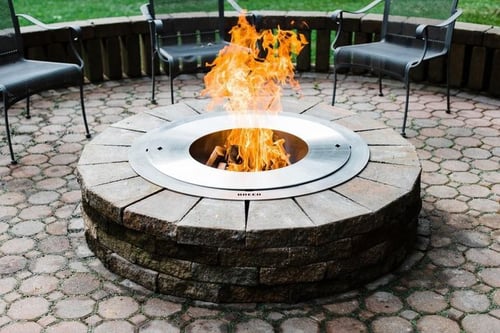 How should I put out the fire when I'm done?
Breeo always recommends letting a fire fully extinguish on its own. This results in less ash and less chance of a smoky fire later.
Bree does not recommend any of the following practices:
Dousing the fire with water. This can clog the X Airflow

™

system, which is integral to ensuring the fire stays smoke free.
Using the fire pit lid to extinguish the fire. The lid is not designed to withstand this level of heat and can be damaged.
Leaving your fire pit unattended. If you can't sit by your fire until it fully extinguishes, use the spark screen to ensure hot coals or sparks aren't carried away by the wind.
How often does the ash in my Breeo fire pit need to be cleaned?
This usually needs to be done after three or four fires. Basically, you don't want the ash to reach a level that it blocks the airflow from the fire pit bottom. (Diminished airflow increases the likelihood of smoke.)
Always wait until ashes are completely cool before removing. Use an ash-removing vacuum or the Breeo ash shovel to accomplish this.
Still Have Questions?
Have a question you didn't see in this list? We're a design and build firm specializing in high-end, custom outdoor living spaces in Northern Virginia and Maryland. Whether you're wondering about a Breeo fire pit or any other element that turns a backyard into a dream oasis, reach out today. We're always happy to help!