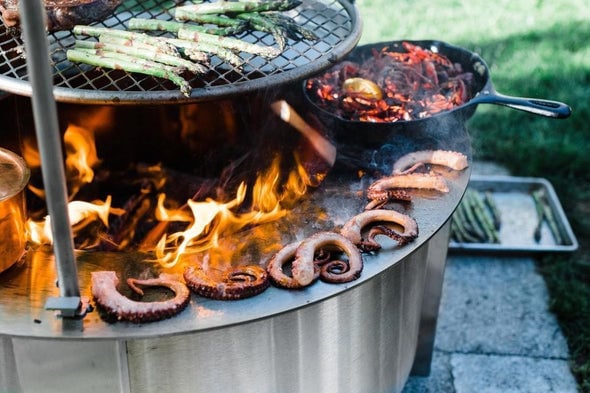 If you're looking to add a fire feature to your Northern Virginia or Maryland home, you might have heard of the Breeo smokeless fire pit. Whether you're interested in the live outdoor cooking experience or you're just looking for a way to enjoy some safe, outdoor social gathering, here's what you need to know about Breeo's two fire pit models: the X Series and the Luxeve.
Breeo Smokeless Fire Pit Models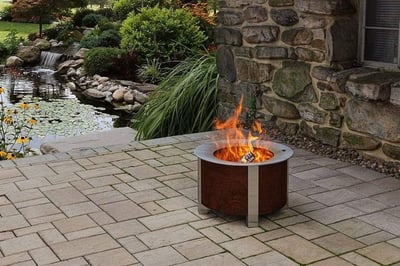 The X Series comes in three versions: the X Series 19, 24, and 30.
Dimensions
Outside Diameter
X19: around 22 inches
X24: around 28 inches
X30: around 34.5 inches
Height
All models are 14.75 inches tall.
Weight
X19: 47 pounds (54 pounds with SearPlate)
X24: 62 pounds (74 pounds with SearPlate)
X30: 94 pounds (115 with SearPlate)
Steel Options
Any X Series fire pit is available in Corten steel (sometimes referred to as weathering steel) or stainless steel.
The Corten option is no additional fee, and it develops a natural patina over time and outdoor exposure. This eventually gives the fireplace a rustic look.
Stainless steel is an additional fee. (The exact price will depend on the size of selected Series X model). This option will stay sleek and shiny, even after years—or decades—of external exposure.
SearPlate

™
The optional SearPlate is another potential add-on. Again, the price will depend on the model and specifications you've selected.
The SearPlate gives you the ability to grill directly on the rim of your fire pit for an interactive, immersive live fire cooking experience.
Accessories
The offered accessory bundles with the X Series are as follows:
Fire pit lid (stainless steel lid)
Grilling package (Outpost and lid)
Firemaster package (Outpost, lid, cover, kettle, kettle hook, and ash shovel)
Individual Breeo accessories can also be purchased separately.
Fire Pit Inserts
All three X Series models come with an optional fire pit insert bundle. This insert ring allows you to add your Breeo fire pit to any new or existing stone surround. (Note, the stone surround itself is not included.)
This insert ring offers the following benefits:
Fits the X Series model you select.
Provides a finished aesthetic.
Intentionally designed for ease of fire pit installation and removal. (No tools are required.)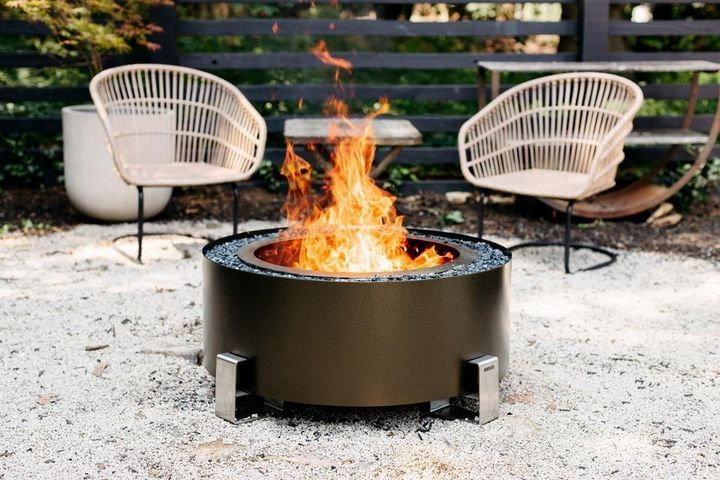 The Luxeve fire pit comes in four exterior powder-coated color options: White River, Earth Rust, Bronze Vein, and Silver Vein. The decorative glass has five color options: black, dark blue, amber brown, crystal clear, and gray.
All Luxeve models are 33 inches in diameter and come with the lid included.
They also have the same smoke-free design as the Series X and utilize the same high-quality, durable 304 stainless steel.
The Luxeve is a genuine wood-burning option that brings an elegance and upscale aesthetic to rival gas fire pit options.
Have Questions?
Wondering if anything in the Breeo line is right for your backyard renovation plans? Reach out today. As a design and build firm specializing in custom outdoor living spaces, we're always happy to answer questions!