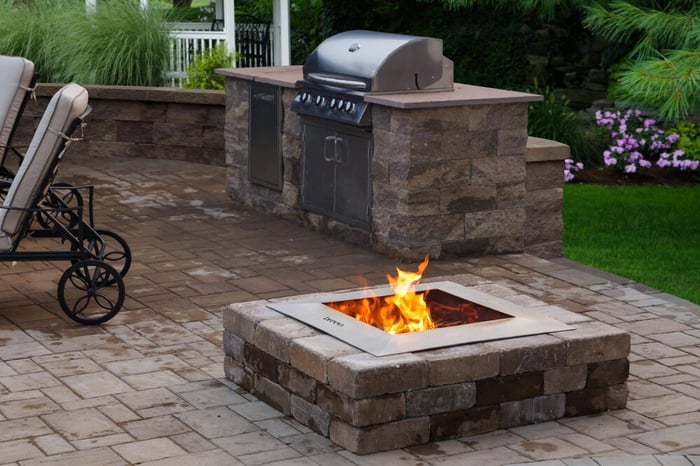 If you're seeking out an outdoor fire feature for your Northern Virginia or Maryland home, you might have come across smokeless fire pits. Breeo is one of the most established and well-known names within this industry. If you're interested in one of the Breeo fire pit models, here are the most important things you need to know about their fire pit safety rules.
Get Peace of Mind with a Masonry Surround
People are concerned about fire pit safety for any number of reasons. Maybe they have small children or pets, or maybe they're just worried about their own safety.
Whatever the specific reason, any homeowner who worries about the heat put off by a Breeo fire pit can opt for a masonry surround. All this requires is an X Series insert ring that matches the model size you've purchased. You'll then need to construct the appropriately sized surround.
Surrounds are generally made from a fireproof inner wall. (Fire brick is a great material for this.) The outer wall can then be any of the following: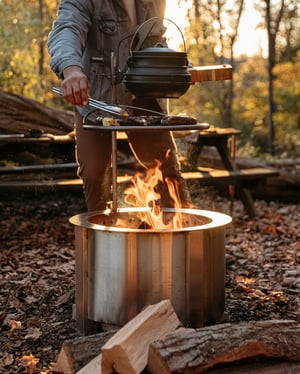 Traditional brick
Various kinds of stone
Brick, concrete, or granite masonry blocks
Concrete pavers
Heat-resistant stucco or tile
These surrounds diminish how much heat is put off by the sides of the fire pit, and they make it more difficult to accidentally touch the exposed metal top. For many, this alleviates much of the stress related to small children or pets being around the fire pit.
As an added bonus, surrounds also make the fire pit look more polished and complete.
Curious how hot a Breeo fire pit actually gets? Check out this temperature comparison between a standalone Breeo and a Breeo within a masonry surround.
Use Appropriate Burning Material for a Breeo Fire Pit
One of the biggest benefits of a Breeo fire pit is its smoke-free construction. For most people, smoke around a fire pit is mostly a nuisance or potentially an eye irritant. For people with asthma or other lung conditions, however, smoke can pose real health concerns.
That's why it's critical to burn the appropriate material within your Breeo fire pit. This means using dry, seasoned hardwood. This will burn hotter and more completely, and those two things together help further reduce smoke production.
Avoid softwoods, including pine and cedar.
Follow Best Practices When Your Fire Is Done
To avoid injury or fire danger, always wait until your Breeo fire pit has cooled completely before attempting to clean out any ashes.
To put a Breeo fire out, allow the wood to burn down as much as possible. Then, if necessary, use a very small amount of water to douse any remaining flames or logs.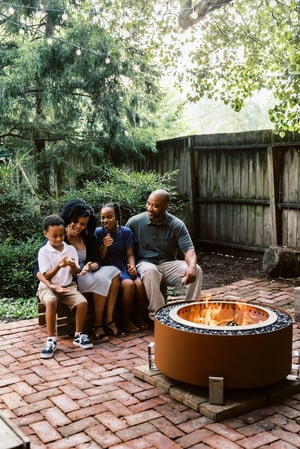 Use Exclusively Outdoors
The Breeo fire pit is not designed or intended to be used in any indoor setting. Avoid use in any garage or other enclosed building.
Avoid Combustible Surfaces
Because of the heat put out by a Breeo fire pit, it's important to operate it on a safe surface. This includes any of the following:
Concrete
Rock
Stone
Other noncombustible material
Avoid any of these surfaces:
Anything not level
Wood
Composite decking
3 Common Sense Best Practices
Treat a Breeo with the same level of caution as you would any open-flame fire. This includes, but is not limited to, this advice:
Never leave a fire fully unattended. (This is especially true if children or pets are around.)
Never move or store your Breeo fire pit until all burned material and ashes are fully extinguished and cooled.
Never touch any part of the Breeo fire pit while the fire is going or cooling down unless you're wearing the appropriate protective gear. Think gloves, hot pads, potholders, BBQ mittens, or something similar.
Want to Learn More?
Think a Breeo fire pit could be part of your dream backyard renovation? We're a design and build firm operating in Northern Virginia and Maryland, and we specialize in all features that turn a backyard into an outdoor living space.
Get a quote for your project today, or feel free to contact us with any questions.