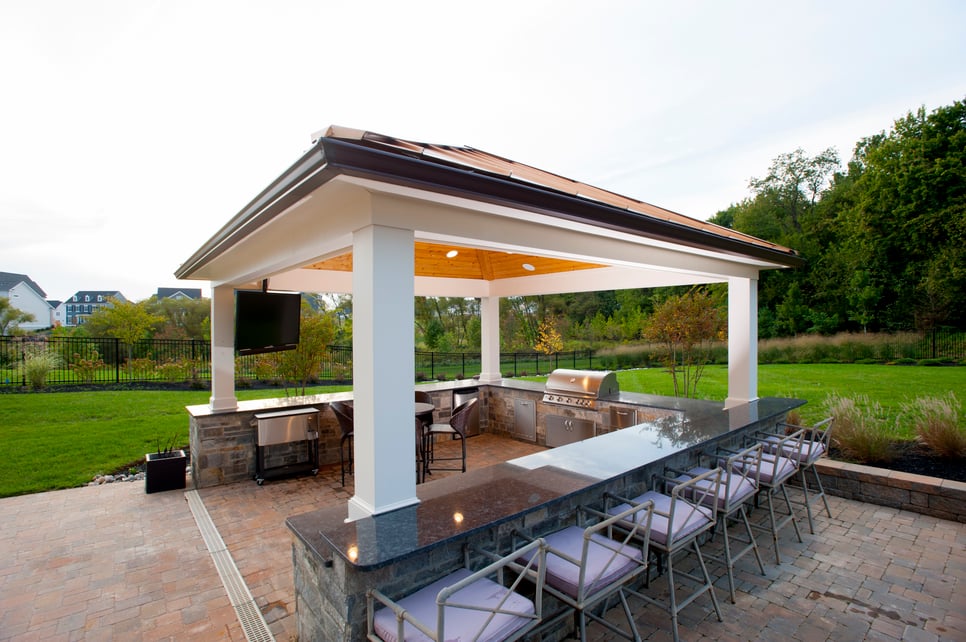 The most ground-level deck (portion closest to the driveway) connects the front pathway, rear garage exit, and sun room exit to the backyard. It features a wide, curved staircase and other landings to accommodate the various entry and exit points, as well as an upper grilling space/alternative grill and barbecue area to the pavilion.
The upper, dining area of the deck also connects to the interior sun room and has a gate to square off/define its area concisely and cleanly from the remainder of the deck space. It has enough space for 6 people to dine comfortable as well as flower boxes that double as outdoor audio speakers. The visible under-deck space is covered in smooth river stones and is also occupied by the pressure-treated wood posts supporting the freestanding deck frame.
The various steps and staircases all feature lighting. The staircase leading from the lower patio and pavilion to the deck is angled (matches that end of deck, is space efficient) and also has railings and low-voltage lighting for safety reasons. This contrasts with the design of the upper deck/stairs which are lower to the ground, more spacious/occupy more space, & which had the leeway to be shaped/influenced by aesthetic-minded design considerations as well as function
Urbana pavers form the patio space, which features multiple-levels and step-downs in addition. The pathways & patio feature a decorative contrasting border in the same vein as the deck.
(upper) The patio begins as a walkway in the front of the yard at the driveway and enters the backyard where it was designed to artfully & strategically widen (poor word choice) where the security gates block off the backyard. The pathway continues its round/circular theme, which are mimicked by the thoughtful landscaping & green/garden elements and stairs…
(lower) ...as it descends around the back and into the lower level of the backyard, where it widens into a full patio area that spans from the basement exit/entrance to the covered pavilion.

Pavilion/Covered Pavilion:
Is an open air-design that is separated from the rest of the patio by a small drainage grate (entire outdoor space & yard is irrigated to ensure proper space, part of our design and part 3rd party company). Its floor is Urbana pavers and its surrounded/semi-walled on three sides by stone counters, while four white PVC columns support a cedar tongue-and-groove hardwood ceiling and Englert metallic copper roof
Electric/Appliances:
A Minka Aire outdoor ceiling fan, low-voltage lighting, a Samsung outdoor television, and a Blaze grill (+ Blaze drawers/cabinets). Outdoor fridge.
Outdoor kitchen area is surrounded by landscaping on two sides, and a small extension of the patio (also surrounded by landscaping and a retaining wall) along its side where the countertops overhang to create a mini-bar/food area pointed at the television.
Design Builders leveraged technology in this design to provide comfort, safety, and entertainment to those using the outdoor spaces. See: low-voltage lighting used throughout the pathways, stair railings, the outdoor sound system, and the pavilion's electronics
Convenient and practical with an outdoor fan, multiple entry & exit points, multiple areas for varying uses/purposes, and two outdoor cooking areas