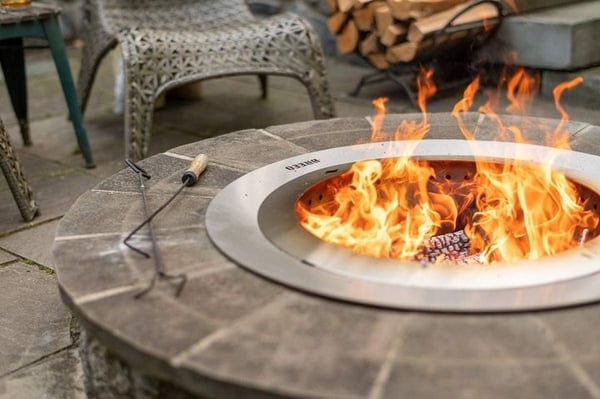 Breeo Smokeless Fire Pit Benefits You Need to Know
If you're in the market for a smoke-free firepit for your home, there are several options available. Because you have choices, it's important to know the advantages of any given brand. Here are the key benefits of a Breeo smoke-free fire pit.
Main Advantages of Breeo Smokeless Fire Pits
Made in the United States of America
All Breeo fire pits are made in the United States. (Competitors in the smoke-free fire pit market are manufactured in China.)
This does contribute to a higher sticker price, but it also comes with all the benefits of US production. This includes everything from better quality assurance to job creation within the country to safer working conditions throughout the manufacturing process.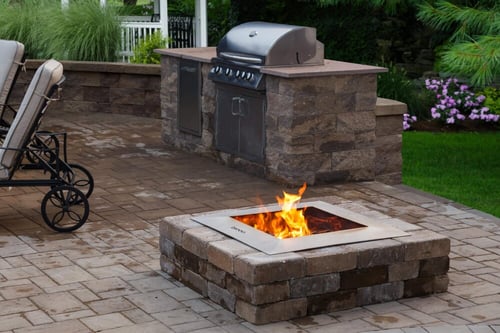 Smokeless Design
No fire pit is entirely smokeless, but the Breeo has been designed to maximize airflow. This additional oxygen helps burn off smoke before it ever leaves the fire pit and reaches you. The result is a significant reduction of smoke.
This is a three-step process:
The raised design lets air in through the bottom of the fire pit, even if ash has accumulated.
Air then enters the Breeo's double-wall system. The fire heats this wall, and the resulting hot air rises.
Lastly, the heated air escapes through strategic holes all around the rim. At this point, the oxygen is pressurized and heated, and when it mixes with any smoke, it causes a "reburn," or secondary combustion.
If your aim is to minimize smoke as much as possible, keep these points in mind:
Dryer wood will burn with less smoke. Even in the Breeo system, wet wood can still cause smoke.
Ash buildup plays a role as well. Too much ash can contribute to more smoke.
How you build your fire matters. Aim to maximize airflow with the log cabin technique.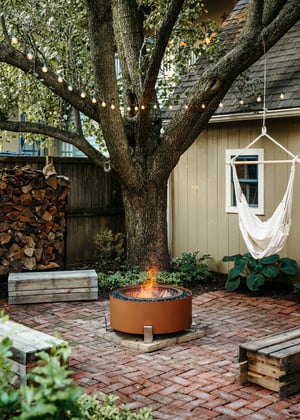 Unbeatable Design Features
Breeo stands behind its assertion that it's the best smokeless fire pit in the world. This is largely because of its unique design features.
This obviously includes the engineered features that facilitate smokeless burning, but it also encompasses all the thoughtful details that go into a Breeo fire pit:
Quality and durability of steel and other materials.
Accessories that allow for live-fire cooking.
Design innovations that keep it functional in exterior conditions. (This includes things like a fire pit lid that minimizes how much rain or snow enters the unit.)
Continual Refinement
A pillar of the Breeo brand is the desire to innovate. With this mindset, the company is always refining and improving the product—from features to design to available accessories.
This has been the case since the original Breeo prototype officially debuted in 2011. See a complete history of the Breeo brand here.
Beat the Chill
The Breeo design allows the fire to burn hotter than other fire pits. This is possible because of the thicker, heavier steel. It absorbs more heat and then laterally passes that to those around the fire.
This means, even on the chilliest nights, a Breeo fire can help keep you warmer and more comfortable.
No Smoky Smell
Love it or hate it, the smell of a campfire has long been considered a part of the outdoor fire experience. By minimizing the smoke, you don't have to jump immediately into the shower or throw on a load of laundry just because you spent a few hours around the fire pit.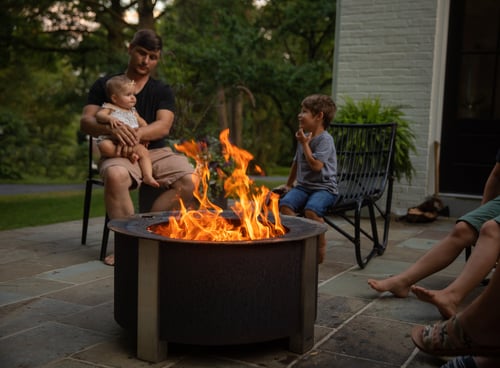 No "Musical Chairs" at the Fire Pit
We've all been there. You're sitting around the campfire when the wind changes direction, and suddenly you've got a face full of eye-stinging smoke.
With the smoke-free design, there's no need for shifting, moving, or shielding your face. It's a more relaxed, enjoyable fire experience.
Fewer Respiratory Irritants
No fire can 100 percent promise a smoke-free experience, but the Breeo design (coupled with recommended use) gets pretty close!
This is especially helpful for people with asthma or other respiratory issues where smoke can be a stressor or an irritant.
Breeo aims to make the campfire experience an inclusive one, and eliminating a lot of the smoke means it can be an enjoyable, viable option for everyone.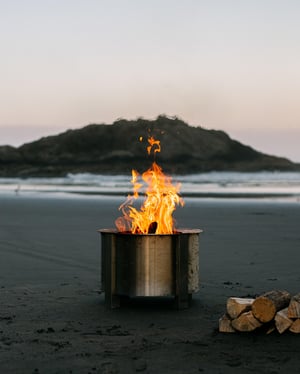 Durability
Durability and quality are two of the Breeo hallmarks. The units are created with heavier, more durable steel. This provides a number of benefits:
Never worry about the fire pit rusting out.
Can live outdoors without aesthetic or functional concerns.
Created with long-lasting, high-quality 304 stainless steel.
Won't dent—through day-to-day use or during shipping.
Can withstand even the harshest geo-specific elements, including floods and hurricanes.
More Enjoyable Fire Experience
The Breeo product is all about an innovative, high-quality fire pit solution, but the Breeo brand is about creating the greatest, most enjoyable campfire experience and memories possible.
Every design detail was created with that aim in mind:
Little to no smoke for a more relaxed, enjoyable experience around the fire.
A great, safe outdoor gathering place for friends and loved ones.
Interactive design, including cooking options.
Given these elements, it's little wonder so many people try a Breeo once and find themselves hooked.
Better Return on Investment
Many looking to purchase a Breeo fire pit view it as an investment. If you enjoy the campfire experience, investing in the quality of a product like Breeo can end up saving you money in the long run.
A thin, cheap steel fire pit might only cost $50 at the local hardware store, but these products are essentially disposable. After a season, you can expect rust, diminished aesthetics, and potentially even spots where the metal is burned through.
With a Breeo, you buy once, and then you have a beautiful, durable, functional product for the conceivable future.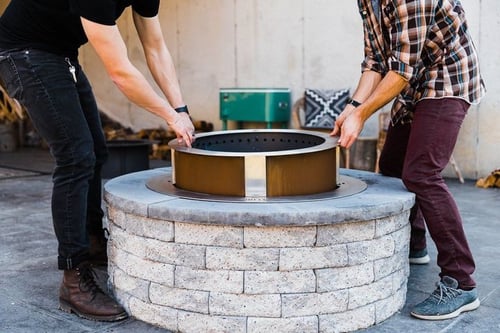 Warranty
A warranty is a great way to get peace of mind about any purchase. With a Breeo fire pit, you get access to a limited lifetime warranty. This applies to any of their smokeless fire pits.
The warranty will cover both workmanship and material defects.
Like most warranties, it will not cover issues as a result of misuse or standard, expected wear and tear.
Get more detailed information about the Breeo warranty.
Accessories (Including a Sear Plate for Outdoor Cooking)
With a Breeo, you're not just limited to the fire pit. There are several accessories that can accompany that piece and enhance the fire experience.
This includes the following:
A wider rim (SearPlate

™

) designed for grilling while enjoying your fire.
Kettle hook
Cast iron kettle
Spark screen
Ash shovel
More
While a Breeo fire pit does not consider itself a grill, the product and numerous accessories do help facilitate the unique opportunity for live-fire cooking.
See here for a full breakdown of Breeo's available accessories.
Longevity in the Market
Breeo introduced its first prototype back in 2011. That means the company has been refining, improving, and innovating for more than a decade.
This mindset—and the sheer length of time in the industry—are unique and, ultimately, benefit Breeo's customers.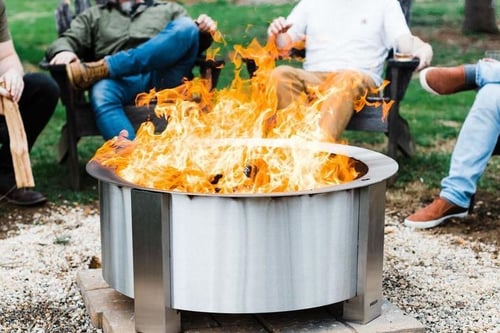 Safe Gathering Space
Throughout this pandemic, people have been searching for ways to safely gather with friends and loved ones. For many, outdoor activities have become the answer. Being able to meet around an outdoor fire has become a go-to lifeline for safe, responsible social gathering.
These circumstances have helped change the smokeless fire pit industry, as well as many other features in the outdoor living sector. (Check out how COVID has changed pergola use for many homeowners.)
Thinking about Adding a Fire Pit to Your Northern Virginia or Maryland Home?
Hi! We're Design Builders, a design and build firm that works exclusively in the Northern Virginia and Maryland markets. We specialize in custom, high-end outdoor living spaces, such as screened-in porches, decks, patios, and outdoor kitchens.
If you have any questions about the top benefits of firepits or whether a Breeo smokeless fire pit specifically is right for your backyard renovation, reach out. We're always happy to help!