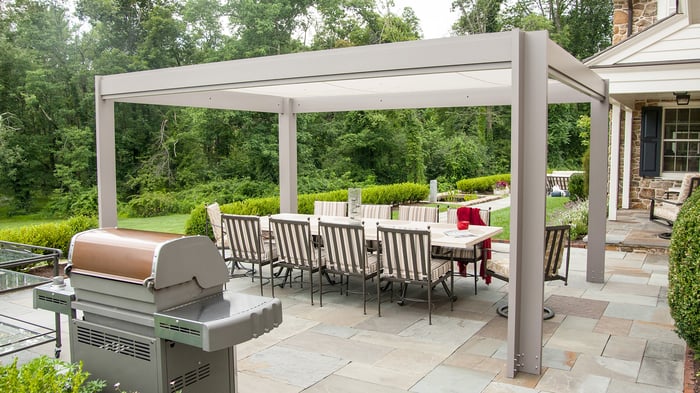 Pergolas used to be used exclusively as coverings for decks or patios, but with the onset of the pandemic, people have become much more creative and inventive with their design efforts. Here are several ways COVID-19 has expanded what homeowners are doing with pergolas.
4 Ways Pergolas Have Evolved with the Pandemic
Demand Is on the Rise
One of the most notable changes in pergola usage is simply the increased demand. The entire design and build industry saw a significant bump in 2021, and that interest in building has definitely extended to pergolas.
People Want Extra Space—without Relocating
The housing market is yet another area dramatically affected by the pandemic. Housing values in most areas of the United States skyrocketed in 2020 and 2021. (Check out some data here.) For many families, that was great for equity, but it also meant it became difficult to relocate. With housing prices on the rise everywhere, there was nowhere feasible to move. This was one contributing factor to why home remodels became so popular.
Without having to actually relocate, pergolas provided the opportunity to create entirely unique, separate living areas:
With the prevalence of remote work, home offices were suddenly at a premium. Many people found it difficult to work in a crowded, noisy house that didn't already have a private office space. After making it work on kitchen tables and in corners of rec rooms, many homeowners invested in private, detached areas that could be used as a home office.
The rise in multigenerational households has (unsurprisingly) corresponded with a rise in mother-in-law buildings. These dwellings don't have to be attached to the main house, and they give everyone personal space while still living together on the same property.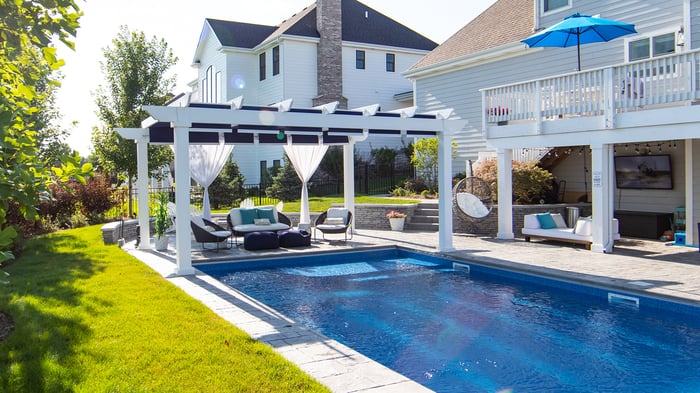 (Photo courtesy Structureworks.)
With many postponing vacations in order to avoid crowded travel, those will pools are utilizing them more than ever. Pergolas are a great way to boost the functionality and aesthetics of your pool area. If you go with a brand like Renson, you can even get features like motorized blades for shade or a misting system to beat the heat.
Not every home has extra rooms to spare. (Especially now, you might have found your one guest bedroom usurped by a home office.) If you're low on space for guests, a pergola enclosure can be a great way to create a private getaway for any overnight visitor who drops by.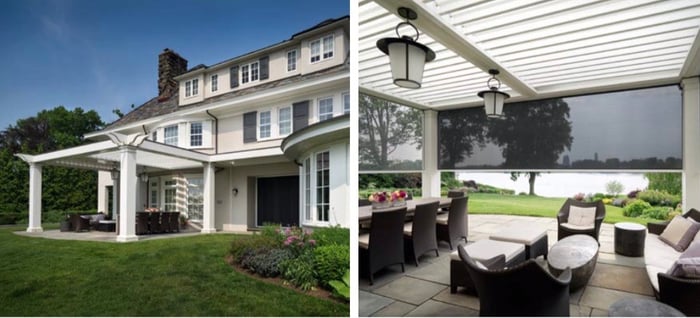 (Photo courtesy Renson.)
With the right design, layout, and features, a pergola can seamlessly transition from open air to enclosed space. If you're looking to entertain friends or family but don't want to risk indoor gatherings, pergolas have served as one popular option.
With many still unsure about returning to the movie theaters, a light-colored pergola wall can double as a backyard drive-in. Coupled with a low-cost projector, you've got in-home entertainment for you, your family, and friends.
At-Home Resorts Are at a Premium
With people spending so much more time at their houses, homeowners are increasingly interested in making their properties comfortable, beautiful, and relaxing. The pandemic brought canceled vacations; personal and social uncertainty; and the stress of juggling work, life, and school all from the home. Given that, it is little wonder people sought ways to make their backyards into oasis getaways.
For many homeowners, pergolas became an integral part of these design plans and a way to achieve the resort experience without actually leaving home.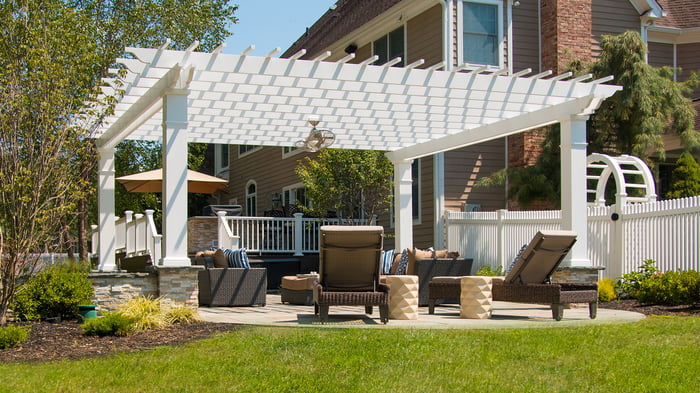 (Photo courtesy Structureworks.)
Interior and Exterior Living Are More Integrated Than Ever
As the pandemic continued, people increasingly flocked to their backyards for entertainment and extra square footage. (For more details, check out these benefits of outdoor living spaces in 2021 and beyond.)
Pergolas are one design feature that has allowed for the seamless blending of indoor and outdoor living. Tying an outdoor kitchen directly into the interior space has been one particularly popular option since 2020.
Some Pergola Features Haven't Changed
While people have become more creative with how they design, build, and use pergolas, some things remain the same. Whether used in a traditional or nontraditional way, pergolas are still a great option to offer privacy. Especially if you live in areas like Northern Virginia or Maryland, where residential lots tend to be smaller and close to neighbors, these outdoor living spaces can give the illusion of some much-needed distance.
With a pergola, you're also able to create whatever atmosphere you want. Whether you're looking for the sleek modernity of glass or the rustic appeal of wood panels, today's pergolas have the aesthetics, features, and add-ons to accommodate.
Do you have an outdoor living space in Northern Virginia or Maryland that could use a renovation or new build? Contact us today. We're happy to discuss your custom build!