Options for Enclosing an Existing Outdoor Space
Lots of homeowners have open outdoor living spaces and, for a variety of reasons, find themselves wondering what their options are to enclose them. Whether you have a front porch with a roof but no screens, a deck, a double deck without screens, or a patio, the logistics of how to enclose these existing spaces is one of the most common questions posed to design and build firms.
Consider Zoning Restrictions
When people ask if they can close in one of these spaces, the quick answer is usually "yes" or "maybe." In most cases, there's always a way to do it, but some projects are inherently more challenging than others.
One of the important factors to consider for a job of this scope is that whenever you add screens to a previously open outdoor living space, that area technically becomes enclosed, meaning zoning restrictions come into play. If you're unable to do a project (or if it's prohibitively costly or challenging), it's often because you run into various zoning issues. To ease the process, always work with a local design and build firm who is knowledgeable about your area's specific zoning restrictions and comfortable operating in compliance with both legal requirements and a homeowner's personal vision.
Consider the House Layout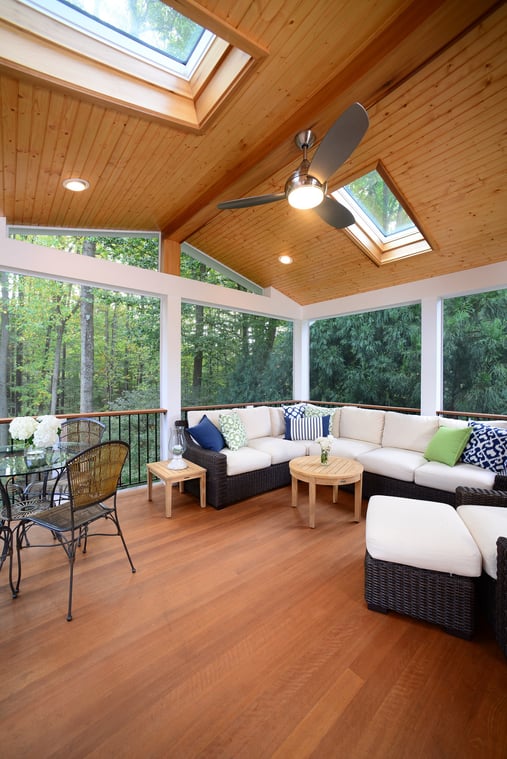 Again, some of these projects are going to be more challenging than others simply by virtue of the home's layout and architecture. The following are just some issues homeowners have run into when attempting to enclose an outdoor living space.
Physical Obstructions. Do you have anything blocking where the screens will span? This can be anything from existing columns to posts to handrails. The presence of physical obstructions can make the project more difficult because multiple panels will have to be custom fit to the space.
Door Creation. If you're creating a barrier to enclose the space, then you're going to need a door that allows entry and exit from that area. Does your home pose any complications related to the addition of a door? For example, is the enclosed area not on the ground? If so, you'll need stairs that go up to the door, and then you'll also need a landing for those stairs.
Design Issues. If lots of architectural manipulation is required to make your enclosure functional, it can mean the area ends up looking like a design afterthought. Make sure your chosen design and build firm has an extreme eye for detail and can match the aesthetics of the new structure to the existing home. This includes design touches ranging from overall style to material used.
In some cases, the open area to be enclosed is directly on the ground, which means there's no need to add rails, stairs, or landings. With a little extra trim, some screens, and a door, you can achieve a relatively easy and seamless conversion. With other projects, it requires much more work, including manipulation of handrails, fixing trim, putting in a new landing for the stairs, and more. How much of an endeavor this project will be depends largely on your home's current configuration, so make sure to consult with a professional about these kinds of logistics before getting too far in the planning process.
Consider the Price Point
As with most home construction projects, one major consideration of an outdoor enclosure is price. Whether you're looking for a screen room or a glass room, the scenario of closing in your deck, porch, or patio can be like building from scratch. It can involve building walls, performing finishing work, painting, and more.
As a general estimate for the Washington, DC, area, the most straight-forward enclosure will probably run somewhere in the ballpark of $7,000. When projects become more complicated (redoing rails, doing trim work, painting, building stairs and landings, and so on), that number can quickly jump to $15,000 or more. Remember, though, every project is different. For an estimate specific to your home, talk to a qualified, experienced, local design and build firm. From there, you can decide if the cost is worth the benefit of the new outdoor living space.
Most Common Options for Enclosure
If you've considered all the above factors and still want to move forward, your most common enclosure options are the following:
SCREENEZE: SCREENEZE is a no-spline fixed-screen system. An aluminum base and vinyl cap snap together, which stretches and secures the screen fabric in place. The system can span an opening up to 150 square feet without the use of any staples or splining. The product comes with a ten-year warranty.
EZE-Breeze: EZE-Breeze three-season windows are designed to custom fit a variety of openings or spaces. While contractors can definitely install them, the lightweight panels are tailored to do-it-yourself projects. They are meant to fend off bugs, as well as pollen and inclement weather.
Phantom Screens: This is a line of retractable screens that can be fit to doors, windows, or outdoor spaces. Users can install single-panel or multi-panel systems. Because these are retractable, they offer the ability to convert the area from enclosed to open air and back again, all with the touch of a button.
Glass: Framed-in glass (single or double pane) is an option when creating an enclosure like a sun-room. In these structures, people typically find a heating source works to make chilly days more comfortable, and a ceiling fan can help beat the heat on hot or humid spells.
Enclosing a porch, deck, or patio can be a transformative project for your home, providing a brand-new area that keeps you protected from pesky insects, inclement weather, and allergy-inducing pollen. As with most home improvement jobs, however, you should always talk to a professional first to make sure you know everything that will go into your specific project.