Everything You Need to Know about Enclosing an Existing Outdoor Space
I have an open outdoor living space. What are my options for enclosing it? Lots of homeowners have this question run through their minds every day. Whether you have a front porch with a roof but no screens, a deck, a double deck without screens, or a patio, the logistics of how to enclose an existing outdoor space is one of the most common questions posed to design and build firms. Get the rundown here of everything you need to know.
Consider Zoning Restrictions
When people ask if they can close in one of these outdoor living spaces, the quick answer is usually "yes" or "maybe." In most cases, there's always a way to do it, but some projects are inherently more challenging than others.
One of the most important factors to consider is zoning restrictions. When you add screens to a previously open outdoor living space, that area technically becomes enclosed. This means zoning restrictions come into play.
If you're unable to do a project (or if it's prohibitively costly or challenging), it's often because you run into various zoning issues. To ease the process, always work with a local design and build firm who is knowledgeable about your area's specific zoning restrictions and is comfortable operating in compliance with both legal requirements and a homeowner's personal vision.
Some zoning restrictions and the rules regulating home improvement projects are broad and apply to the entire state. Others are extremely specific and affect just one town. (For example, there was a recent zoning ordinance change in Vienna, Virginia, that made it easier for homeowners to build larger outdoor living spaces.)
If you're thinking about enclosing an existing deck, porch, or patio, it's important to work with a team that's experienced and knowledgeable about every zoning restriction applicable to your project.
Consider the House Layout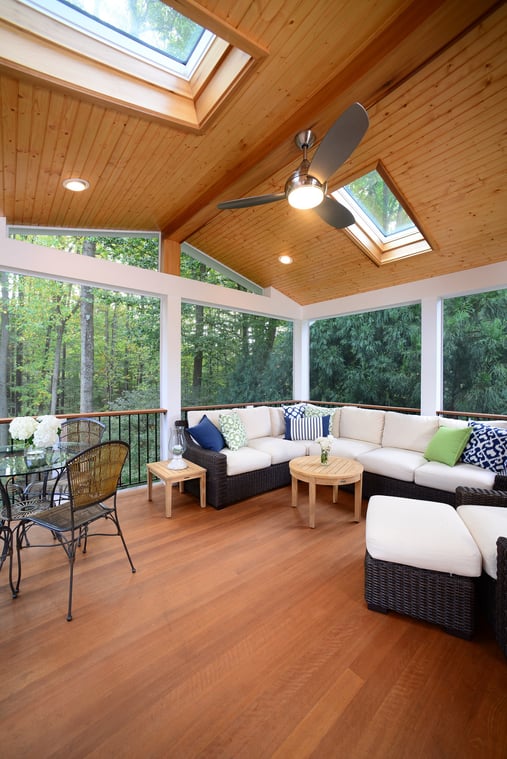 Again, some of these projects are going to be more challenging than others simply because of the home's layout and architecture. The following are just some issues homeowners have encountered when attempting to enclose an outdoor living space.
Physical Obstructions. Do you have anything blocking where the screens will span? This can be anything from existing columns to posts to handrails. Physical obstructions can make the project more difficult and costly because multiple panels will have to be custom fit to the space.
Door Creation. If you're creating a barrier to enclose the space, then you're going to need a door that allows entry and exit from that area. Does your home pose any complications related to the addition of a door? For example, is the enclosed area not on the ground? If so, you'll need stairs that go up to the door, and then you'll also need a landing for those stairs.
Design Issues. If lots of architectural manipulation is required to make your enclosure functional, it can mean the area ends up looking like a design afterthought. Make sure your chosen design and build firm has an extreme eye for detail and can match the aesthetics of the new structure to the existing home. This includes design touches ranging from overall style to specific material used.
In some cases, the open area to be enclosed is directly on the ground. This means there's no need to add rails, stairs, or landings. With a little extra trim, some screens, and a door, you can achieve a relatively easy and seamless conversion.
With other projects, it requires much more work, including manipulation of handrails, fixing trim, putting in a new landing for the stairs, and more.
How challenging this enclosure project will be depends largely on your home's current configuration. Make sure to consult with a professional about these kinds of logistics before getting too far in the planning process.
Consider the Cost to Enclose an Outdoor Living Space
As with most home construction jobs, one major consideration of an outdoor enclosure is price. Whether you're looking for a screen room or a glass room, the project of closing in your deck, porch, or patio can be like building from scratch. It often involves building walls, performing finishing work, painting, and more.
So, what does it cost to enclose an existing outdoor living space? For the Northern Virginia and Maryland area, the most straightforward enclosure will run somewhere in the ballpark of $7,000. When projects become more complicated (redoing rails, doing trim work, painting, building stairs and landings), that number quickly jumps to $15,000 or more.
Remember, though, every project is different. If you're curious about what your specific project will cost, get a design and build estimate today from a qualified, experienced, local design and build firm. From there, you can decide if the cost is worth the benefit of the improved or new outdoor living space.
Most Common Options for Enclosure
If you've considered all the above factors and still want to move forward, here are your most common enclosure options:
Have Any Questions about Enclosing an Existing Outdoor Space in Your Northern Virginia or Maryland Home?
Enclosing a porch, deck, or patio can be a transformative project for your home. It provides a brand-new area that keeps you protected from pesky insects, inclement weather, and allergy-inducing pollen.
As with most home improvement jobs, always talk to a professional first to make sure you know everything that will go into your specific project.
We're Design Builders, a custom high-end design and build firm that operates exclusively in Northern Virginia and Maryland. We specialize in outdoor living spaces and would love to answer your questions or to provide guidance on your next project. Don't hesitate to reach out!