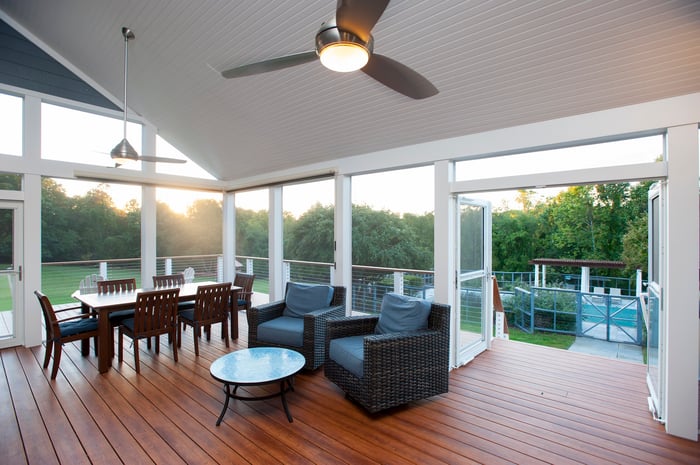 10 SCREENEZE
®

Benefits Every Homeowner Needs to Know

If you're building or renovating a screened-in porch in your Northern Virginia or Maryland home, you're probably groaning at the thought of putting in screening. Tedious, time-consuming, and costly to install. Even more difficult to repair. Small spans that interrupt your view. If these concerns are stopping you from adding or updating your screen porch, you'll want to check out these top ten benefits of a no-spline screen porch system from SCREENEZE®.
SCREENEZE Benefits
10 Reasons SCREENEZE Is the Innovative Screen Porch Solution for Your Outdoor Living Space
No More Staples or Spline
When people think about screens, they usually think about spline—and how tedious, annoying, and time consuming it can be to install or to repair. They also think about staples, which often lead to screens that easily rip free and quickly require repair.
With the SCREENEZE system, there are no more staples and no more spline.
If you're installing your SCREENEZE system yourself, that means you get to skip the hassle, expense, and time commitment of these kinds of installations. If you're using a qualified professional contractor, it means a faster install and fewer billable hours.
More Durable
One of the biggest complaints about traditional screen installation techniques is the durability. With high winds, jumping pets, or small kids pushing against them, screens can often rip, sag, or tear free.
The SCREENEZE system is a durable product that can withstand more extreme environmental factors—from weather to day-to-day wear and tear.
SCREENEZE systems have been shown to withstand winds up to 140 miles per hour, and the screens didn't sag, tear, or pull loose when pallets weighing 620 pounds were applied to them for seven full days.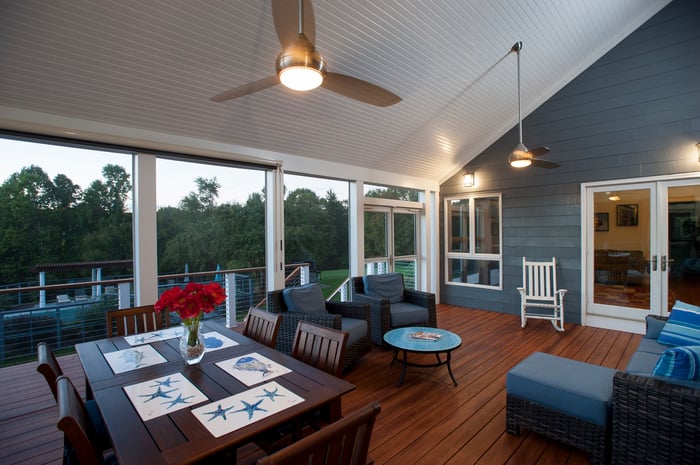 Span Larger Openings
With traditional spline systems or staples, screens can generally be built to a maximum opening size of forty to sixty square feet. With SCREENEZE, an opening can be up to 150 square feet. This provides several benefits.
One, it helps preserve your views. If you're trying to maximize enjoyment of the view from your backyard, lots of small screens with frequent posts can make that less seamless.
Two, you see significant dollars-and-cents savings. With larger openings and fewer posts, you require less lumber in your build. Especially with the wildly fluctuating price of lumber over the last two years, this can equal big savings in your build. (Check out the historical price of lumber to see this dramatic trend.)
Low Maintenance
The SCREENEZE system is low maintenance. Because you don't have to invest a lot of time or resources into keeping it looking pristine, you save in immediate costs, and you end up saving over the life of the product.
SCREENEZE screens just need periodic cleaning with water and a mild soap solution. Avoid scrubbing too hard, and always rinse the screens well when done. Avoid power washing altogether.
Fewer Callbacks to Your Contractor
With a system as durable as SCREENEZE, homeowners have found they no longer need to constantly call back their contractors to repair or to replace screens.
This is certainly good for contractors, but it's also good for homeowners.
Depending on your contractual relationship with your contractor, you can avoid the fees associated with a callback or the necessary repairs.
However, even if your contractor doesn't charge you for the time or the work, you can still avoid the hassle and disruption of needing your screened-in porch repaired.
Especially with contractors being so busy and backlogged right now, it can also save you from having to live with a less-than-optimal screen porch until a builder's schedule becomes available.
Easier Installation
The SCREENEZE no-spline system is easier to install. Say a screened-in porch project with spline and staples would take one and a half to two days to complete. A comparable job using the SCREENEZE system would take one day or less.
That's a big difference for the homeowner. That's fewer billable hours to your contractor for installation, and it is less time your home is a construction zone. Home improvement projects can be really disruptive, and getting your backyard complete and ready to use an entire day faster can make a big difference.
Easier Repairs
If your screen does rip or tear, you have better peace of mind with a SCREENEZE system. You know the repair work is going to be easy and quick. It's just a matter of removing the vinyl cap, replacing the screening, putting the cap back in place, and trimming any excess.
8. Self-Tightening System
One of the most finicky, difficult, and time-consuming parts of screen installation is the need to physically stretch the screen. A SCREENEZE system, on the other hand, is self-tightening.
Again, this saves on time, hassle, issues down the road, and overall installation cost.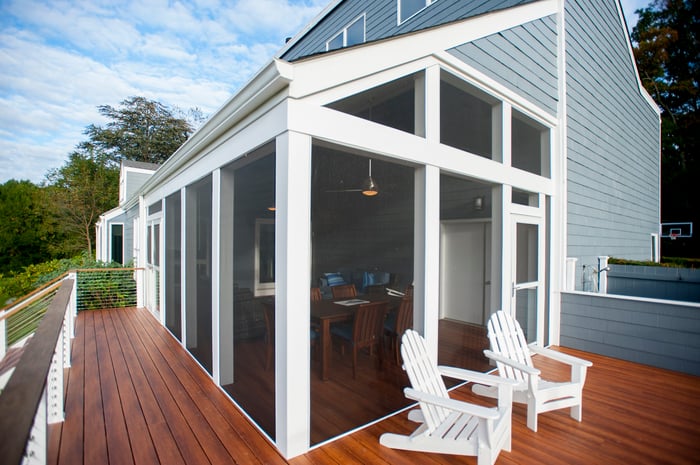 Warranty
A SCREENEZE warranty on their SNAPTRACK system is good for ten years. Other screen installation methods will offer everything from no warranty to five years.
Warranties safeguard you against defects in manufacturing and other expenses you shouldn't be liable for handling. They're also just a way to have ultimate peace of mind with the investment you're making in your outdoor living space.
Better Overall Return on Your Investment
When you take all these factors into consideration—increased durability, ease of installation, longer warranty, designs that require less lumber and materials—it all adds up to one thing: a better return on your investment.
When you think about a high-ticket project like a screened-in porch, it's important to consider cost not just as the initial number but as the cumulative lifetime cost of owning and maintaining that project. Adding a screened porch with SCREENEZE rather than a more standard spline or staple job will mean less cost over the life of that install.
Furthering your ROI, it can even mean adding significant value to your home when it comes time to sell.
Curious What a SCREENEZE Porch Costs?
Interested in adding a SCREENEZE porch to your Northern Virginia or Maryland home? Get a free, no-obligation quote today.