Vienna Zoning Ordinance Update Means More Flexibility for Homeowners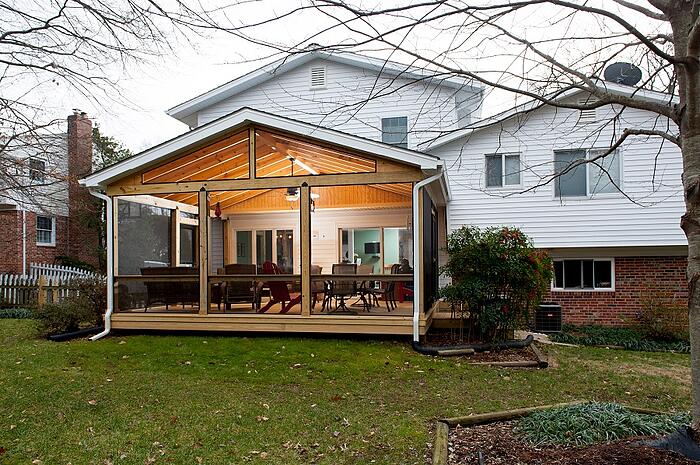 If you've ever thought about adding a deck to your Vienna, Virginia, home but came up against restrictive building ordinances, we've got great news! On June 13, 2022, the local town council put a Vienna zoning ordinance to the vote, and amendments to lot coverage restrictions were officially approved. Here's what the building rules used to be, what's changed, and what it means for Vienna homeowners now.
Past and Current Zoning Ordinance Rules
The building rules used to state that only 25% of a Vienna lot could be covered with non-permeable space.
That meant only one-quarter of a homeowner's land could be covered with…
Buildings
Accessory buildings
Automobile parking spaces and access, including driveways
Stoops
Sports courts
Tennis courts
Patios
Terraces
An uncovered deck could cover up to an additional 5% of the total lot size.
These percentages remain the same with one important caveat.
Vienna homeowners can now build up to 400 square feet of covered deck, and this does not count toward the lot coverage allowance.
Read all the zoning ordinance text amendments here.
Conditions for the Covered Deck to Be Exempt
Not every covered deck automatically meets the lot coverage exemption.
To qualify, the covered deck…
Must be single story.
Cannot be converted into the equivalent of conditioned interior living space.
Must be built in the backyard.
Must account for stormwater best management practices (BMP) by complying with the Stormwater Manual for Outdoor Living Areas. (See the full draft of that document.)
What Does the Zoning Ordinance Change Mean for Vienna Homeowners?
Properties in Vienna tend to be big homes on smaller lots. Because the homes skew large, they take up a considerable amount of a homeowner's allowable lot coverage. This made creating a sizable, functional outdoor living space a challenge.
Now, Vienna homeowners…
Have more flexibility when creating or upgrading outdoor living spaces.
Can add a beautiful covered deck (up to 400 square feet), even if the lot contains a large home.
Don't have to pass on buying a new Vienna home for fear of too little property for an outdoor living space.
Revisit Your Dream Deck Project
Over our years as a Northern Virginia and Maryland custom design and build firm, we've seen many people abandon their deck projects because the zoning ordinances were too restrictive to allow for what they wanted.
If you live in Vienna and you're still interested in adding your dream deck, now is the perfect time to revisit your plans.
Not sure where to start? Check out our deck and patio portfolio for possible inspiration.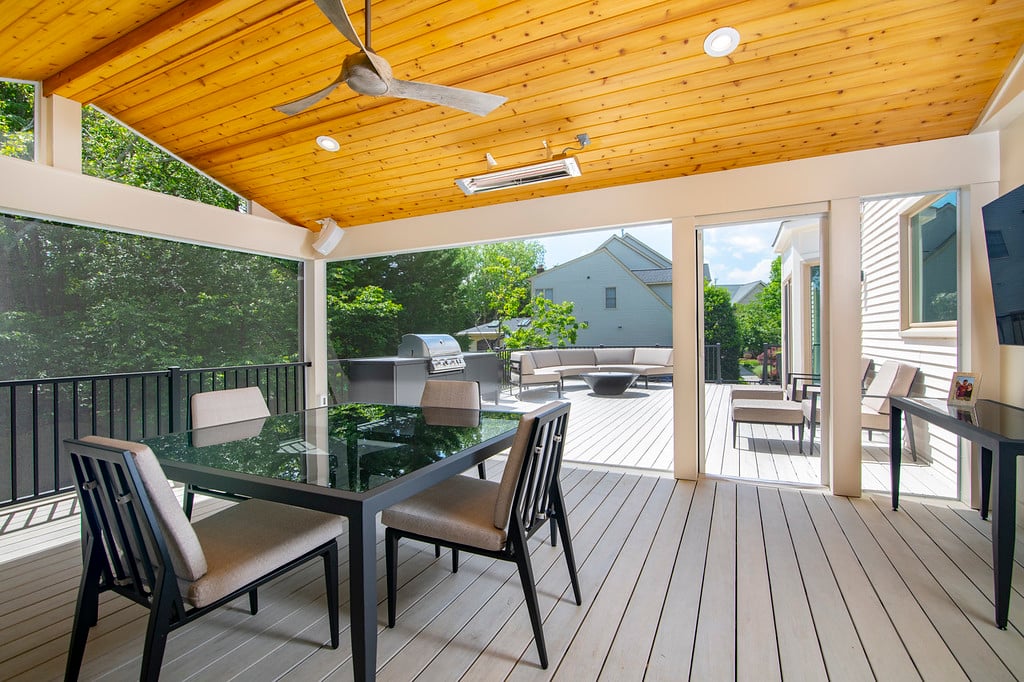 Lot Coverage Ordinance Amendment Comes on the Heels of Vienna Porch Projection Updates
This zoning ordinance change is the second to hit Vienna recently. On April 4, 2022, code amendments went into effect that changed the guidelines around front porches.
Single-story covered (but unenclosed) porches are now allowed to encroach up to eight feet into the front yard.
If you're interested in building a front porch on your Vienna home, see all the porch projection details, including size restrictions.
Building Ordinance Changes Could Be on the Way for Other Northern Virginia Areas
At the moment, these changes only apply to Vienna residents. This ordinance change, however, could mean neighboring or nearby areas will make similar changes.
As a high-end custom design and build firm specializing in outdoor living spaces, we work across Northern Virginia and Maryland. Even in that limited geography, we come up against many, many different jurisdictions.
Vienna has consistently been the most restrictive. Both Arlington and Fairfax are not far behind.
While there's no way to know for certain, historically changes to building ordinances in one area have led to other towns changing as well.
If you want similar change in your town, talk to your city council. The residents in Vienna did it, and it worked for them!
Ready to Kick Off Your Northern Virginia or Maryland Deck Project?
Have any questions about how these amendments affect your current or future building plans? Reach out today.
Know exactly what you want and are ready to get started? Get a decking quote now.