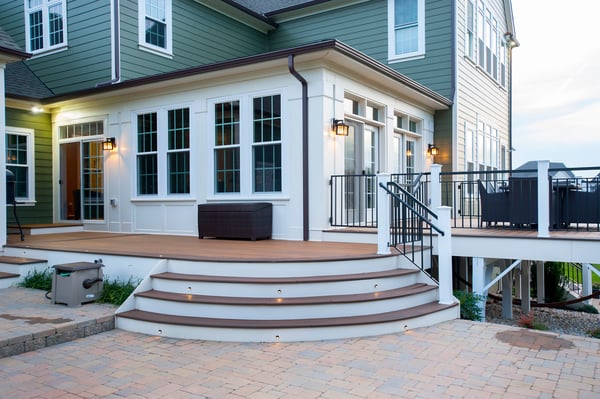 We here at Design Builders love Trex! We regularly install their products in our Washington, DC; Virginia; and Maryland outdoor living projects. There are numerous reasons the company has had so much success, so it's little surprise to hear they've recently reached an important and significant milestone.
What Important News Did Trex Announce in Early 2021?
On January 12, 2021, Trex released a press release announcing the startup of a new production facility in Virginia. This opening caps the company's $200 million expansion program.
Trex was already one of the most recognized and largest producers of composite decking boards and decking accessories, and this massive capacity expansion and investment in the company's future solidify its status as the preeminent name in wood-alternative decking.
How Was This Investment Possible for Trex?
With so many companies struggling after the challenges of 2020, how was Trex able not only to stay afloat but to actively expand? Part of it has to do with recent wholesale changes to the design and build industry, but it's also about the groundwork Trex laid more than a decade ago.
In 2009, Trex introduced a new decking product to their catalog: Trex Transcend. This was a premium, best-in-class composite decking board option. It came in a variety of grain patterns and colors, mimicking the look of natural hardwood without the adverse consequences (frequent maintenance, deforestation, and more). The product was an immediate success with Trex customers, and its popularity helped fuel more than ten years of record growth for the company.
Building off this success, in 2018, the company reengineered its Trex Enhance line. Customers could now receive all the functional benefits of Trex composite decking at a price point that was directly comparable to wood. Channel and consumers met this product with positive enthusiasm, and demand was overwhelming.
(Learn more about all the various Trex decking offerings here.)
To keep up, the company made the proactive, forward-thinking move of investing $200 million in infrastructure, processes, and staff at their Virginia and Nevada manufacturing facilities.
What Does This Mean for the Consumer?
All these changes will amount to a roughly 70 percent increase in production capacity. Especially in this current environment, where demand for projects is high, companies are short staffed, and material protocols have changed, this will help ensure every homeowner or builder who wants Trex material can acquire it.
If you're looking to install a deck or screen porch in 2021, send us a quick note. Whether you're interested in Trex, Zuri, some other flooring solution, or you have no idea yet, we'd love to talk through your options with you.